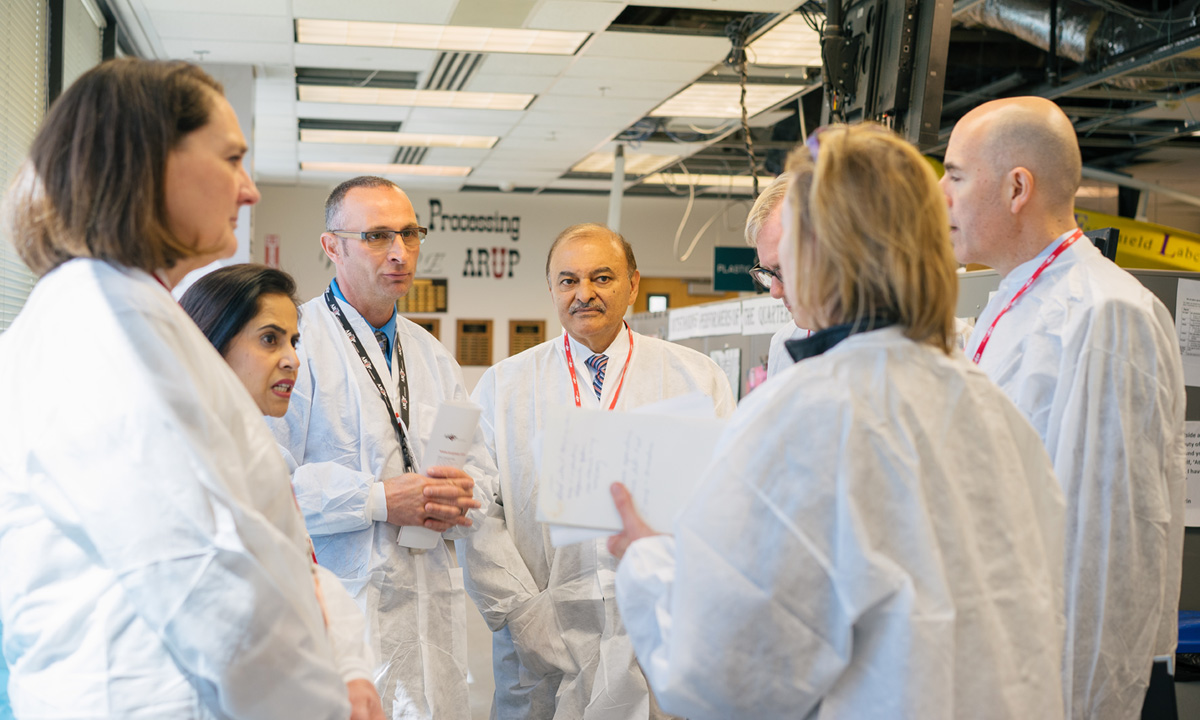 April 12, 2016
---
"It is one thing to hear about what you do versus see what you do—it was fantastic to witness it all in action. Clearly, this was the hallmark of our visitors' experience at the university," exclaimed Juan Carlos Negrette, director of the Global Health Program for the University of Utah Health Sciences. "It was a great display of the capabilities of the university."
Last week, a group representing Aga Khan University and Hospital in Pakistan visited ARUP Laboratories as part of their two-day visit at the University of Utah. Aga Khan has a reach that extends into three continents—Africa, Asia, and Europe— and has teaching sites and campuses in Afghanistan, Kenya, Tanzania, Uganda, the United Kingdom, and Pakistan.
The request to visit ARUP came from Shagufta Hassan, the chief operating officer for laboratory and outreach at the Aga Khan University Hospital, Karachi. She had read about ARUP Laboratories online, and was curious about the structure of the company and its transportation system. Following a tour of the specimen-processing area, her interests were further piqued by ARUP's expansive automated processes. "I was fascinated by the automation and robotics at ARUP and the fact that they were developed and built internally. Our lab in Pakistan has room for automating our processes."
"From the perspective of the Global Health Program, ARUP is a great model for us; it is advancing the mission of an academic-medical center while also thriving as a business."
Juan Carlos Negrette
Director, Global Health Program, University of Utah
The visitors learned about the chain of custody built into ARUP's systems so that each specimen is tracked and can be traced back to a certain place in the process if needed. "I'm very taken with the incredibly low error rate and the innovation here," added Salma Jaffer, chief nursing officer. "This concept is amazing, absolutely excellent," she said, while they all watched in awe as the Sort-to-Light system was explained and employees distributed specimens through colorful panel doors.
While touring the labs, Hans Kedzierski, CEO of the Aga Khan University Hospital stopped briefly to chat with ARUP employees. "I like to see if they are happy," he said. "It is a clue to how well a place functions." He too was keen on learning more about the logistical and process aspects of ARUP. "We're looking for the best economic solutions in expanding our footprint and have many logistical issues to consider. For one, our transport systems are more dependent on cars and trucks, not so much on airplanes," added Kedzierski.
During their visit, the group also met with faculty in family medicine, surgery, medical informatics, tele-health, and radiology. "It was dramatic for our guests to see such a complex organization and how all its processes are organized, with the constant focus on how to provide the best quality of care," said Negrette. "Everything was beautifully linked."
He added, "From the perspective of the Global Health Program, ARUP is a great model for us; it is advancing the mission of an academic-medical center while also thriving as a business."
By Peta Owens-Liston, ARUP Science Communications Writer