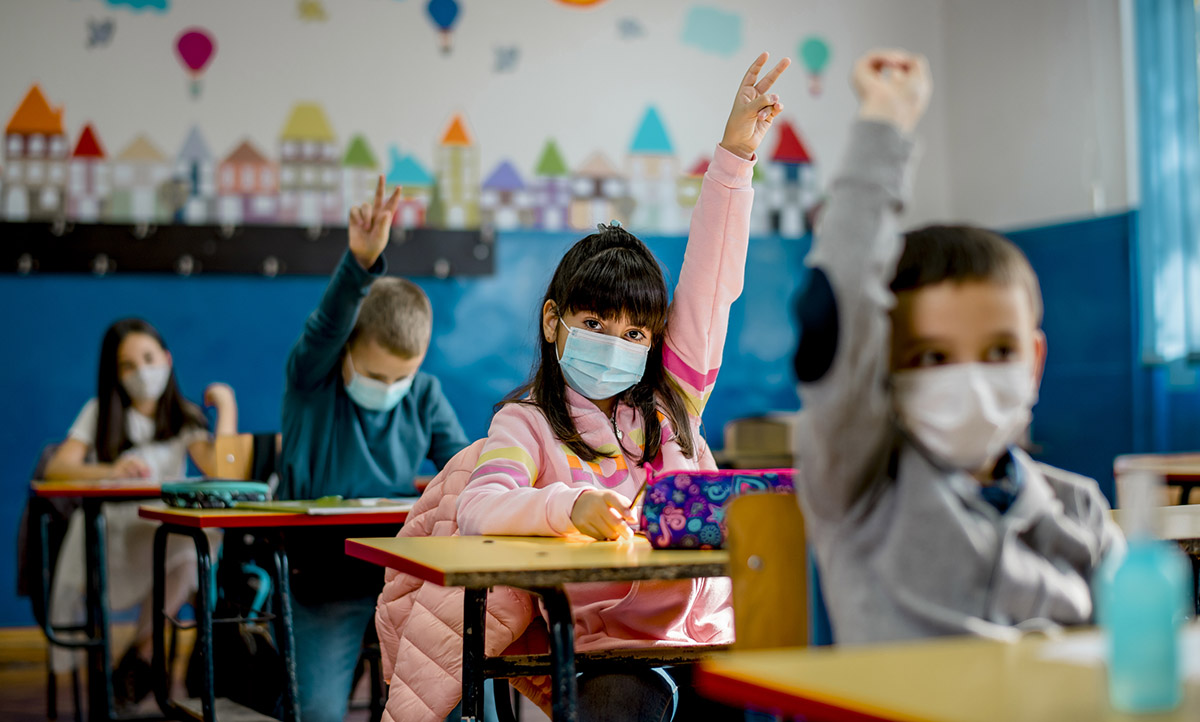 March 22, 2021
The CDC has cited research in which the University of Utah's Health and Economic Recovery Outreach (HERO) Project and ARUP Laboratories played a key role. The research is integral to new physical distancing guidelines that say that students wearing masks and following other precautions can safely be within 3 feet of each other in classrooms rather than 6 feet.
The update to the CDC's Operational Strategy for K-12 Schools through Phased Prevention guidelines, issued on March 19, 2021, is based in part on research conducted by the CDC, the Utah HERO Project, the Utah Department of Health, and the Salt Lake County Health Department from December 3, 2020, to January 31, 2021. Using diagnostic tests performed at ARUP, investigators explored the patterns of spread of SARS-CoV-2 by conducting research in 20 Granite School District elementary schools and one Salt Lake City private school. The research is one of three studies that informed the new guidelines, the CDC said.
The Utah HERO Project led the Salt Lake County schools project, which is detailed in the CDC's March 19 Morbidity and Mortality Weekly Report (MMWR). Funded by the state and overseen by the U of U, the HERO Project has been collecting data on the spread of SARS-CoV-2 in Utah since early May to help inform decision makers as they work to expand in-person schooling and rebuild parts of Utah's economy.
For the study, 1,041 school contacts of 51 index patients (40 students and 11 staff members) were offered SARS-CoV-2 testing and asked to complete questionnaires about symptoms and exposures to investigate the role in-person schooling plays in transmission of the virus. Despite high community transmission of the virus during the study period (the seven-day cumulative number of new cases in Salt Lake County ranged from 290 to 670 cases per 100,000 people), researchers found a secondary spread rate of only 0.7%.
The MMWR summary concluded that, "These findings add to evidence that in-person elementary schools can be opened safely with minimal in-school transmission when critical prevention strategies including mask use are implemented, even though maintaining less than 6 feet between students' seats may not be possible."
In the report, the CDC acknowledged several ARUP employees who played a role in supporting the research. They include Erica Clyde, manager of clinical research and studies; Lisa Forester, Clinical Trials senior project manager; Ken Curtis, assistant group manager of Client Response and Communication; and Stephanie Hendriksen, associate project manager with Clinical Trials sample management.
"We are honored to collaborate with the Utah HERO Project and other research efforts that aim to provide our state and national public health authorities with real-world scientific evidence they can use to make the best decisions," said Jay Patel, MD, MBA, executive director of Clinical Trials and PharmaDx at ARUP.
"CDC is committed to leading with science and updating our guidance as new evidence emerges," CDC Director Rochelle P. Walensky said in a March 19 news release. "Safe in-person instruction gives our kids access to critical social and mental health services that prepare them for the future, in addition to the education they need to succeed. These updated recommendations provide the evidence-based roadmap to help schools reopen safely, and remain open, for in-person instruction."
Lisa Carricaburu, Director of Marketing Communications and Clinical Decision Support