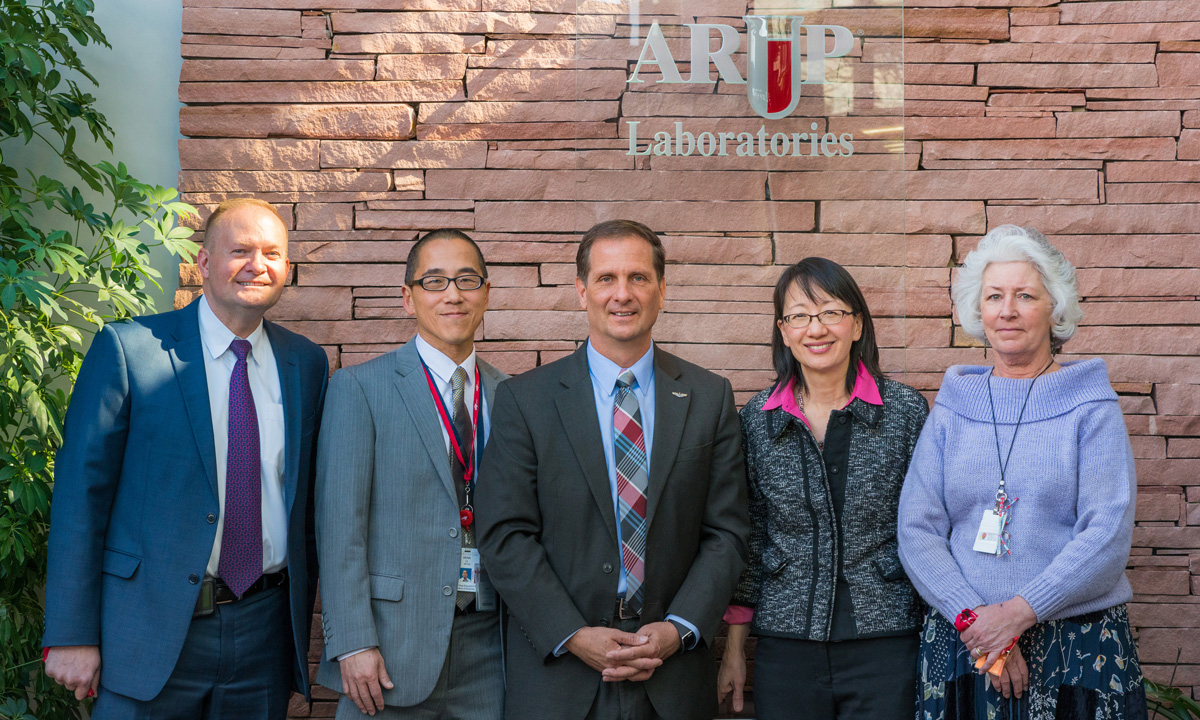 March 14, 2016
From left to right: Jerry Hussong, MD, DDS, MS, Director of Laboratories, ARUP; Dean Li, MD, PhD, CEO, ARUP; U.S. Congressman Chris Stewart; Vivian Lee, MD, PhD, MBA, Senior Vice President, University Health Sciences, University of Utah; Sue Garr, Division Manager, Technical Operations, ARUP.
---
While recently touring Salt Lake City-based ARUP Laboratories, Utah Congressman Chris Stewart witnessed one of the country's largest national reference laboratories in action. As a leader in advocating for fair laboratory-developed test (LDT) legislation by the Food and Drug Administration (FDA), ARUP's leadership welcomed the opportunity to inform Stewart about the laboratory industry and the impact of pending FDA regulation.
"I think Congressman Stewart gained a greater appreciation for the high-level laboratory testing that ARUP performs, as well as a better understanding of the challenges FDA legislation will place on a high-quality testing laboratory like ARUP," says ARUP Director of Laboratories Jerry Hussong, MD, DDS, MS, who accompanied Congressman Stewart on the tour.
The FDA is establishing a plan to regulate LDTs similarly to the way medical devices are regulated under the Federal Food, Drug, and Cosmetic Act. Currently, laboratory operations, i.e., quality and clinical testing processes, are regulated through CLIA (Clinical Laboratory Improvement Amendments of 1988). ARUP Laboratories and the University of Utah Health Sciences laboratories are accredited by the College of American Pathologists (CAP).
Since the release of the draft guidance by the FDA, numerous stakeholders have responded to the FDA and Congress, including the Diagnostic Test Working Group (of which ARUP is a participant). This group has worked with the House Energy and Commerce Committee to incorporate proposals for LDT regulation and oversight into draft legislation.
The DTWG proposal would include regulation by the FDA of in vitro clinical tests (IVCT) in design, development, validation, and platform manufacturing while the Centers for Medicare & Medicaid Services (CMS)* would retain jurisdiction over typical lab activities and operations. IVCTs would be stratified into three categories based on risk (low, moderate, and high) with different regulatory requirements.
While ARUP supports a legislative solution to LDT regulation and oversight, it is concerned about the definition of the risk categories, test modification, resubmission requirements, and grandfathering of current LDTs. These issues are currently being discussed by the various stakeholders, which include ARUP Laboratories.
The tour also provided Congressman Stewart with a more complete picture of precision medicine. "I think Congressman Stewart gained a greater understanding for the precision medicine initiatives that are underway at the University of Utah's Health Sciences Center and how laboratories like ARUP are instrumental in accomplishing that mission," adds Dr. Hussong.
*The Centers for Medicare & Medicaid Services regulates all laboratory testing (except research) performed on humans in the U.S. through the Clinical Laboratory Improvement Amendments (CLIA).
By Peta Owens-Liston, ARUP Science Communications Writer