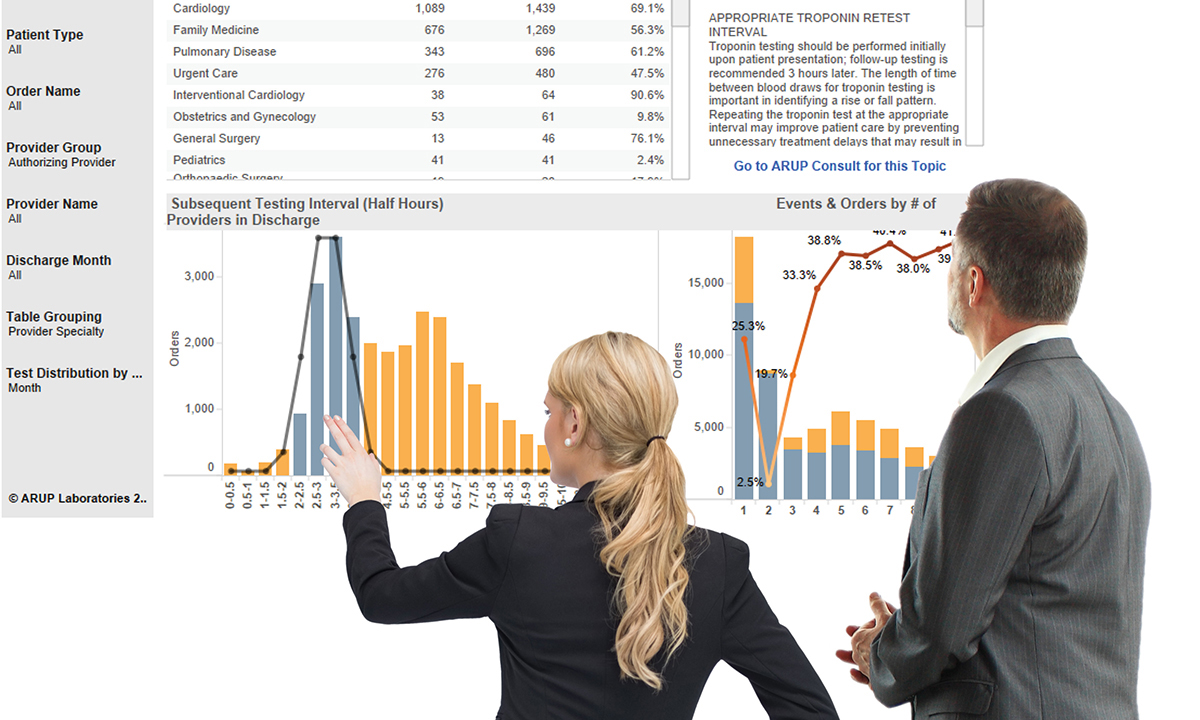 March 4, 2020
Schedule a demo of our new dashboard, and find out how untapped lab analytics can drive system-wide changes.
AnalyticsDx™ Comprehensive is a new tool that arranges all the lab testing data you already have into a visual dashboard that allows you to see your organization's ordering, volume, and provider trends and provides customized, actionable recommendations for improvement.
See AnalyticsDx Comprehensive dashboards in action. Preregister for a chance to win a $100 gift card!* Register today!
*Gift card eligibility limited to the first 30 people who register by Friday, March 13 for either an in-person or a WebEx demo. Read on to learn more about how this dashboard can help you uncover savings system-wide.
What is the Most Underestimated Data in Hospitals?
Hospital leaders are trying to run a healthcare system under increasing financial pressure while also providing better patient outcomes with optimized care. But most leaders are overlooking one of the most impactful ways to find opportunities to relieve this financial pressure and improve patient care: diagnostic data.
Nearly 70% of medical decisions—from what drugs to prescribe to what further diagnostic testing needs to happen—are made based on laboratory results. An estimated 13 billion lab tests are performed annually in the United States, and a 2013 study found that 10–30% are unnecessary or inappropriate (PLoS One. 2013;8(11):e78962).
This misutilization of resources has expensive downstream costs for hospitals and can negatively affect patient safety, including longer hospital stays or unnecessary procedures.
For hospital executives concerned about improving the bottom line without compromising on patient care, taking a closer look at their laboratory data can turn a small percentage of spend into a system-wide benefit.
Making Use of the Data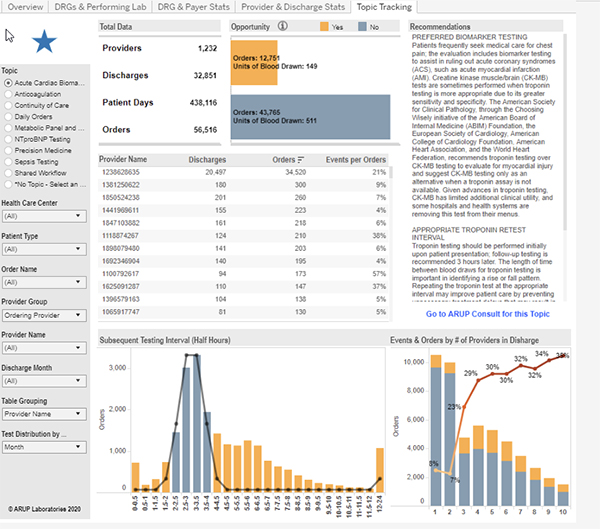 More and more, hospitals are looking for dashboards that can aggregate and visually display their data. ARUP Laboratories' AnalyticsDx™ Comprehensive is a real-time dashboard that, beyond aggregation and display, provides the insight hospital executives need to turn misutilized resources into improved patient care and better financial stability.
Once implemented, ARUP's expert consultants continue to work closely with clients to customize their dashboards, identify opportunities, and implement interventions. This is especially helpful for hospitals that have limited resources or expertise.
What can hospitals do with ARUP's comprehensive dashboard?
Analyze lab test volumes, trends, and total discharges associated with DRG codes
Reviews patient lab-test charges and length of stay based on insurance group
Determine utilization of drug orders associated with lab tests by provider specialty and individual provider
Track, monitor, and optimize laboratory and pharmacy collaboration initiatives
Determine total orders per medication
Keeping the Data Secure
Understandably, with data breaches and malware, many hospital systems are nervous about installing third-party software behind their firewall or having their data stored in a cloud. With ARUP's dashboard, there is no installation, no cloud, and no unnecessary data requests. Instead, data is sent from the client to ARUP using a defined, HIPAA-compliant process that reduces the burden on client's analytic resources. This data is then stored on ARUP's secure, on-site servers, and then pushed back to hospital systems through a secure viewing portal.