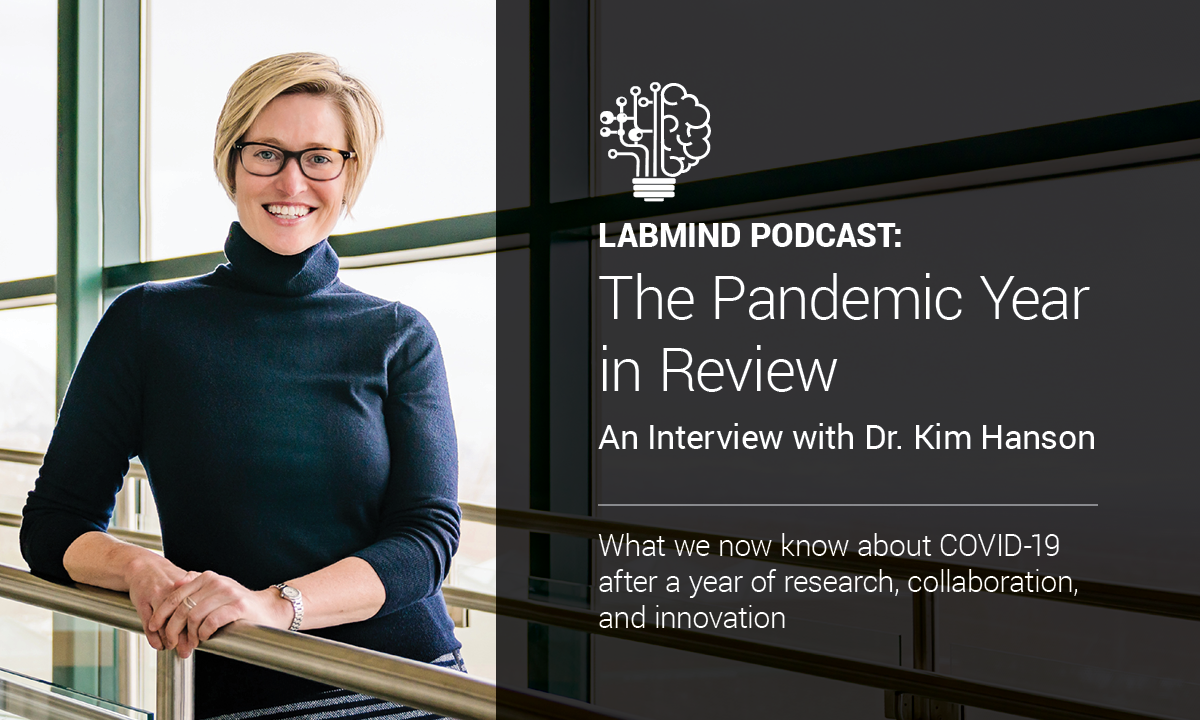 March 2, 2021
A year after some of the first COVID-19 cases were detected in the United States, an expert close to both the lab and the clinical response to the pandemic reflects on some positives that have emerged from the crisis in a new LabMind podcast episode.
In a sense, the past year has been a "rewarding time, because we've really come together in pretty amazing ways to respond to this pandemic," said Kim Hanson, MD, ARUP section chief of Clinical Microbiology, in a new LabMind interview with host Brian Jackson, MD.
Hanson, also a University of Utah Health infectious diseases physician, cites leadership roles taken by junior U of U faculty members who assumed responsibility for patient care and helped define best practices in hospital infection control, among many other accomplishments. She also discusses the quick and effective collaboration that occurred between ARUP, U of U Health, Intermountain Healthcare, and the Utah Department of Health.
"I'm really proud of how we've done in Utah," Hanson says in the interview with Jackson, who is ARUP medical director of Support Services, IT, and Business Development. "Really early on, we banded together and got rid of the silos and said, 'How are we going to get testing out to as many people as possible?'"
In the 30-minute interview, Hanson also reflects on what researchers have learned over the past year, and what might come next.
Hanson has made significant contributions to COVID-19 research and testing efforts from the start of the pandemic. Most recently, she and her colleagues published groundbreaking research on the sensitivity of rapid antigen testing in asymptomatic individuals.
The study, published in the Journal of Clinical Microbiology, is one of the first to look exclusively at an asymptomatic population, shedding light on the possible infectiousness of those without symptoms.
Hanson also led an earlier study that determined that self-collected saliva samples are equally as effective as deep nasal swab samples for COVID-19 testing.
According to Hanson, the current major focus of the pandemic response is to identify variants and assess the impact these strains might have on immunity, as well as to increase vaccination efforts. In late January, ARUP began efforts to sequence specimen samples to identify possible variants prevalent in the U.S.
In addition to the podcast, Hanson recently presented a webinar, Update on the Laboratory Diagnosis of COVID-19, which offers an overview of approaches used for the diagnosis and surveillance of SARS-CoV-2 infection. The webinar is now available on demand at arup.utah.edu for free CME, P.A.C.E.®, and Florida credits.