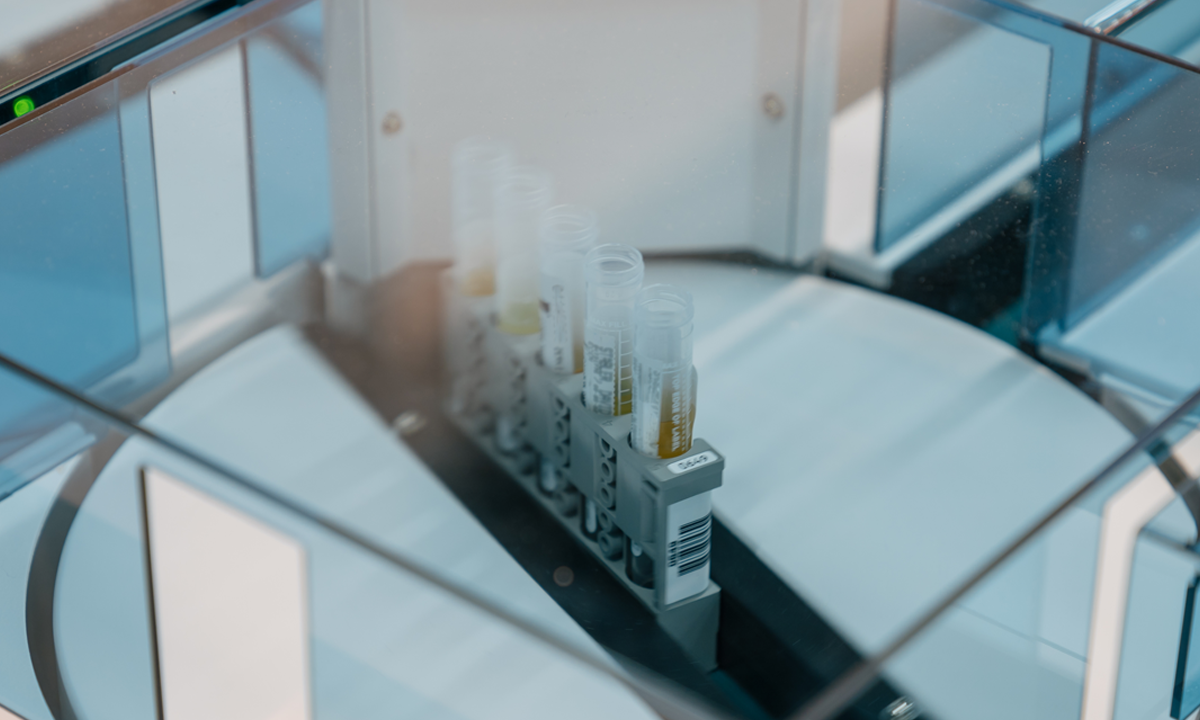 On the Roche platform, trays of test tubes are mechanically decapped and sorted before moving along an automated track that delivers them to analyzers for testing.
February 25, 2022
High-volume laboratory testing just got better and faster at ARUP Laboratories with the addition of a state-of-the-art Roche chemistry and immunoassay platform that is now nestled at the center of ARUP's Automated Core Lab.
The new platform was launched overnight on February 22, 2022, as older instrumentation was gradually shut down. The changeover may sound like a quiet flip of a switch, but its impact is more akin to a "Big Bang."
"It's a generational leap forward that will have a measurable effect for our clients and patients," said Joseph Rudolf, MD, medical director of the Automated Core Lab.
The Roche platform will significantly expand ARUP's testing capacity, improve the quality of test results, and decrease turnaround times, Rudolf said.
"Decreased turnaround times will shorten the time that a patient worries while awaiting test results and [shorten] the time [before starting] treatment or [making] a care plan," he said.
The core lab's bread and butter are the high volume of blood, plasma, serum, and other bodily fluid tests commonly used in diagnostic medicine and disease treatment or monitoring, which can include everything from glucose, hormone, and thyroid tests to toxicology tests for drug abuse, among many others.
Nearly 100 assays have been validated on the high-volume Roche platform, said Ryan Greer, who oversees the technical operations of the Chemistry Division. A test is considered high volume if it is conducted several thousand times each month, he said.
Rudolf's core lab team also supports the work of more than 70 other ARUP labs, including those that perform highly specialized esoteric tests, which reach even more patients.
"We're like the beating heart of the reference laboratory," Rudolf said. "And because we touch so many lives every day, it's incumbent on us to be highly efficient and reliable."
The Roche platform streamlines workflows for high-volume tests using a Cobas Connection Modules (CCM) track and preanalytic modules, coupled with newest-generation chemistry analyzers in the core lab and preanalytic modules in the adjacent Automated Endocrinology Lab.
During the process, test tubes are loaded into a preanalytic module for centrifugation and then travel via robotics to a separate site for decapping and subsorting to instrument-specific racks. Modules connected to the CCM track move the tubes along a fully enclosed track for delivery to Roche instruments for analysis.
The enhanced automation that comes with Roche reduces both the number of human touches to a sample and the number of opportunities for error. Early data show that automation has reduced up to 70% of manual steps in the core lab, according to Greer.
"Every time we automate a sample is an opportunity to improve our quality," Rudolf said, adding that the Roche platform will support future growth. "We're setting architecture for the next 10 years, so we'll be able to grow and change with the needs of our patients and our clients."
The development of a new core lab with the latest in chemistry and immunoassay technology was a part of ARUP's overall plan for the new 220,000 square-foot laboratory facility that opened in 2021.
The Chemistry Division played an integral role in designing the space and selecting the equipment—from the platform itself to refrigerators and reagents—that would best move ARUP to the next level in testing.
Although the Roche platform was in place by April of 2021, validating its instrumentation for each assay took more than six months and relied heavily on strong partnerships between the core lab and other ARUP teams.
ARUP's Institute for Clinical and Experimental Pathology® (Research and Development) designed the validation plans and ran thousands of sample tests, collaborating closely with medical directors to evaluate the data and ensure ARUP's expectations and standards were met, Greer said.
Chemistry also worked hand in glove with Clinical Systems to document and draft test change orders for every test and prepare that information for ARUP clients so they can understand those differences, whether they relate to a reference interval, to specimen acceptability, or to the analytic components on the analyzer.
The Validation Support Team also worked with Chemistry throughout the process, creating a validation plan for each individual assay to make sure they accurately met expectations and produced high-quality results.
Phase two of the validation process included the implementation of new middleware, a technologic handshake between the Roche instrumentation and the software and other lab information systems.
"To get all this done in a year has been just remarkable," said Greer.
Jennifer Dobner, jennifer.dobner@aruplab.com