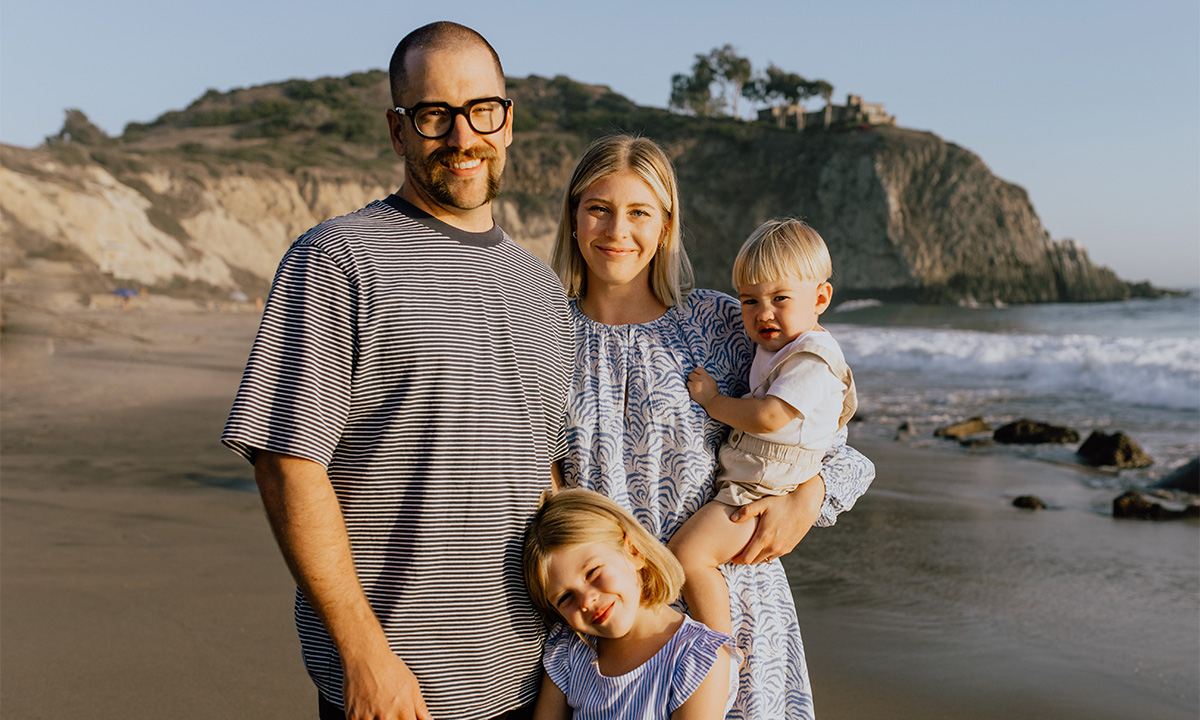 Stewart and Becky Tribe, shown here with their 2-year-old son Woodward and their 5-year-old daughter Linden, say their family benefitted greatly from newborn screening that led to their son's early GAMT deficiency diagnosis. Woody, as he is called, has taken supplements since his birth that have prevented cognitive impairments he might have developed if the disorder had not been detected in infancy.
February 16, 2023
When you ask Becky Tribe how her son is doing, her smile widens. "He's doing just great," she says. Woodward, or Woody, as he's called, is a thriving 2-year-old. He's adorable, energetic, and loving. Becky and her husband, Stewart, celebrate as he achieves each developmental milestone.
That last part is important to the Tribes because life might have been different for their son. When Woody was born in December 2020, he became the first infant in the nation to be identified as having guanidinoacetate methyltransferase (GAMT) deficiency as a result of the rare inherited condition being added to a state's newborn screening panel.
GAMT deficiency affects the body's ability to produce creatine. Without sufficient reserves of this organic compound, the body is unable to store and use energy properly, potentially resulting in cognitive impairments that can be severe. If detected early, however, the condition is treatable with supplements and a controlled diet. "Woody's early diagnosis changed his life, and it changed our lives," Becky Tribe said. "We're so, so lucky that GAMT was caught early."
The Tribes live in Utah, the first state to add GAMT deficiency to its newborn screening panel, thanks to the sheer will and determination of two ARUP Laboratories medical directors and the Utah mother of two children who have the condition. The married couple of Marzia Pasquali, PhD, FACMG, ARUP section chief of Biochemical Genetics, and Nicola Longo, MD, PhD, a pediatrician and chief of the Medical Genetics division at University of Utah Health and a member of the Biochemical Genetics department at ARUP, are pioneers in the diagnosis and treatment of GAMT deficiency, while Heidi Wallis, now executive director of the Association for Creatine Deficiencies, is a committed advocate for her own children and those of other families affected by the disorder.
Pasquali, Longo, and Wallis have since helped get GAMT deficiency added to the newborn screening panels of a few other states, and now they are celebrating an important new milestone that will help get the disorder added to newborn screening panels nationwide. Based on an application they first submitted in 2016, U.S. Secretary of Health and Human Services Xavier Becerra in early January approved the addition of GAMT deficiency to the Recommended Uniform Screening Panel (RUSP), a list of disorders that is carefully curated by the Advisory Committee on Heritable Disorders in Newborns and Children (ACHDNC).
"This is a big deal," Wallis said. Some states are required by law to add disorders to their newborn screening panels within a limited time frame after they've been added to the RUSP. Most states, and even other countries, rely on the RUSP to guide what they should add to their panels, she said. "We're grateful to each of the experts who gave their time and expertise to this effort."
The effort involved was significant. A disorder must meet rigorous criteria to be included in the RUSP. The initial application included detailed information about GAMT deficiency, how to screen for and then perform confirmatory testing for the disorder, and, "The big question was, is there a difference if you treat the disease early compared with later," Longo said.
Evidence from the extensive research he and Pasquali have done was critical, but so, too, was input from families with children diagnosed with GAMT deficiency, Longo said. Wallis' input was compelling because she knows well the difference that infant screening can make. Her daughter Samantha's (Sam's) developmental delays went undiagnosed, and therefore untreated with effective therapies, until she was 5 years old, when a test to measure biochemical changes in the brain detected a lack of creatine. Subsequent genetic testing identified a mutation in the gene that provides instructions for making the enzyme GAMT, and that likely explained the lack of creatine in Sam's brain. The enzyme converts guanidinoacetate to creatine. When GAMT is deficient, creatine is deficient, too, unless some type of intervention occurs.
Sam's diagnosis ensured that Wallis' son Louis was tested at birth. He, too, was confirmed to have GAMT deficiency, but early intervention has meant that 11-year-old Louis has none of the cognitive impairments that continue to challenge his sister, who is now 19.
The Tribes' story also was key to GAMT deficiency's addition to the RUSP. To meet the ACHDNC criteria, Pasquali, Longo, Wallis, and others needed to show that infants would be identified through routine newborn screening, then confirmed to have the disorder through further testing. Woody's diagnosis in December 2020 provided that evidence, as did the diagnosis through newborn screening in New York state of a second infant in February 2021.
With this final piece established, the application was resubmitted in May 2021 and approved for evidence review in August 2021, Wallis said. An evidence review committee presented its findings in May 2022, and members of the ACHDNC unanimously recommended that GAMT deficiency be added to the RUSP. Becerra's approval on January 4, 2023, completed the matter.
Pasquali said the addition of GAMT deficiency to the RUSP is a good example of effective collaboration by all parties involved. "Newborn screening is not simply a test, it's a whole system," she said.
The laboratory must identify an infant with the disorder and confirm the diagnosis, then a clinician must treat the condition as the family cares for the infant. Importantly, the treatment must also be effective. "We have to demonstrate that the whole system works," Pasquali said.
She and Longo said the effect of GAMT deficiency's addition to the RUSP won't be immediate because it will take time for states to add it to their panels. Timelines will vary depending on resources and other factors. Pasquali is optimistic, though, in no small part because she expects manufacturers to add GAMT deficiency screening to the kits for the panels that state public health laboratories use to perform newborn screening.
For the Tribe family, it can't happen soon enough.
"As parents who found ourselves in the thick of this, it just boggled our minds to learn that this screening wasn't more prevalent and readily available to everyone," Stewart Tribe said. "It just seems like such a simple thing that can make a life-changing difference."
Above all, Wallis is relieved.
"This is so important to our families," she said. "It gives us hope."
Lisa Carricaburu, lisa.carricaburu@aruplab.com