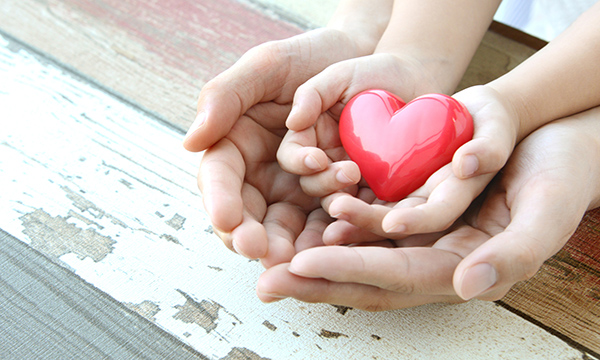 February 13, 2017
Not all hearts need love (or roses) this Valentine's Day. Some need blood. Consider that five to ten babies each week undergo heart surgeries at Primary Children's Hospital. They all need blood. Across the state, children and adults undergoing bone marrow transplants or suffering from cancer, burns, trauma, surgery or illness need blood.
February 14 is also National Donor Day—all types of donations including blood. And patients, many of them fighting for their lives, need blood every day. "We need about a hundred people to donate whole blood every day to keep up with the demand," says Lance Bandley, community relations supervisor at ARUP Blood Services—the sole blood provider for University of Utah hospitals and clinics, Primary Children's Hospital, Shriners Hospital for Children, and the Huntsman Cancer Hospital.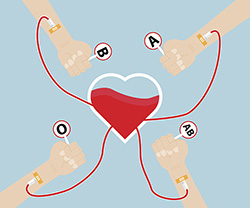 "I can always assure donors that there are dozens of patients in need each day who are going through the worst experience of their life, and their donation goes to help that person out," says Bandley.
Most blood is used within the first 35 days. For babies 4 months and younger or those who are having heart surgeries, blood must be less than five days old. "This creates a continual need," says Bandley. "Of the 100 blood donors we need every day, eight of those donors are needed for babies."
The need for platelets is even more dire than the need for whole blood; because platelets are only viable for five days and because the donation process can take up to two hours, fewer people donate platelets. To counter the time investment, ARUP Blood Services provides wi-fi, Netflix, and new DVD movie releases at its two platelet donation centers. For blood donations (not platelets), businesses, schools, and churches can request ARUP's "bloodmobile" or have ARUP set up inside.
"Platelets are always the top need at all times. We've seen the need grow at a fast rate largely due to increases in cancer patients at Huntsman Cancer Hospital," says Bandley, noting that the hospitals ARUP serves are using 33 percent more platelets than they did just a year ago.
"If everyone could increase their donations from one to two times a year, there would never be a shortage of blood across the country."
Lance Bandley
Blood Services
Platelets are the component in blood that helps control bleeding. Those who need platelet donations to survive include cancer patients, bone marrow transplant patients, organ transplant patients, trauma patients, open-heart patients, and more.
No longer can blood donation services rely primarily on the aging population—those who have lived through wars and were raised to always give blood—for most of their donations. These consistent donors increasingly can't give blood due to health issues. "Millennials and Generation X are awesome and participate, but they don't come back as frequently," says Bandley. They give once a year on average versus three to four times a year for those 50 years old and above."
On average, donors give 1.2 times a year. ARUP Blood Services top 50 platelet donors provide almost 30 percent of the total platelet supply. "If everyone could increase their donations from one to two times a year, there would never be a shortage of blood across the country."
Peta Owens-Liston, Science Communications Writer