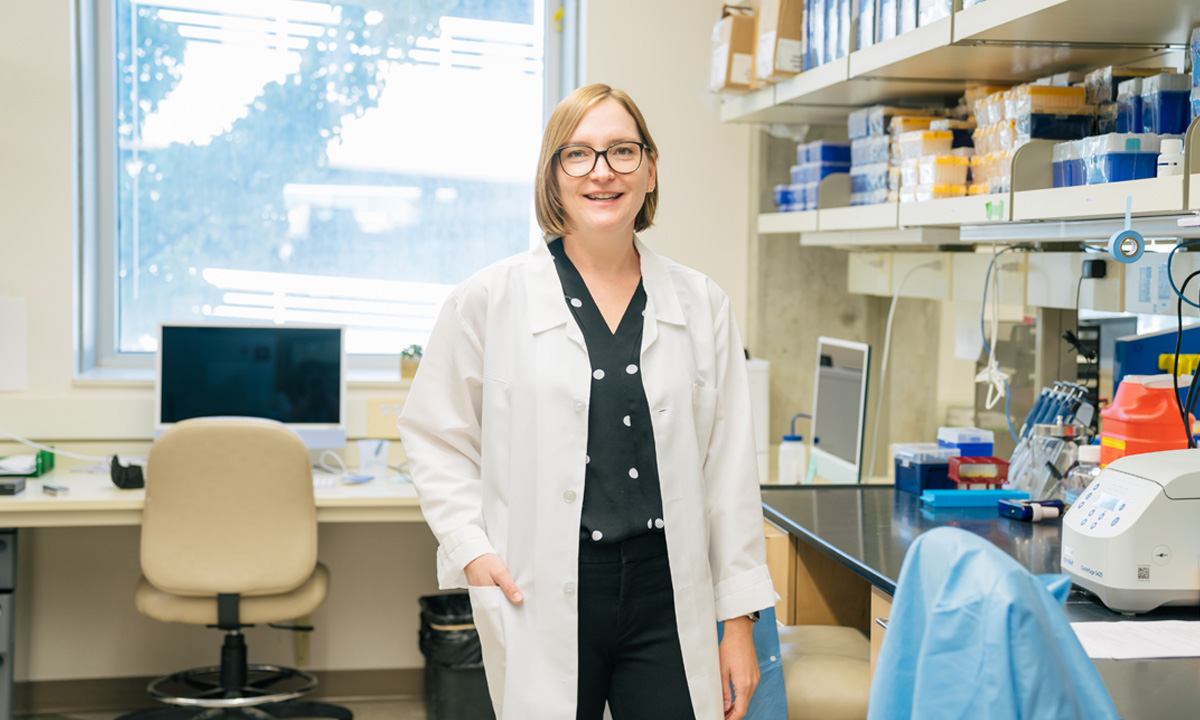 Allison Carey, MD, PhD, pictured in her lab at the University of Utah, developed a molecular barcoding approach to identify genetic variants that make some strains of Mycobacterium avium more resistant to antibiotics.
February 9, 2023
An ARUP Laboratories physician scientist who is using molecular barcoding to identify the genes that allow some strains of bacteria to establish chronic infection and tolerate exposure to antibiotics has earned "rising star" recognition from University of Utah Health.
Allison Carey, MD, PhD, ARUP medical director of Hematopathology, is among six U of U faculty members who were invited to share their stories of scientific discovery during the annual Vitae 2022 symposium, which recognizes research excellence in faculty members who are at the forefront of their professions. Presenting to both live and online audience members during the symposium, Carey described a journey that began when she was a child who was fascinated and impressed by her neurologist uncle's pager. Now she is a molecular pathologist who conducts groundbreaking research in her own lab—no pager necessary.
Carey joined ARUP and the U School of Medicine's divisions of Clinical Pathology and Microbiology and Immunology in 2021. Then, in 2022, she earned a prestigious grant for first-year faculty members with "big ideas." The National Institute of Allergy and Infectious Diseases (NIAID) New Innovator (DP2) program awarded her $1.5 million over five years to advance her research.
Specifically, Carey is using a unique molecular barcoding approach she developed to investigate strain-specific genetic differences in Mycobacterium avium, an environmental bug that doesn't always lead to illness—but when it does, the infection is extremely hard to treat. Her lab performs whole genome sequencing on bacterial isolates and then uses computational analysis to identify pathogenic and nonpathogenic strains of M. avium. The goal is to determine which genetic variants make some strains of M. avium more resistant than others to prolonged exposure to antibiotics.
Ultimately, Carey aims to improve both diagnostic techniques and treatments for M. avium and other bacterial infections.
Learn more about Carey's research in her nine-minute Vitae 2022 presentation, "Cracking the Code: Deciphering the Impact of Genetic Variation in Mycobacteria."
This article also includes information about her research and her NIAID grant.
Lisa Carricaburu,
lisa.carricaburu@aruplab.com