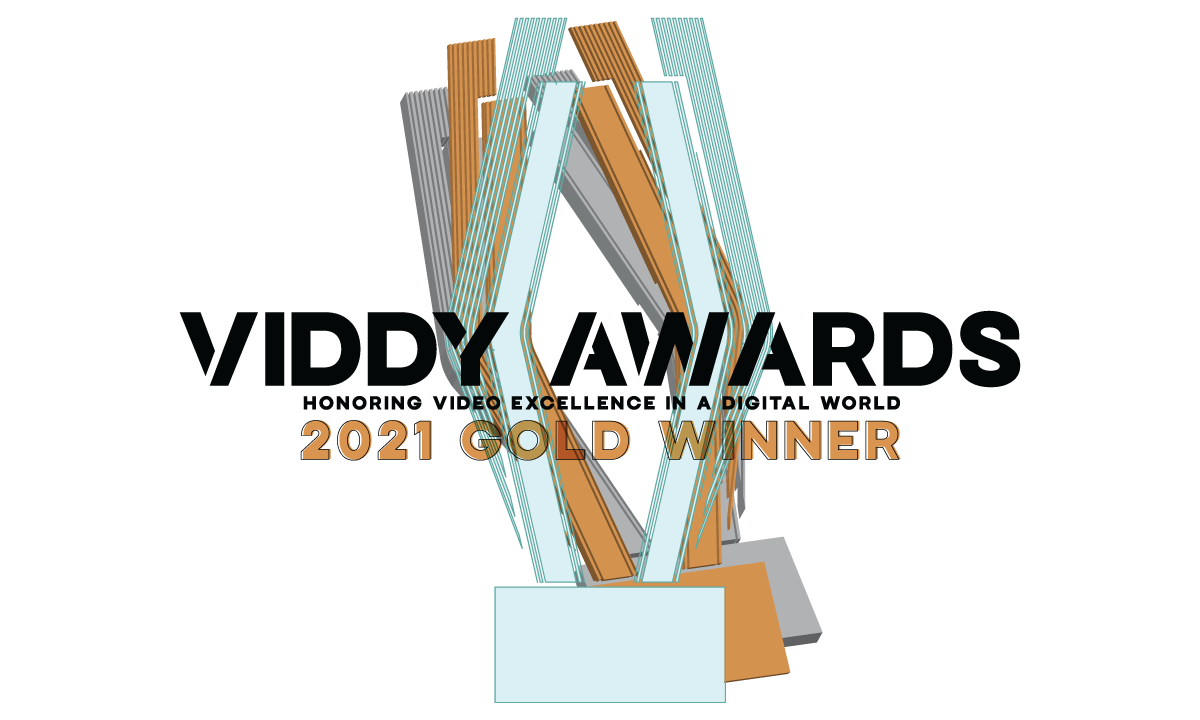 February 8, 2022
Videos and podcasts produced by ARUP Laboratories about the function of COVID-19 vaccines and the challenges in navigating the pandemic have earned top prizes in science and medicine categories from the Association of Marketing and Communication Professionals' 26th annual Viddy Awards.
ARUP earned two Gold awards in the medical long-form video category for a pair of videos about COVID-19 that were developed and narrated by Jonathan Genzen, MD, PhD, chief operations officer. The videos explain how vaccines made by Moderna and Pfizer BioNTech and by Johnson & Johnson and AstraZeneca work.
A third Gold award in the science podcast category was given for the LabMind podcast episode featuring a conversation on leadership between Julio Delgado, MD, MS, executive vice president, and podcast host Brian Jackson, MD, MS, medical director of Support Services, IT, and Business Development. As ARUP's chief medical officer until September 2020, Delgado helped steer ARUP through the early months of the COVID-19 pandemic.
"Our goal for both of the videos was to build confidence and understanding around vaccine testing and efficacy by sharing ARUP's considerable knowledge of the biological processes and expertise in clinical laboratory science," said Chérie V. Petersen, distance education program coordinator for ARUP's Institute for Learning. "It's wonderful to be recognized for that work."
With some 50,000 entries from more than 100 countries, the Viddy Awards competition is one of the largest and most prestigious in the marketing communications industry. Winners are announced each January for work completed in the previous year.
Genzen said he took an educational approach to the two videos: "The COVID-19 Vaccines from Pfizer-BioNTech and Moderna: What's in Them and How Do They Work?" and "The COVID-19 Vaccines from Johnson & Johnson and AstraZeneca: What's in Them and How Do They Work?"
The "what" and "how" in each subtitle was a deliberate choice, he said, because the questions felt central to giving viewers an understanding of what the vaccines could do and guiding personal decision-making about whether to have a vaccine.
Genzen said his goal was to break down complicated and often confusing scientific information into bite-sized, fact-driven concepts and simple visuals that are easy to understand. Originally meant for employees and clients, the videos were shared by ARUP on its YouTube channel, where they have been viewed more than 500,000 times and are often linked to by other institutions and media outlets.
"It's an example of how ARUP can contribute to a greater public understanding, particularly during public health crises, and bring more laboratory medicine experts into medical discussions about diagnostic testing," Genzen said.
In developing the award-winning LabMind podcast episode, Petersen said she and Jackson saw an opportunity to advance the value of laboratory medicine by shedding light on the "monumental lift and burden" labs faced during the early months of the pandemic.
"We in the industry have always known that behind every patient care decision, there's a lab test informing health providers, but it was never as broadly appreciated until the pandemic placed lab medicine front and center," Petersen said.
In their 40-minute conversation, Jackson asked Delgado, who is renowned for his immunology research, about his philosophy of leadership and the life experiences that prepared him to lead the rapid ramp-up of ARUP's testing in response to a challenge of historic proportions.
Delgado traces that foundation back to the time he was kidnapped by guerilla fighters at midnight while working in a rural hospital in his native country of Columbia. After being taken to a remote campsite, Delgado was asked to help a man suffering from a gunshot wound. That patient is the only one who has ever died under Delgado's care.
That experience was a valuable lesson in accepting situations you can't control and seeing failure as a learning opportunity, rather than a limitation on what one can or cannot do. Delgado also spoke about his belief in data-driven decisions, trusting one's instincts, the importance of making connections with others, and leading by example. Each value has served him well, he said, as ARUP has had to pivot again and again in response to the ever-changing virus.
Delgado poured his heart and soul into ARUP, ensuring it was at the forefront of the pandemic response, yet none of his answers to Jackson's questions was purely technical.
"Good science is deeply personal to him," Jackson said. "You can hear it in his voice."
ARUP also received Honorable Mentions for the "Behind the Lab Coat: Lab Week Heroes" video and Jackson's "Person-Centric Innovation to Improve Diagnostic Testing in Global Health" LabMind podcast episode.
Jennifer Dobner, jennifer.dobner@aruplab.com