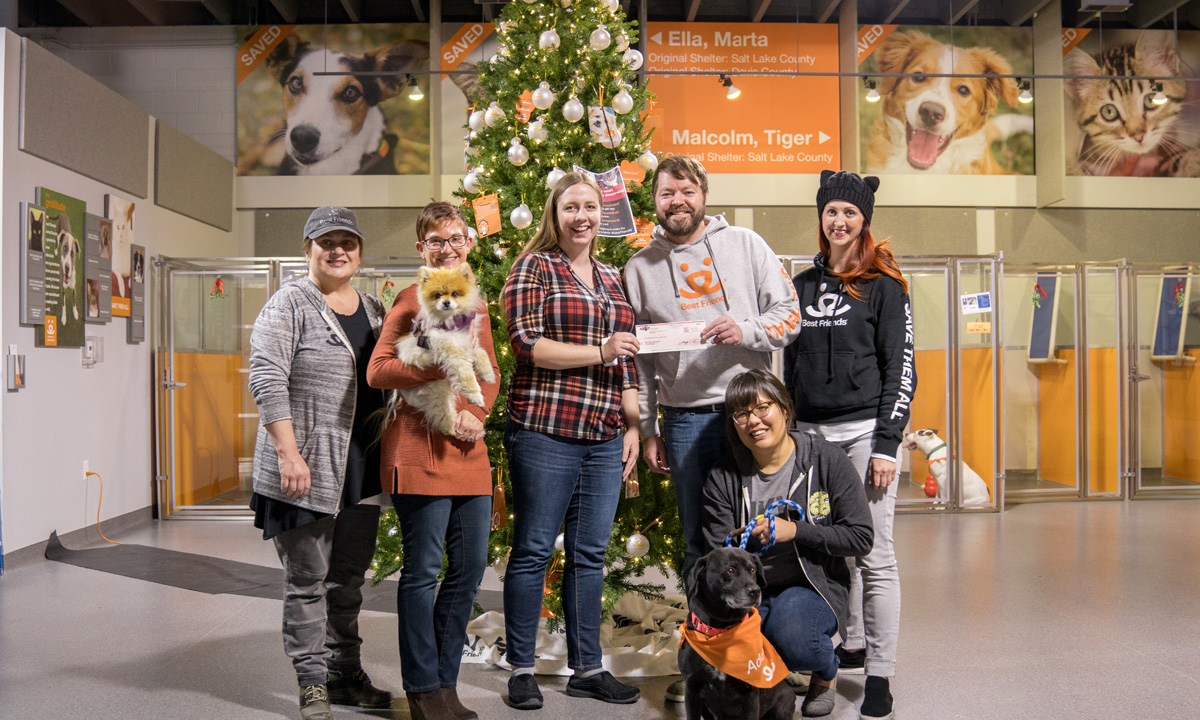 January 18, 2017
ARUP ambassador Claire Gibbons (center) presents a donation check to (from left to right): Best Friends Animal Sanctuary employees Tracy Kelley, Kim McDaniel (holding Mr. Fox), Arlyn Bradshaw, Sandy Nelson, Lydia LaSalle (in front), and Candy the black dog.
---
"We make a living by what we get. We make a life by what we give," said Winston Churchill. If he is right, ARUP has no shortage of people making the most of life.
This past holiday season, ARUP employees (through payroll deductions) donated more than $47,000 to five selected ambassador charities. These nonprofits included Best Friends Animal Society, the Maliheh Free Clinic, Salt Lake Habitat for Humanity, United Way, and the University Hospital Foundation.
"ARUP clearly has created a culture among employees to give back and engage in the community, and we are thrilled that your employees see the difference we are making in lives," said Jeanne Ashby, executive director of the Maliheh clinic. This free clinic provides medical care for underserved and uninsured people.
The clinic received a check for more than $6,000, as well as, in a separate donation effort, toys and gifts. "The hands-on approach and the willingness to take the time to sponsor and get employees involved in giving shows off the kind of company ARUP is," added Ashby.
"It is really incredible to see this type of support from our community. I am so grateful to ARUP as a company for inspiring their employees to support local nonprofits and for including animals in that effort."
Arlyn Bradshaw
Executive Director, Best Friends Animal Society
Each year, ARUP ambassadors, drawn from individuals who have received recognition within the company as employee of the month or supervisor of the quarter, vote on organizations to support for a two-year period. In December and early January, ambassadors visited the different nonprofits to present the gifted funds and learn more about how the donations will help each organization.
"It was so fun to be on the giving side and to see just how appreciative they were; you could tell they really cared deeply about what they do, and to have that extra financial support means a lot," said ARUP ambassador Claire Gibbons, a medical tech specialist, who presented to Best Friends. "Giving to the community is so much about what ARUP stands for—we care about people, not just patients but also others out in our communities."
The employees who visited four of the nonprofits and presented the donation checks included: Adam Christensen (Habitat for Humanity), Claire Gibbons (Best Friends), Amy Stradley and Kelly Black (Maliheh Clinic), and Amy Sandoval and Jessicka Singh (United Way).
ARUP ambassadors serve for one full calendar year and, in addition to creating charitable opportunities for employees, provide ARUP leadership feedback on how certain policies, programs, and activities will affect employees and be received.
"It felt really good to be part of a company like ours that has the ability to give back to something that does so much good for people."
Adam Christensen
Central Support Services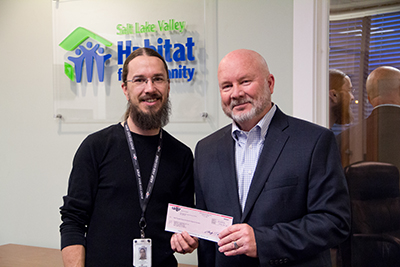 When Adam Christensen, a Central Support Services project manager, visited Habitat for Humanity, Executive Director Ed Blake shared the upcoming projects they were working on as well as their new, cost-efficient designs for energy-efficient homes. He also shared a bit about the families they were helping.
"You could tell how close they get to these families and what it means to them to help these people directly," said Christensen. "It felt really good to be a part of a company like ours that has the ability to give back to something that does so much good for people."
How will the donated funds make a difference?
Best Friends Animal Society received over $6,000. This will help sustain the Best Friends Kitten Nursery and help save nearly 1,500 orphaned kittens in the coming year. It will also help provide spaying/neutering for individuals who have pets but cannot afford the cost. To learn more or to volunteer, visit utah.bestfriends.org.
The Maliheh Free Clinic received over $6,000. This will help provide medical care for uninsured patients (who do not qualify for Medicaid and Medicare) and low-income patients (i.e., a family of four earning less than $35,325/year). Each patient visit costs $48; ARUP's donation could fund 127 patient visits. To learn more or to volunteer, visit www.malihehfreeclinic.org.
Salt Lake Habitat for Humanity received over $8,500. This will help with the material needed to build a community of 20 energy-efficient homes in Kearns for mostly single-parent families whose earnings are in the lower income bracket. It will also be used for critical repairs on homes (many owned by senior citizens) throughout Salt Lake Valley. To learn more or to volunteer, visit HabitatSaltLake.com.
United Way received over $16,000. This will help support education, healthcare, and income stability, targeting the most in-need and at-risk populations—populations that suffer from intergenerational poverty, inadequate or no access to healthcare, and other basic needs—and students who are falling behind in their education. To learn more or to volunteer, visit the Online Volunteer Center.
The University Hospital Foundation received over $9,900. This will help with financing multiple camps and retreats for burn survivors, including camps for preschoolers and young adults. For more information, visit the University of Utah Burn Center.
Peta Owens-Liston, Science Communications Writer