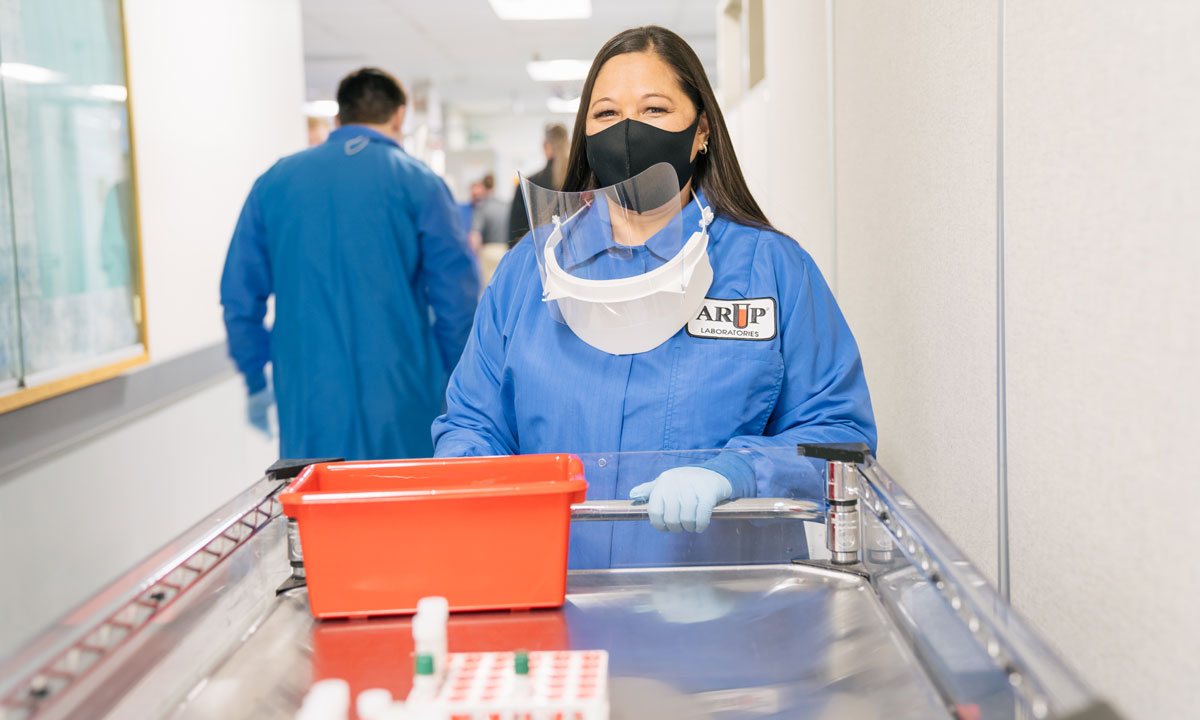 "There is a lot of support in the lab for people coming in new, and if one lab doesn't seem like a good fit for you, then there are still so many other labs to consider," Brook Berger tells new hires.
January 15, 2021
Career Growth Profile
The career growth spotlight series shows the myriad career paths possible at ARUP, inside and outside more than 65 laboratories and in more than 180 departments. Employees can excel and advance through extensive on-site training, lab mentorship programs, and a tuition reimbursement program.
Learn more
Twenty years ago, Brook Berger was hired as a processing technician I in ARUP's Specimen Processing Department and worked the night shift. Now, she is a supervisor in the company's Chemistry Processing Department and works 6 a.m. to 2:30 p.m. She took her first job with ARUP because, at the time, she needed good benefits and a flexible schedule as a working mother. "I had absolutely no lab experience," Berger said. "Everything I've learned here, I've learned on the job."
After one year, she was promoted to the level of processing technician II and spent five years in the Specimen Processing Department. "I still use the skills and knowledge I gained in that position today," Berger said. "The information you learn in Specimen Processing is super valuable and sets you up for new opportunities in other areas of the company."
She gleaned knowledge about test names, what critical frozen tests are, and how to handle them. She gained familiarity with labels and tracking, and a greater understanding of the language in requisitions.
Eventually, searching for something new, Berger interviewed for a position in the Electrophoresis Manual Endocrinology (EME) Lab and was hired as a lab technician I. A month later, she was promoted to the technician II position. Since that time, ARUP has implemented straight-across transfers so that a technician's level does not change due to a transition to a new lab.
"There is a lot of support in the lab for people coming in new, and if one lab doesn't seem like a good fit for you, then there are still so many other labs to consider," said Berger, who naturally and gradually started taking on more tasks and responsibilities in the EME Lab.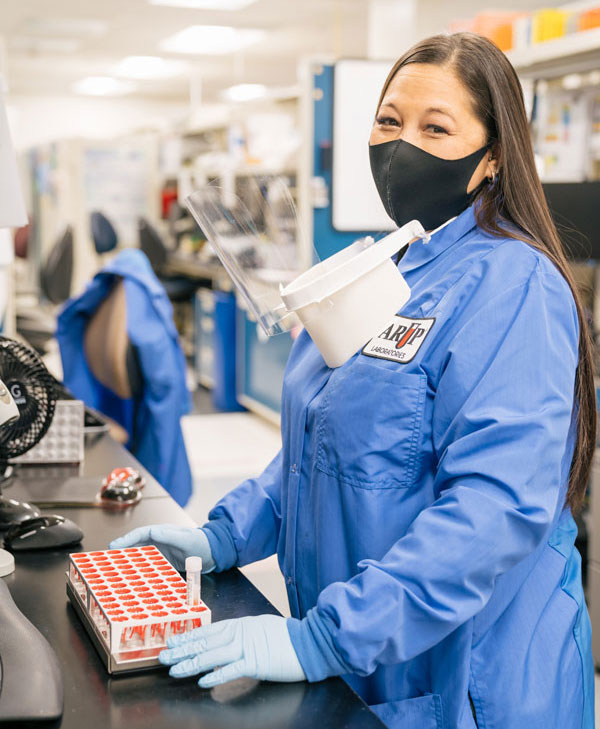 After four years in EME, she was promoted to technician III, and six months later, to problem resolution specialist. "I'm a pretty proactive person, and I'm always looking for ways to keep busy," Berger said. She explained that early on, for example, if there was an issue with a sample, she would make sure it was documented and watch for updates on other specimens that had issues that were being resolved.
As the department grew, Berger stepped up to take on more responsibility. Eventually, the department became too big and split to form a new department, Chemistry Processing.
Berger became the technical supervisor of Chemistry Processing in the fall of 2017. To officially take on this new role, Berger needed a college degree. So, while working, she earned an associate degree through an online university, and ARUP's tuition reimbursement program covered some of the expense. "I held this title while I earned my degree. My supervisor was fine with this as long as I was continuing my education," Berger recalled.
Now, when Berger hires new employees, she tells them that there are many other opportunities in the company if they want to further their careers at ARUP. "I tell them that even though they may be starting in this department, there are a variety of areas beyond the lab that they could possibly go into, such as IT or sales or marketing."
Berger said it seems like yesterday that she was working in Specimen Processing, despite the passing of 20 years. "I still learn something new every single day."