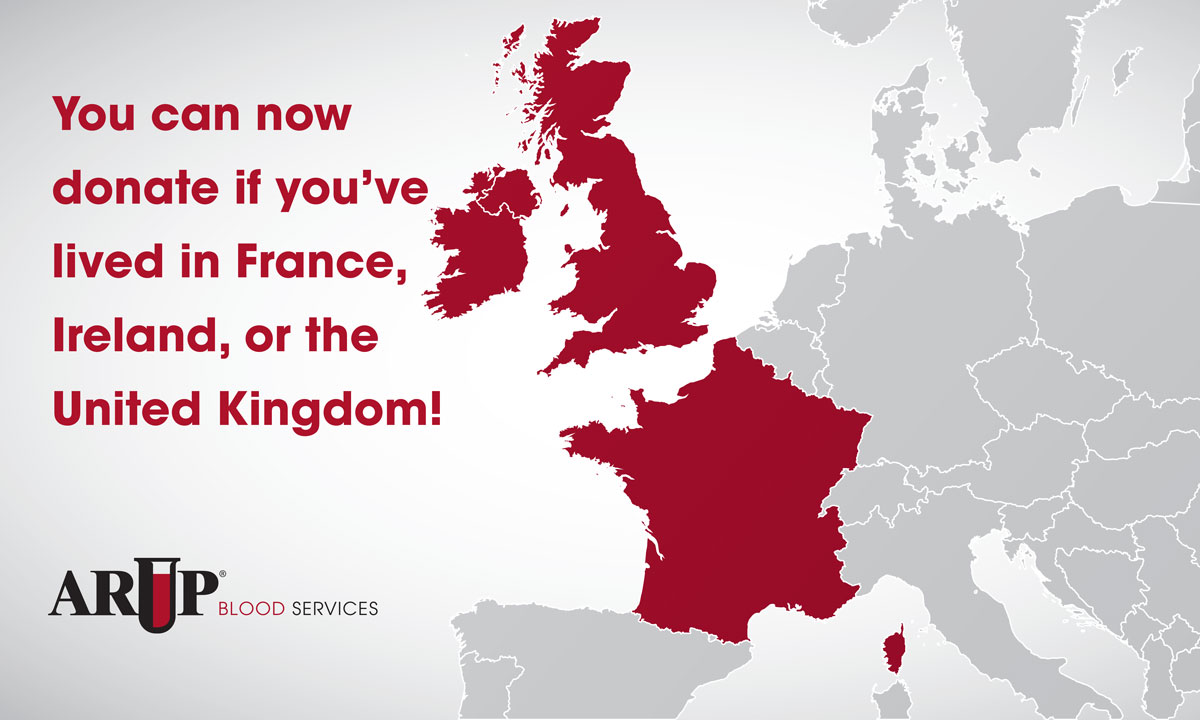 The U.S. Food and Drug Administration (FDA) has updated its blood donation guidelines to remove a former ban related to concern about variant Creutzfeldt-Jakob disease (vCJD) transmission.
January 9, 2023
SALT LAKE CITY—Individuals who lived or worked in the United Kingdom from 1980–1996 now may donate blood and platelets, thanks to updated U.S. Food and Drug Administration (FDA) guidelines.
The change also applies to individuals who spent time in Ireland and France from 1980–2001, or who received blood transfusions in the U.K., Ireland, or France between 1980 and the present.
Since 1999, the FDA had prohibited donations from these individuals out of fear they could transmit variant Creutzfeldt-Jakob disease (vCJD), commonly referred to as mad cow disease. But after extensive research and reassessment, the FDA determined the risk is now negligible. The agency began gradually lifting the ban and fully removed it in May 2022.
"This dramatic change in regulations is a result of ongoing research in the field," said Waseem Anani, MD, medical director of ARUP Blood Services. "We are excited to welcome those who lived in Europe during these time periods, including missionaries for The Church of Jesus Christ of Latter-day Saints and members of the military, to donate blood to support our community and save lives."
Visit utahblood.org for more information, and call 801-584-5272 to schedule an appointment. ARUP Blood Services is open seven days a week at locations in Salt Lake City and Sandy, Utah.
About ARUP Blood Services
ARUP Blood Services is the sole provider to the University of Utah Health and the Huntsman Cancer Institute. Blood Services is part of ARUP Laboratories, a leading national reference laboratory and a nonprofit enterprise of the University of Utah and its Department of Pathology. ARUP offers more than 3,000 tests and test combinations, ranging from routine screening tests to esoteric molecular and genetic assays.
ARUP Blood Services has many layers of safety in place to help protect the blood supply and health of valued donors, including donor eligibility screening and rigorous testing performed on each donation.
ARUP Blood Services has two donor centers; these are located at 565 Komas Drive, Salt Lake City, and 9786 South 500 West, Sandy, Utah.
Media Contact:
Deb Jordan, deborah.jordan@aruplab.com, 818-681-4681