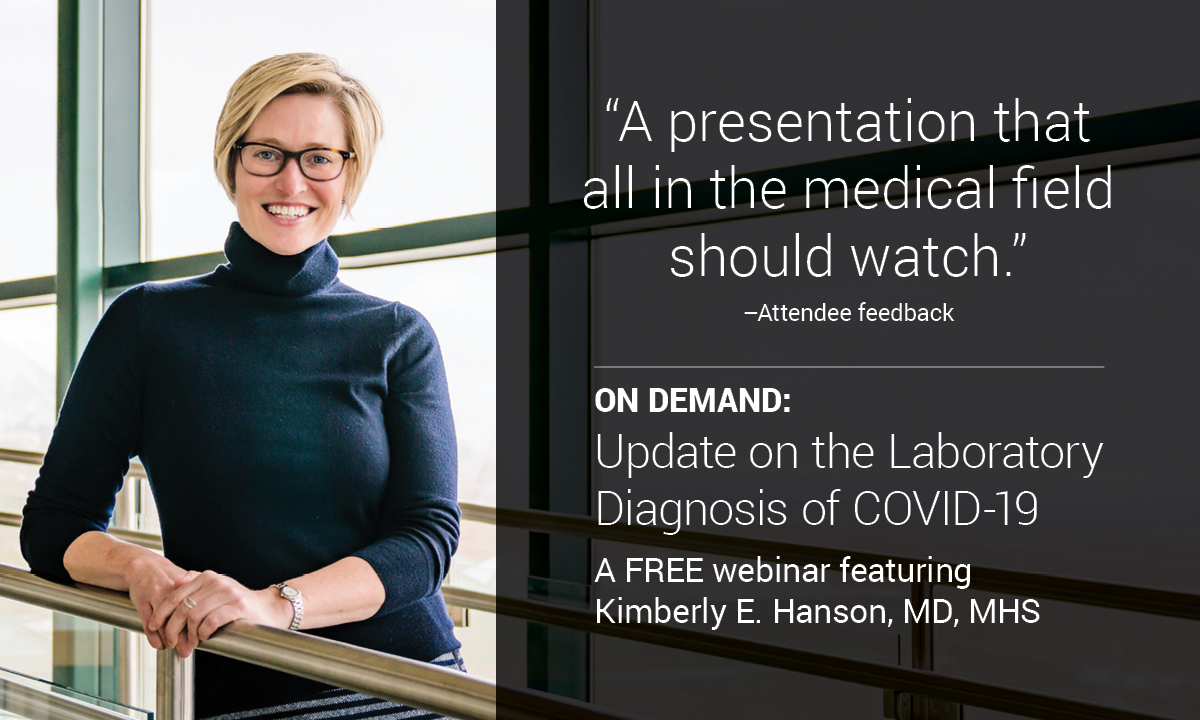 January 4, 2021
A recording of an hour-long webinar updating the status of diagnostic testing for SARS-CoV-2 nearly a year after the first tests were introduced is now available to watch for free at arup.utah.edu.
Kimberly Hanson, MD, section chief of Clinical Microbiology and medical director of Mycology at ARUP Laboratories, is the presenter. Hanson, who also is the head of Immunocompromised Host Infectious Diseases Services at the University of Utah Hospital and Huntsman Cancer Institute, first presented the webinar on December 9, 2020, as part of ARUP's quarterly webinar series.
The webinar, for which free CME, P.A.C.E.®, and Florida credit are available, offers a brief overview of SARS-CoV-2 virology before reviewing current approaches to diagnosis and surveillance. Hanson summarizes the benefits and limitations of available test methodologies. She also discusses topics that researchers continue to explore, such as predictors of SARS-CoV-2 infection, immune correlates of protection from the virus, and test performance in children and asymptomatic individuals.
Watch the webinar here.
ARUP's next quarterly webinar will feature ARUP Chief Operating Officer Jonathan Genzen, MD, PhD. He will discuss how the COVID-19 pandemic has forced laboratories to adapt to an ever-shifting landscape that has challenged many foundational practices for lab management. Genzen, who coauthored an American Journal of Clinical Pathology article on the topic, will share what ARUP has learned from managing a laboratory during a crisis. Watch for more details about the webinar soon.