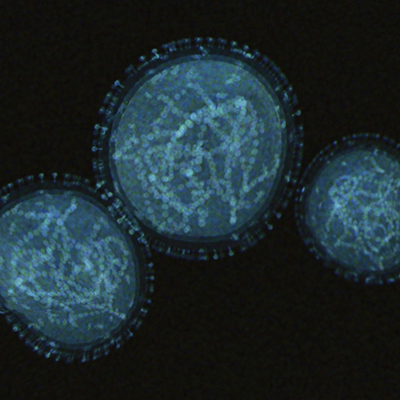 The monkeypox virus is an orthopoxvirus that is related to the variola virus, which causes smallpox. The monkeypox virus causes relatively rare infections in humans. In 2022, countries that don't normally have mpox (monkeypox) cases, including the United States, began to experience outbreaks. As a result of the mpox outbreak, the U.S. Department of Health and Human Services (DHHS) declared a public health emergency that was in effect from August 4, 2022, through January 31, 2023.
Since the initial outbreak of mpox in 2022, ARUP has actively participated in the formulation of an appropriate national response in partnership with the CDC and other laboratories.
ARUP has validated an in-house test, Orthopoxvirus (includes monkeypox virus) by PCR (3005716) that is now available to order.
Orthopoxvirus (includes monkeypox virus) by PCR is a real-time polymerase chain reaction (PCR) test to detect the DNA of orthopoxviruses, including monkeypox virus. ARUP's test is based on the CDC assay but has been optimized for state-of-the-art instrumentation and is validated for an automated specimen extraction process. These optimizations will allow for reduced turnaround times and increased capability to upscale testing capacity.
Please review the Frequently Asked Questions (FAQs) below for more details. This page will be updated regularly as new details become available.