How Clients Found Solutions Fast: Five Different Scenarios
As our clients and other healthcare professionals struggle with current healthcare industry issues (e.g., emergency response, cost containment, etc.), they teach us the best ways to serve their needs. These stories demonstrate just a handful of ways that ARUP has been privileged to help clinicians as they navigate the system to care for their patients.

Connecting With Vital Details As a Fire Rages
Scenario One
With hospitals in Texas, Puerto Rico, and Florida facing evacuation and natural disasters in 2017 and 2018, and serious fires ravaging the West Coast in recent years, some hospital staff members have dealt with crises that are well beyond the healthcare emergencies they expect to cope with each day.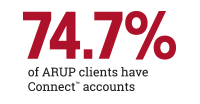 As the deadliest wildfire in California history raged in the fall of 2018, several clinicians and patients from Feather River Hospital in Paradise, California, holed up for safety and to continue operations in a residential garage after their ambulance caught on fire.
Feather River, an ARUP client, had a contingency plan—it had previously opted in to ARUP Connect™. This online system allows clients to access their lab test orders and records, order supplies, and otherwise interact with ARUP, regardless of where they are, using a simple laptop and password.
"All of this saved a huge amount of time. After all they'd gone through with the fires, being able to speed this along really made a difference."
Matthew Baker, ARUP
As an established user of Connect, Feather River was able to give additional clinicians access to testing orders and results for patients who were transferred after Feather River moved its base of operations to a nearby hospital.
"All of this saved a huge amount of time," said Matthew Baker, technical supervisor in ARUP's Client Services. "After all they'd gone through with the fires, being able to speed this along really made a difference."
Among ARUP clients, 74.7 percent have Connect accounts.
If Feather River had been one of the 25.3 percent of clients that have yet to opt in, its providers would not have been able to access patient test records off-site via laptop, and vital work would have been delayed.
---

Accessing Expertise Fast When a Baby Can't Breathe
Scenario Two
Bayrak-Toydemir (left) and Mao (right) diligently work to review a case for a diagnosis.
---
The baby could not breathe on her own. Only days old, a machine kept her alive in the neonatal intensive care unit (NICU) at Primary Children's Hospital. Genetic testing was performed, and the child's specialist, part of a physician group regularly in touch with ARUP, asked Pinar Bayrak-Toydemir, MD, PhD, an ARUP medical director of molecular genetics and genomics, for input on the test results.
After taking a look at the genetic testing, Bayrak-Toydemir concluded that the child had a syndrome that affects the neuromuscular junction; a mutation in an important receptor meant that signals weren't being transmitted between neurons and muscle cells.
"We're not just the lab the clinicians send samples to—we're a part of diagnosing and treatment. Physicians know they can reach us and ask questions."
Dr. Pinar Bayrak-Toydemir, ARUP
This discovery led to a treatment that could help—a medication that could prompt the muscles to work so the baby could begin breathing on her own. The clinicians no longer needed to look at the large collection of other genetic findings. They were able to start the child on the prescribed drug immediately, and the baby began to improve.
With access to genetic counselors and medical directors who provide expert review of genetic test results, health issues and treatments can be identified early.
Like most ARUP medical directors, Bayrak-Toydemir teaches in the University of Utah School of Medicine. "We're not just the lab the clinicians send samples to—we're a part of diagnosing and treatment," said Bayrak-Toydemir. "Physicians know they can reach us and ask questions."
Medical directors such as Bayrak-Toydemir and her colleague Rong Mao, MD, have built a rapport with clinicians after reviewing many cases to ensure a correct diagnosis. "The physician may say, 'Did you think about anemia having the same genetic phenotype,' and we might go back and look at that," said Bayrak-Toydemir. "It's a back-and-forth, and I think we're special in that perspective. It's not something larger laboratories can easily do."
---

Accelerating the Answers
Scenario Three
Standing with several nurse practitioners in training, Michael S. Robinson, NP, describes which tests to order when high levels of eosinophils show up in a patient. These disease-fighting white blood cells, when present in quantity, result in a condition called blood eosinophilia, he explained, using his phone to access a bookmarked link to ARUP Consult®, an online test selection and interpretation tool.
Robinson helps with orientation of trainees about to graduate from nurse practitioner programs as part of his work for Revere Health in Provo, Utah. He browses ARUP Consult's algorithms menu and selects step-by-step flow charts that offer testing strategies for a range of conditions. The Eosinophil- Related Disorders Testing Algorithm, for instance, notes that if eosinophils are present at 500–1,500 cells per microliter or higher, a clinician should screen for secondary causes of eosinophilia, including asthma, allergy drug reaction, infection, or new and abnormal tissue growths called neoplasms. In some cases, they should consider tissue biopsy.
"When I started out in my work, I would do what I do with students— look at the list of possible lab tests first, then decide what to do next. Now, I often skip directly to the section that reviews final steps following a diagnosis."
Michael S. Robinson, NP, Revere Health
"I especially love the algorithms for working with students; they're so helpful in guiding them through the process," said Robinson. He uses Consult on his own, too, especially for rarer conditions. "When I started out in my work, I would do what I do with students—look at the list of possible lab tests first, then decide what to do next. Now, I often skip directly to the section that reviews final steps following a diagnosis."
Dianna Tolen, MD, a pediatrician at Kids First Pediatric in Canfield, Ohio, goes to ARUP Consult with lab-specific questions. "For clinical information, there are plenty of websites I can check, but I go to Consult when I need academic information from the laboratory—that's exactly what I'm seeking."
When clinicians visit ARUP Consult, they gain access to information on nearly 300 topics and more than 70 testing algorithms to help them choose which tests to order. Medical experts at the U of U School of Medicine and ARUP coauthor and review all topics; regular updates reflect the latest medical advances and changes to the ARUP test menu.
Robinson isn't the only one drawn to the algorithms. Many algorithms, such as those for anemia, thyroid disorders, hypercalcemia, and newborn drug testing, are among the most visited content on ARUP Consult, says Lisa Carricaburu, managing editor of the ARUP Decision Support products.
---

Will This Rare Disease Impact Your Children? Guiding Familial Genetic Testing
Scenario 4
In the rare condition rhabdoid tumor predisposition syndrome (RTPS), aggressive tumors often start in the cerebellum, kidneys, or other soft tissues. RTPS occurs in infants and toddlers younger than 3 years old, affecting approximately one in a million children. After a California family's baby was found to have tumors, a genetic counselor affiliated with an out-of-state specialist advised family members to be tested. The parents and older sibling's genetic tests were negative. However, future children could still be at risk if the mutation that caused disease in the infant was present in a subset of sperm or eggs, a phenomenon called germline mosaicism.
In late 2017, a blood specimen from the family's new baby arrived at ARUP with a request to test a certain region of a chromosome where the older sibling's mutation had occurred.
RTPS is usually caused by a random error in the DNA that is not inherited, but parents typically still want to rule out the condition in their other children. "After all, if it's a known mutation, you can enter a surveillance program with a pediatric oncologist to try to identify and treat tumors as early as possible," said ARUP genetic counselor Shelly Bosworth, MS, LCGC (shown left).
Bosworth recognized that a family member had already tested positive for RTPS at a different laboratory. To ensure continuity of test results, she coordinated family testing with that other lab using a residual (preserved) sample from the new baby. "There can be nuances in the methodology at different labs, unless it's a common test. So if you can send the testing back to the lab that performed the first family test, you help make sure methodology doesn't affect getting the correct result," said Bosworth.
To streamline the process, Bosworth was able to maintain the testing record in the ARUP financial system so that the test could be performed as a sendout and the family would not incur a separate bill for testing. Throughout the process, she kept in close contact with the client and the family's genetic counselor.
Fortunately, the new baby turned out not to have RTPS. However, Bosworth's intervention helped obtain results in a potentially serious situation. "When ruling out a condition in a young child who could be monitored or treated early, we want to go out of our way to make sure this is done right—even if it means advising different testing than what's ordered," noted Bosworth. "We never want to mislead parents into thinking a child's not at risk when they are."
The Patient Needed a Different Test
When ARUP genetic counselor Marcia Jodah, MS, LCGC (shown right), received a test order to assess for pathogenic variants in genes that affect the mitochondria, she noted that standard clinical information was not included with it. Placing the test on hold, she asked the client to send that information.
In response, she received a patient history form stating the patient was a 29-yearold with hearing loss. Jodah flagged the test order, noting that mitochondrial DNA testing should not be the first test considered for individuals with hearing loss only.
After contacting the ordering provider, Jodah learned the desired test was mitochondrial antibody testing, which was associated with a different clinical diagnosis unrelated to the patient's hearing loss. "We saved several thousand dollars and ensured the correct test was performed for the patient," said Jodah.
---

A Small Change Led to Big Savings
Scenario Five
A regional medical center in the Midwest that is a level III stroke center is seeing benefits from implementing ARUP-advised changes in its electronic health record (EHR). Although the center is still measuring results, it's definitely seen a difference after an ARUP Consultative Services business review advised differentiating between two frequently confused tests for blood proteins that help control blood-clot formation (Protein C, Functional or Antigen; and Protein S, Functional or Antigen). "Docs were ordering the tests for patients with potential thrombosis or thrombophilia without realizing the difference between the tests," says Christine Richards, MT (ASCP), MSEM, laboratory director at Phelps Health, Rolla, Missouri.
"We utilize information gleaned from ARUP Consultative Services business reviews and share it with our staff and providers...I love that ARUP points out any orders we are inappropriately underutilizing—or overutilizing."
Christine Richards, Phelps Health
Confusion over certain test orders is nothing new in hectic practices where clinicians must act fast to send in requests, and a number of studies reveal that 10 percent to 30 percent of laboratory tests performed in the United States are either unnecessary or inappropriate. In 2015, Jane Dickerson, PhD, DABCC, and Michael Astion, MD, PhD, published an article in Clinical Laboratory News about trying to clarify vitamin D testing for providers in their home institution, Seattle Children's Hospital. After trying four methods in two years, the pair felt cautiously optimistic about their ordering improvements and wrote about the need for industry-wide change.
"A very large number of laboratories struggle with physicians ordering the wrong test due to confusing test names, and I'd say that only a small proportion of labs have addressed it by clarifying and simplifying the test names in the physician order entry system," said medical director Andrew Fletcher, MD, CPE, MBA, who oversees ARUP's Consultative Services. "Many labs want to make that change, but don't have informatics resources. Simplifying test names is an example of something that works."
ARUP Consultative Services works with clients to monitor their test orders on an electronic dashboard and aims to review progress with them each year. For Phelps Health, around 45 tests are being tracked.
"We utilize information gleaned from ARUP Consultative Services business reviews and share it with our staff and providers. For instance, we're in the process of meeting with our pediatrics staff to switch to umbilical-cord drug screen testing instead of meconium—that will be more effective and more efficient. These are just a few of the many examples I can think of that we've used from our business review to initiate and educate staff on appropriate ordering panels," says Richards. "I love that ARUP points out any orders we are inappropriately underutilizing—or overutilizing."

HOME