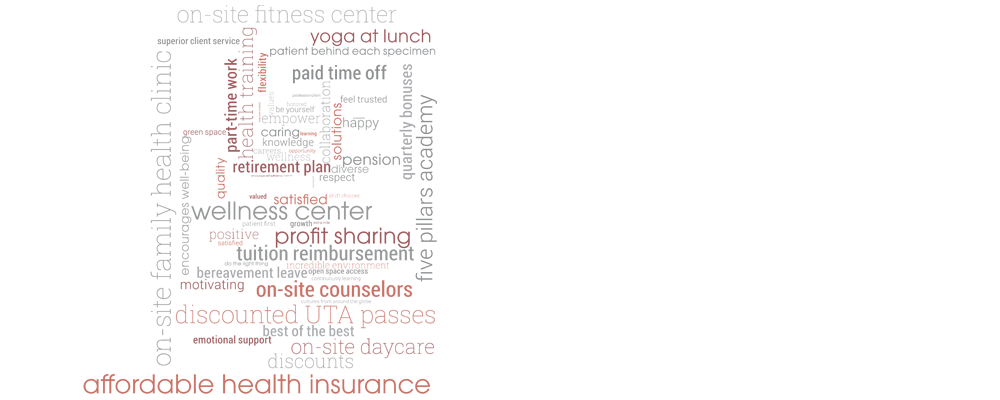 Word on the Street:
ARUP Is One of the Best Companies to Work For
Last year, more than 800 ARUP employees participated in a Utah Business Magazine survey and made the case as to why ARUP Laboratories should be considered one of Utah's best companies to work for in the magazine's annual competition.
Employee responses to "Why?" ranged from the very succinct, "I love it here. Period," to longer comments that provided glimpses into what they truly value as employees and what keeps them here. Purpose—helping patients—was one recurring theme.
"ARUP is a forwardthinking and great company to work for, as evidenced by the survey," said CEO Sherrie Perkins, MD, PhD. "It's incredibly exciting that ARUP has received this honor, and everyone in the company should be proud to be a part of making this company what it is."
With the award, ARUP joins an impressive group of companies. Previous years' winners included O.C. Tanner, Domo, and Health Catalyst. ARUP was one of more than 100 companies that submitted entries last year. All companies were subject to a rigorous examination of workplace characteristics such as benefits and pay, fairness and opportunities, corporate culture, and internal communication, as well as employee pride.
"It was gratifying to hear what our fellow ARUP employees had to say about working here and the significant role they played in having ARUP named as one of the 2018 best companies to work for," said ARUP President Andy Theurer, CPA. "Thanks, ARUP!"
Taking care of employees is a longtime philosophy held by ARUP and rooted in its 35-year history. ARUP founder Carl Kjeldsberg, MD, stated, "Focus on taking care of the employees, and the employees will take care of the business." Part of this focus always included an emphasis on employee health (physical and mental) and work-life balance.

ARUP is employee centered and understands that a satisfied employee will provide superior client service. There are many ways in which the company strongly encourages wellness, employee support, employee empowerment, and fairness in the workplace. ARUP helps employees accommodate life's challenges.
You can be yourself—there is no discrimination in the way a person dresses, colors their hair, or if they have tattoos—they just hire nice people with a good work ethic.
We work together to better the lives of the people we serve. Also, we work together to increase our knowledge through learning and collaboration.
ARUP has an incredible environment that focuses on the patients that we are running tests on. This caring for others rubs off on all of us.
There is a strong culture of prioritizing scientific and medical ethics above everything else. Patients come first. We believe our customers have this same value system, so our business will benefit when we do the right thing.
I have never worked for a company that is such a champion for a work environment that people love coming to. I hear over and over from many employees how much they love coming to work. They feel they are valued, make important contributions, and have a voice to speak up about ideas and issues they have.
The culture of ARUP is to "do the right thing," and everyone I know here really strives to do what is right to ensure quality patient care.
I have made many friends at work, and that makes it even more enjoyable to come to work every day. I feel respected and valued as an ARUP employee, not only by management, but by all my coworkers. We truly work as a team.
I feel like I'm surrounded by highly educated, friendly, enjoyable people that I love working with. The best of the best! I've wondered in the past if I should pursue my career goals somewhere else, but it's hard to get away from these amazing people!

The fact that I don't have to pay 20% of my salary just to pay for insurance is enough for me to endlessly praise ARUP. I can't stress enough how good they are to their employees; they are always accommodating and give wonderful quarterly incentives that I've never received from any other company.
I've struggled for years to find a work-life balance that facilitated my ability to succeed at the university while working full time, and ARUP absolutely shines in this regard.

HOME