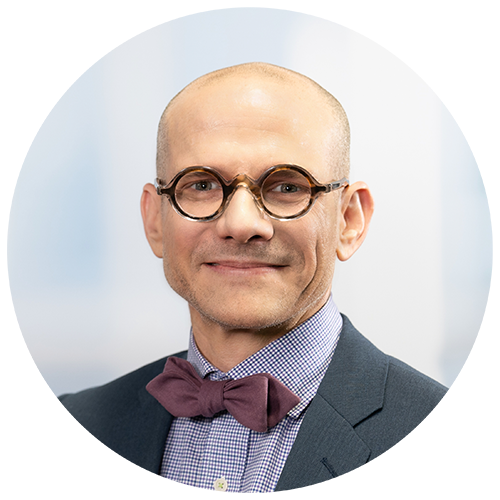 Kyle C. Kurek, MD, MMSc
Associate Division Chief: Pediatric Pathology
Professor, University of Utah School of Medicine
Specialties
Pediatric tumor pathology
Bone and soft tissue pathology
Vascular anomalies
Translational research
Molecular genomics
Education
Medical Degree—Warren Alpert Medical School of Brown University
Master of Medical Science—Warren Alpert Medical School of Brown University
Research Fellowship—Molecular Biology, University of Oxford, UK
Internship—Pediatrics, University of Wisconsin Madison
Residency—Anatomic and Clinical Pathology, Brown University
Fellowship—Pediatric and Perinatal Pathology, Harvard University
Postdoctoral Fellowship—Molecular Genetics, Harvard University
Current/Past Roles
Board of Directors, Society for Pediatric Pathology
Past Chief, Pathology and Lab Medicine, Alberta Children's Hospital/University of Calgary
Past President, Association of Clinical Scientists
Certification/Affiliations
American Board of Pathology (Anatomic and Clinical Pathology)
Research Interests
Molecular genomics and somatic mosaicism
Vascular anomalies and related disorders
Pediatric sarcomas
Neurocristopathies
Awards
Haffenreffer Outstanding Trainee Award, Brown University
Ramzi Cotran Pathology Teaching Award, Harvard University
Young Clinical Scientist Award, Association of Clinical Scientists
Neustein Innovation Award, Society for Pediatric Pathology
Lotte Strauss Award, Society for Pediatric Pathology
Brown Award, Paediatric Pathology Society (Europe)
Sunderman Clinical Scientist Award, Association of Clinical Scientists
Recent Publications
Tachibana N, et al. Hamartoma-like lesions in the mouse retina: an animal model of Pten hamartoma tumour syndrome. Dis Models Mech. 2018;11(5):dmm031005.
de Champlain K, et al. Novel presentation of cranial rasciitis of the mandible: case report and literature review. Int J Pediatr Otorhinolaryngol. 2018;115:33–7.
Barclay SF, et al. A somatic activating NRAS mutation associated with kaposiform lymphangiomatosis. Genet Med. 2019;21(7):1517–24.
Maximov VV, et al. MiR-16-1-3p and miR-16-2-3p possess strong tumor suppressive and antimetastatic properties in osteosarcoma. Int J Cancer. 2019;145(11):3052–63.
Gharial J, et al. Neuroimaging and pathology findings associated with rapid onset obesity, hypothalamic dysfunction, hypoventilation, and autonomic dysregulation (ROHHAD) syndrome. J Pediatr Hematol Oncol. 2021;43(4):e571–6.
Bakker A, et al. Adipocyte-rich CTNNB1-mutated intramuscular Gardner fibroma progressing to desmoid fibromatosis. Pediatr Dev Pathol. 2021;24(1):62–7.
Slack JC, et al. Cutaneous B-cell pseudolymphoma (lymphocytoma cutis) of the earlobe: a poorly recognized complication of ear piercing in children. Fetal Pediatr Pathol. 2022;41(3):486–92.
Slack JC, et al. Bilateral nephroblastic tumors and a complex renal vascular anomaly in a patient with a mosaic RASopathy: novel histopathologic features and molecular features. Pediatr Dev Pathol. 2021;24(3):235–40.
AlTeneiji M, et al. Unilateral congenital pulmonary lymphangiectasis presenting with pneumonia and an NRAS variant. Pediatr Pulmonol. 2021;56(7):2374–6.
Slack JC, et al. Molecular alterations in pediatric fibroblastic/myofibroblastic tumors: an appraisal of a next-generation sequencing assay in a retrospective single centre study. Pediatr Dev Pathol. 2021;24(5):405–21.
Chang CA, Perrier R, Kurek KC, Estrada-Veras J, Lehman A, Yip S, Hendson G, Diamond C, Pinchot JW, Tran JM, Arkin LM, Drolet BA, Napier MP, O'Neill SA, Balci TB, Keppler-Noreuil KM. Novel findings and expansion of phenotype in a mosaic RASopathy caused by somatic KRAS variants. Am J Med Genet A. 2021;185(9):2829–45.
Perez-Atayde AR, et al. Kaposiform lymphangiomatosis: pathological aspects in 43 patients. Am J Surg Pathol. 2022;46(7): 963–76.
Park PC, et al. CAP-ACP workload model for advanced diagnostics in precision medicine. Am J Clin Pathol. 2022;158(1):105–11.
Wright JR Jr, et al. Workload measurement in subspecialty placental pathology in Canada. Pediatr Dev Pathol. 2022;25(6):604–10.
Ceccherini I, et al. Developmental disorders affecting the respiratory system: CCHS and ROHHAD. Handb Clin Neurol. 2022;189:53–91.
Slattery SM, et al. Transitional care and clinical management of adolescents, young adults, and suspected new adult patients with congenital central hypoventilation syndrome. Clin Auton Res. 2023;33(3):231–49.
Khaytin I, et al.. Rapid-onset obesity, hypothalamic dysfunction, hypoventilation, and autonomic dysregulation (ROHHAD): a collaborative review and current understanding. Clin Auton Res. 2023;33(3):251–68.