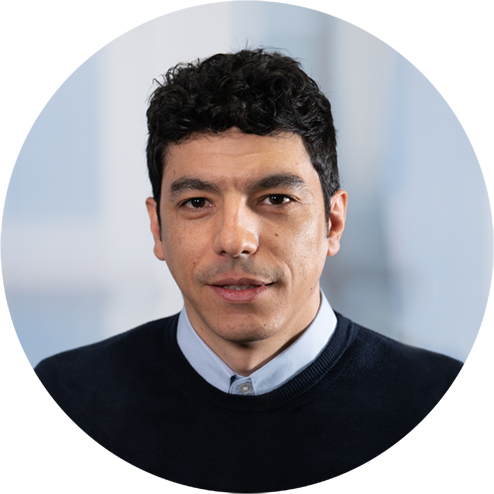 Filippo Ingoglia, PhD
Medical Director: Biochemical Genetics
Assistant Professor (Clinical), University of Utah School of Medicine
Specialties
Clinical biochemical genetics
Education
Master's Degree—Biology and Biomedical Application, University of Parma
Doctorate—Molecular Medicine, University of Parma
Postdoctoral Fellowship—Clinical Biochemical Genetics, University of Utah School of Medicine, ARUP Laboratories
Research Fellow—General Pathology, University of Parma
Research Fellow—Molecular Medicine, University of Utah School of Medicine
Certification/Affiliations
American Board of Medical Genetics and Genomics (Clinical Biochemical Genetics)
Research Interests
Development of a new method for measuring guanidino compounds using an ultra-high performance liquid chromatography-tandem mass spectrometry (UPLC-MS/MS) system (Waters Acquity UPLC solvent/sample manager; Waters Xevo TQS tandem mass spectrometer).
Collaborating on a research project focused on evaluation and development of methods to determine effectiveness of potential therapeutic agents for the treatment of guanidinoacetate methyltransferase (GAMT) deficiency.
Collaborating with the Mass Spec group at ARUP Laboratories on a targeted metabolomics feasibility project using a liquid chromatography quadrupole time-of-flight mass spectrometry (LC-QTOF-MS) system.
Awards
2019 Takeda Pharmaceuticals/ACMG Foundation Next Generation Fellowship Award, April 2019.
Recent Publications
Ingoglia F, et al. Creatine metabolism in patients with urea cycle disorders. Mol Genet Metab Rep. 2021;29:100791.
Rotoli BM, et al. Analysis of LPI-causing mutations on y+LAT1 function and localization. Orphanet J Rare Dis. 2019;14(1):63.
Rotoli BM, et al. Downregulation of SLC7A7 triggers an inflammatory phenotype in human macrophages and airway epithelial cells. Front Immunol. 2018;9:508.
Barilli A, et al. Gluten peptides drive healthy and celiac monocytes toward an M2-like polarization. J Nutr Biochem. 2018;54:11–17.
Ingoglia F. Functional and molecular analysis of organic cation transporters (OCTs and OCTNs) in human airway epithelial cells and macrophages. Doctoral Thesis, Editor: University of Parma, March 2017. ©Filippo Ingoglia, 2017.