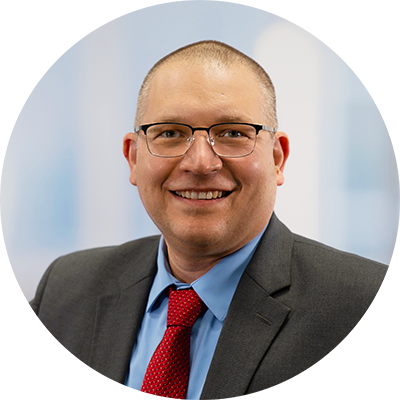 Jonathan R. Genzen, MD, PhD
Chief Medical Officer
Professor of Clinical Pathology (Clinical), University of Utah
Education
Medical Degree—University of Chicago, Pritzker School of Medicine
Doctorate Degree—University of Chicago, Committee on Neurobiology
Residency—Yale-New Haven Hospital and VA Connecticut Healthcare System
Research Fellowship—Yale University School of Medicine, Department of Laboratory Medicine
Certification/Affiliations
American Board of Pathology
Utah State Medical License
New York State Medical License
Fellow, American Society for Clinical Pathology
Fellow, College of American Pathologists
Member, American Association for Clinical Chemistry
Member, Academy of Clinical Laboratory Physicians and Scientists
Research Interests
Laboratory automation and process improvement
Clinical chemistry
Recent Publications
Hunsaker JJH, et al. Evaluation of L-index interference limits on Roche cobas c502 and c702 immunoturbidimetric assays using endogenously lipemic specimens and intralipid spiking. Clin Biochem. 2019 Aug;70:18–23.
Genzen JR. Regulation of Laboratory-Developed Tests. Am J Clin Pathol. 2019 Jul 5;152(2):122–131.
Brown K, et al. ASCP Board of Certification Survey of Medical Laboratory Science Faculty. Lab Med. 2019 Oct 10; 50(4):e75–81.
Brown K, et al. ASCP Board of Certification Survey of Medical Laboratory Science Education Programs. Lab Med. 2019 Oct 10;50(4):e70–4.
Mohlman JS, et al. Reliability and Validity of Proposed Risk Stratification Methods for Laboratory Developed Tests. Lab Med. 2019 Apr 8;50(2):194–201.
Genzen JR, et al. Identifying and Eliminating Laboratory Contamination by Topical Testosterone Therapeutics. Clin Chem. 2019 Jan;65(1):67–73.
Needham LL, et al. Phlebotomy tube interference with nuclear magnetic resonance (NMR) lipoprotein subclass analysis. Clin Chim Acta. 2019 Jan;488:235–41. Lu J, Genzen JR, Grenache DG. Development of an enzymatic assay to measure lactate in perchloric acid-precipitated cerebrospinal fluid. Clin Chim Acta. 2018 Aug;483:142–4.
Owen WE, Hunsaker JJH, Genzen JR. Alpha-fetoprotein in pericardial, peritoneal, and pleural fluids: A body fluid matrix evaluation. Clin Biochem. 2018 Jun;56:109–12.
Hunsaker JJH, et al. Lipemic interference of ceruloplasmin assays - An evaluation of lipid removal methods. Clin Chim Acta. 2018 May;480:71–8.
Genzen JR, et al. Screening and Diagnosis of Monoclonal Gammopathies: An International Survey of Laboratory Practice. Arch Path. 2018 Apr;142(4):507–15.
Genzen JR, et al. Challenges and Opportunities in Implementing Total Laboratory Automation. Clin Chem. 2018 Feb;64(2):259–64.
Lin DC, Genzen JR. Concordance analysis of paired cancer antigen (CA) 15-3 and 27.29 testing. Breast Cancer Res Treat. 2018 Jan;167(1):269–76.
Genzen JR, et al. Laboratory-Developed Tests: A Legislative and Regulatory Review. Clin Chem. 2017 Oct;63(10):1575–84.
Taylor JR, et al. Opportunities to Enhance Laboratory Professionals' Role On the Diagnostic Team. Lab Med. 2017 Feb;48(1):97–103.
Rhoads DD, et al. Prevalence of Traditional and Reverse-Algorithm Syphilis Screening in Laboratory Practice: A Survey of Participants in the College of American Pathologists Syphilis Serology Proficiency Testing Program. Arch Path. 2017 Jan;141(1):93–7.
Hunsaker JJH, et al. Clinical performance evaluation of total protein measurement by digital refractometry and characterization of non-protein solute interferences. Pract Lab Med. 2016 Aug 17;6:14–24.
Wyness SP, et al. Evaluation and analytical validation of a handheld digital refractometer for urine specific gravity measurement. Pract Lab Med. 2016 Jun 2;5:65–74.
Blanchard MG, et al. Regulation of Mg2+ Reabsorption and Transient Receptor Potential Melastatin Type 6 Activity by cAMP Signaling. J Am Soc Nephrol. 2016 Mar;27(3):804–13.
Johnson-Davis KL, Sadler AJ, Genzen JR. A Retrospective Analysis of Urine Drugs of Abuse Immunoassay True Positive Rates at a National Reference Laboratory. J Anal Toxicol. 2016 Mar;40(2):97–107.
Genzen JR, et al. N-acetylcysteine interference of Trinder-based assays. Clin Biochem. 2016 Jan;49(1–2):100–4.
Krasowski MD,et al. Ordering of the Serum Angiotensin-Converting Enzyme Test in Patients Receiving Angiotensin-Converting Enzyme Inhibitor Therapy: An Avoidable but Common Error. Chest. 2015 Dec;148(6):1447–53.
Signorelli H, et al. Benchmarking to Identify Practice Variation in Test Ordering: A Potential Tool for Utilization Management. Lab Med. 2015 Fall;46(4):356–64.
Owen WE, et al. Body fluid matrix evaluation on a Roche cobas 8000 system. Clin Biochem. 2015 Sep;48(13–14):911–4.
Scholes KL, et al. Identification and characterization of EDTA test strip interfering substances using a digital color detector. Clin Lab. 2015;61(7)785–91.
ASCP Board of Certification Research and Development Committee, Et al. Impact of Time Lapse on ASCP Board of Certification Medical Laboratory Scientist (MLS) and Medical Laboratory Technician (MLT) Examination Scores. Lab Med. 2015 Summer;46(3):e53–8.
Owen WE, Caron JE, Genzen JR. Liver function testing on the Abaxis Piccolo Xpress: Use in Ebola virus disease protocols. Clin Chim Acta. 2015 Jun 15;446:119–27.
Scholes KL, et al. Evaluation of test strips for the rapid identification of ethylenediaminetetraacetic acid (EDTA) specimens. Lab Med. 2015 Spring;46(2), 97–108.
Schmidt RL, et al. A mathematical procedure to estimate the impact of a change in method on discordance or misclassification at a decision limit in laboratory method comparison studies. Clin Chim Acta. 2015 Feb 2;440:23–30.
Scholes KL, et al. Identification and Characterization of EDTA Test Strip Interfering Substances Using a Digital Color Detector. Clin Lab. 2015;61(7): 785–91.
McCarthy MW, et al. Use of a commercial HIV co-receptor tropism assay in clinical practice. AIDS Patient Care STDS. 2015 Feb;29(2):53–4.