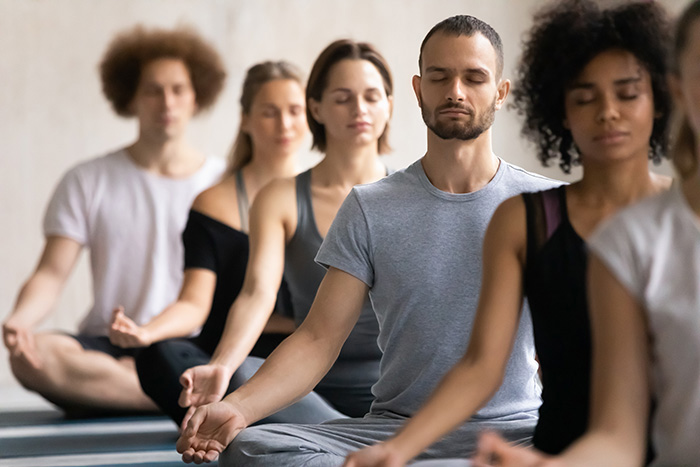 What Is Recovery?
Recovery involves activities that allow us to wind down, recharge, and repair our bodies after a hard day. The key recovery activities include proper sleep, stress management, and maintaining healthy muscles and joints through stretching and massage. Next time you're feeling a bit run down, consider stepping up your recovery habits.
Sleep
Adult humans require 7.5–9 hours of quality sleep per night to function optimally, and consistently sleeping fewer than 7 hours per night can significantly impact your long-term health. Check out the resources below to learn more.
Stress Management/Meditation
Balancing busyness with winding down time is key to your well-being. Meditation/mindfulness or any act of self-care turns down stress levels. Below are some resources and ideas.
Popular Meditation/Mindfulness Apps
Relaxing Self-Care Ideas
Take a hot shower or bath.
Listen to soothing music.
Journal your thoughts.
Use guided imagery.
Make arts and crafts.
Play an instrument.
Do yoga.
Try progressive muscle relaxation.
Go for a walk.
Get a massage.
Enjoy a warm drink like herbal tea.
Read a relaxing novel.
Stretching/Mobility Exercises
Stretching and mobility exercise are key for a full recovery, even if you are just spending long hours at your desk. These exercises keep your muscles and joints functioning pain free and only require 5–20 minutes. Check out these resources below.
Mobility Videos
Massage Therapy
Offered by Kris Roper and Danna Kirk of Artystic Touch, LLC
Rate: $1 per minute
(appointments scheduled in 15-minute intervals)
Payment: Cash or cards accepted.
Phone: 801-313-9468
Available times:
Thursday, 9:00 a.m.–11:30 a.m.
Friday, 10:00 a.m.–12:00 p.m.