Family Health Clinic Services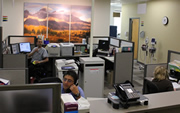 The following list includes some of the more common issues we treat at the clinic; if you have a clinical issue that is not noted below, please call us or make an appointment to be seen by one of our providers.
Note: The clinic does not provide emergency care. We send patients with potentially life-threatening conditions to the emergency room. Services within the clinic are provided at no cost to ARUP employees and their dependents. Services provided outside of the clinic are billed to the appropriate health insurance.
Urgent Health Needs
Colds
Flu
Ear infections
Sinus infections
Bladder infections
Rashes
Musculoskeletal injuries (back, knee, shoulder, etc.)
Chronic Health Conditions
Hypertension
Lung disease
Ulcer/relux disease
Diabetes
Allergies
Arthritis/gout
Headaches
Hyperlipidemia
Asthma
Depression/anxiety
Preventive Medicine
Routine physicals
Breast exams
Cholesterol tests
Colonoscopy referrals
Well-child care
Immunizations (see below)
TB testing
Weightloss and exercise information
Pap smears
Respirator physicals
Pregnancy testing
Contraception
Smoking Cessation Support (Download the Tobacco-Free Contract to get started)
Immunizations
Please note: availability varies
Hepatitis A and B
Influenza
Routine childhood immunizations
Zosavax® (shingle prevention for >60 y/o)
Tetanus/diptheria/pertussus
MMR
Gardasil
Work Injuries
Chemical exposures (skin, eyes, and lungs)
Injuries (falls, back strains, repetitive motion injuries, etc.)
Bloodborne pathogen exposure (splashes, spills, cuts, needle sticks, etc.)
Procedures
Cyst and mole evaluation and removal
IUD
Nexplanon
Ingrown toenail removal
Laceration repair
Wound care
Wart treatment
Lab Orders
Lab services performed within ARUP Laboratories are provided at no cost to individuals eligible to use the clinic. These lab services can also be obtained at no cost to eligible individuals who bring a lab order from a qualified outside provider to the clinic.