Research and Development Director and Entrepreneur Retires After 30 Years at ARUP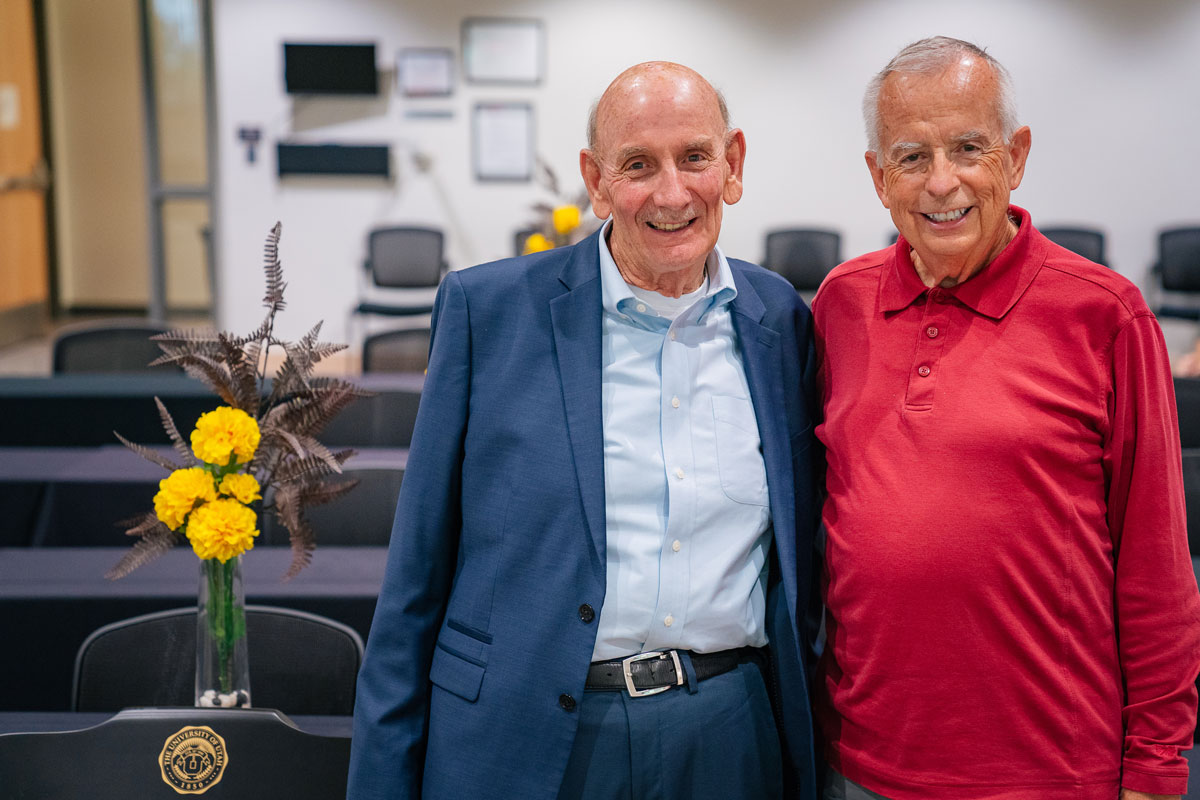 For two decades, Mark Astill, MS, has risen at 3:30 a.m., three days a week, to run seven miles. He has used that time to identify his priorities for the day and to solve life's puzzles, including the challenges of managing the ARUP Institute for Clinical and Experimental Pathology® (Research and Development).
"I'm one of the most ordinary people in the world," said the man who has run a distance equivalent to the circumference of the Earth—24,901 miles—and has kept an accurate log.
Astill retired from his position as director of R&D on January 7, 2022, following a 30-year career at ARUP. As one of the original members of the institute, Astill ensured continuity of the department through several leadership changes.
"Mark is the one who has been the boots on the ground, fighting for 25 years, and he's just a hell of a person. I have the utmost respect for him. He's very knowledgeable in all that we do, and he's going to be impossible to replace," said Adam Barker, PhD, chief scientific officer at ARUP and medical director of AFB/Mycology, Reagent Laboratory, and R&D Special Operations.
A self-described data guy, Astill has managed the business aspects of R&D. His unique background seemingly prepared him perfectly for the role. Following his graduation in biochemistry from the University of Utah, Astill continued to work for the university in the biochemistry division for the next eight years. He then moved to Becton, Dickinson and Co. (BD), where he worked in BD's diagnostic division for 10 years.
But it was perhaps his experience as an entrepreneur that provided the most crucial preparation. When BD moved its operations to Maryland, Astill elected to remain in Utah with his growing family. He then partnered with two of his BD colleagues to start their own company, TSA, in the early 1980s, based on their inventive idea to provide a painless, point-of-care glucose test for individuals who have diabetes. A revolutionary concept at the time, the device resembled a PEZ stick with a retractable spring and included a unique chemical reaction to produce an electrical signal.
Astill and his partners successfully raised $1 million to manufacture and distribute their device, but they eventually walked away from their budding company due to an impasse with investors. Astill and his partners still hold several patents for the device.
"Between working for a Fortune 500 company, working for a university in research mode, and my time as an entrepreneur, my experiences seemed tailored to this role at ARUP, which is a combination of all of them," Astill said.
The late James Wu, a respected University of Utah pathologist, persuaded Astill to work at ARUP while pursuing a graduate degree. Astill finished his master's degree in two years while working full time and raising his family. When the ARUP Institute for Clinical and Experimental Pathology was founded in 1996 by Harry Hill, MD, a visionary medical director and one of ARUP's original founders, Astill became one of the first employees.
"My role here was to keep Harry Hill out of trouble," Astill said with a laugh. "Harry handled the medical aspects of R&D, and I was brought on to manage the finances." Astill and Hill worked closely together for 25 years and retired within months of one another.
"Establishing the institute was a complex project to set out to accomplish. Between the financial, academic, and patient care aspects, it's a lot to blend together and prioritize," Astill said.
During his time in R&D, Astill has earned a well-deserved reputation for his ability to resolve conflict. His colleagues speak of his innate talent to listen and lead.
"Of all the professional conferences I've attended, only one has stuck with me. It was an epiphany moment when the speaker said that the biggest problem we all have is our inability to rejoice in the success of others," Astill said.
It's a concept that Astill has applied to his own leadership style.
"Mark genuinely cares about each and every person who works for him," said Sherrie Perkins, MD, PhD, ARUP's CEO before her retirement in 2021. "Mark has the ability to talk to people, to reason with them and calm them down."
This ability proved crucial during a time of transition, when Perkins and her R&D codirector, Julio Delgado, MD, MS, redirected the institute's efforts; instead of focusing almost exclusively on academic pursuits, R&D would also be developing more tests for the market and ensuring the labs worked as efficiently as possible.
"Mark knows this organization and the people better than anyone; he was a buffer for me. When I ran ideas past him, Mark could anticipate the response and find a better way," said Delgado, executive vice president of ARUP and medical director of Protein Immunology and Immunological Flow, who also codirected R&D with Perkins.
Astill credits his employment at ARUP with saving his life when Roland Ruegner, a physician assistant at the ARUP Employee Health Center, urged him to go to the hospital for what turned out to be coronary artery disease with 95% blockage that required a quadruple coronary bypass surgery in 1999.
Astill has been running ever since. He finished his goal to run the Earth's circumference in miles on Memorial Day of 2020.
"I've run around the Earth in distance, and now I'm going back the other way," Astill said. "That early in the morning, the streets are littered with gold, reflecting the light from the streetlamps."
Over the 20-plus years Astill has been jogging, he has collected more than $6,000 in change, which he keeps in 24 one-gallon jugs, and he is working on filling the 25th. Astill plans to leave each of his 25 grandchildren one of the jugs of coins as a reminder that it's the small things in life that add up—small acts of kindness and honesty.
Although retired, Astill has no plans to stop solving puzzles. He is one of the founding members of NanoSpot.ai, a technology company focused on point-of-care diagnostic solutions, and will continue to serve as a member of its board of directors. The company's product, NanoSpot.AI, is an artificial intelligence-driven, rapid SARS-CoV-2 antibody test that uses cloud technology to deliver results to a mobile phone.
Following his retirement, Astill and his wife of 50 years, Helen, plan to travel by cruise ship down the Chilean coast to the Antarctic continent.
Photo by Rose Cox