ARUP Laboratories Microbiology Fellowship Helps Texas Internist Improve Patient Care
She was well into her infectious disease training when Francesca (Frankie) Lee, MD, realized she wanted to pursue a fellowship in microbiology. "I was working with some attending [physicians] who had strong microbiology backgrounds, and I really liked how they approached diagnostics and patient care," said Lee, an internal medicine physician who was completing an infectious diseases fellowship at the University of Texas Southwestern Medical Center. "It was like I'd found my people."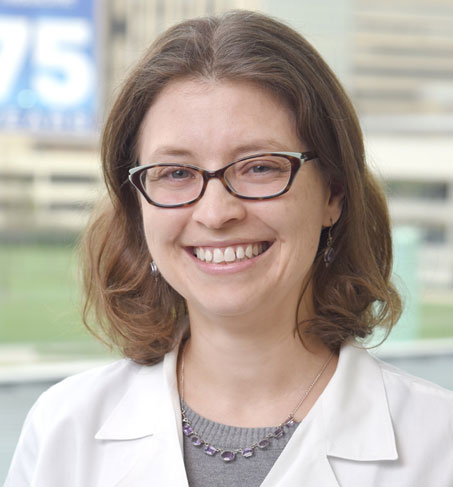 She was well into her infectious disease training when Francesca (Frankie) Lee, MD, realized she wanted to pursue a fellowship in microbiology.
"I was working with some attending [physicians] who had strong microbiology backgrounds, and I really liked how they approached diagnostics and patient care," said Lee, an internal medicine physician who was completing an infectious diseases fellowship at the University of Texas Southwestern Medical Center. "It was like I'd found my people."
Lee knew that the University of Utah School of Medicine had a strong microbiology fellowship program but was convinced it was too late to apply. Her husband was more optimistic. He tracked down the fellowship administrator at ARUP and discovered that there was indeed room for one more microbiology fellow. "I really owe it to my husband that I landed at ARUP," Lee said.
As a fellow at ARUP in 2010, Lee became aware of a company mentality that was open to new ideas and requests from clients and the U, as well as from employees and trainees. "Rather than a 'no, because…' attitude, ARUP had a 'yes, if' attitude," Lee said. "This may have something to do with ARUP's academic nature."
The fellows Lee trained with had both earned PhDs and were steeped in research and pathology. Lee was coming from a clinical background, not a research background. "Let's just say, I knew enough to understand, but it was a big learning curve," Lee said. "I did not speak lab."
The two other fellows served as teachers and guides to Lee in this very different world. They were Marc Couturier, PhD, and Adam Barker, PhD, both of whom are now medical directors at ARUP. Couturier is the medical director of Emerging Health Crises and Microbial Immunology, Parasitology and Fecal Testing, and Barker is now chief scientific officer and the medical director of AFB/Mycology, Reagent Laboratory, and Research and Development Special Operations.
During Lee's year at ARUP, Kim Hanson, MD, MHS, director of the fellowship program, became (and remains) a strong mentor for Lee. "Here was this fantastic clinician with this pragmatic and patient-centric approach who also brought this amazing lab perspective into the patient-care picture," Lee said. Hanson is ARUP's section chief of Clinical Microbiology and medical director of Mycology.
Lee watched Hanson interact with other scientists and researchers and saw how—regardless of her background in the subject—she was genuinely engaged and open to learning. "She always modeled genuine curiosity. I've tried to emulate that approach."
Lee remembers walking into the office of Mark Fisher, PhD, another key fellowship faculty member, to seek help in understanding the difference between polymerase chain reaction (PCR) and transcription-mediated amplification (TMA) for molecular testing. "I could not wrap my brain around it," Lee said.
Fisher spent the next hour scribbling on a yellow pad, explaining the two methods. "I still have that yellow piece of paper with all his notes and drawings on it," Lee said. Fisher is now ARUP's medical director of Bacteriology, Special Microbiology, and Antimicrobial Susceptibility Testing.
Today, Lee has a dual appointment in pathology and internal medicine at UT Southwestern Medical Center in Dallas. She is the technical director of the hospital's Clinical Microbiology Laboratory and Preanalytical Services, and she also serves as an inpatient infectious diseases consultant for the infectious diseases fellowship program.
"I'm sort of like a mini, less awesome Kim Hanson here, but just for my hospital," Lee said.