ARUP Healthcare Advisory Services Expands to Help Hospital Labs Define Value Within Health Systems
Health systems are feeling more pressure to maximize efficiencies and cut costs. Multiply this pressure by the weight of an unprecedented pandemic and all of its associated costs, and the task can feel insurmountable at times.
Too often, laboratory services are among the first to be targeted when budget cuts are discussed. So how can lab leaders demonstrate to executives that careful management practices and innovative partnerships with their service line can significantly improve the health system's bottom line?
That's where ARUP Laboratories' Healthcare Advisory Services team (formerly ARUP Consultative Services) can help.
Since its inception in the mid-1990s, this team has made it a mission to help labs demonstrate the value they bring to the system as a whole—from revenue generation to quality assurance and patient care.
"It's disappointing, really, because [administrators] just don't see the value or the revenue potential when it comes to the lab," said Sandy Richman, MBA, C(ASCP), Healthcare Advisory Services director. "So it's our job to not only help labs become the best they can be, but also to help lab leaders speak about the value they can bring to the health system."
Starting Small and Proving Its Value
Healthcare Advisory Services began as a small department that had a couple of engagements each year, which were focused on helping a client expand testing services in its community. Consultants offered only one service, which was not promoted by the Sales team, and they were at risk of having their small department cut from ARUP's budget entirely. Enter Richman, who, at the time, was a senior business analyst working on group purchasing organization (GPO) contracts and sales forecasts. He had a master's of business administration (MBA) and experience in revenue cycle management consulting, but he had set his sights on more.
"The senior vice president of Sales came to me and said, 'You want to be a manager? Here's a department that's going to be cut if you don't turn it around,'" Richman recalled. "It was a lot of pressure."
Expanding the program from that starting point of one to two consultations a year and only one offering was going to be a hard sell to ARUP's Sales team because account executives didn't see the value in offering consulting help to clients. But with a small team of three consultants and one business analyst, Richman began to work on building what would become one of ARUP's most valuable resources.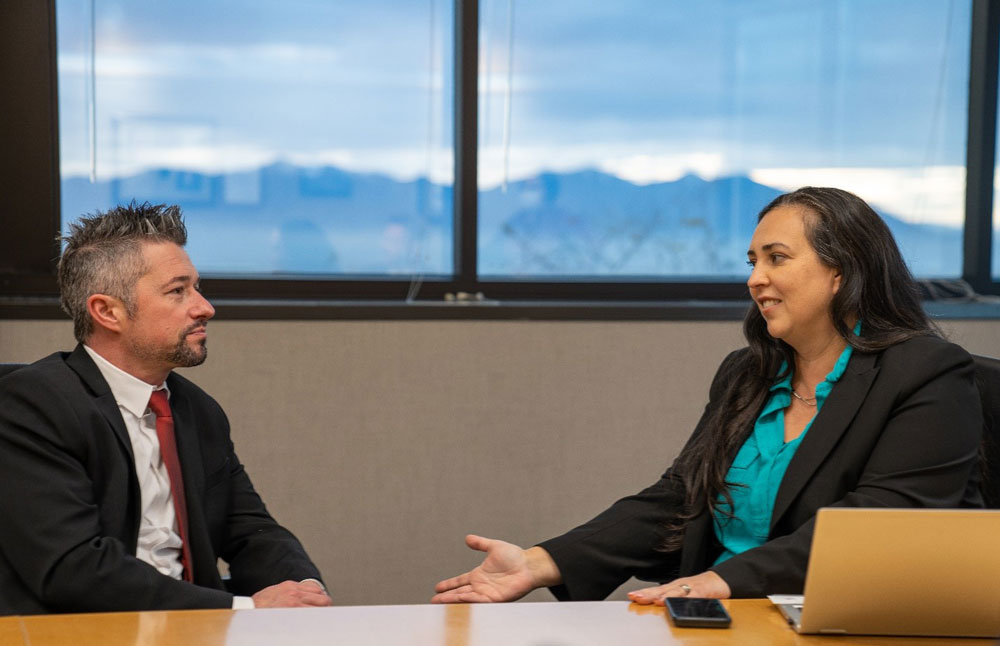 "We revamped and expanded our offerings, and then we had to convince the Sales team that we knew what we were doing," Richman said. "Pretty soon, we got so busy we could barely keep up."
That growth hasn't slowed. Since Richman took over in 2008, the department has expanded exponentially, and there are plenty of plans to keep its growth in motion.
Expanding Into Operations
As a national reference lab that also provides laboratory services for University of Utah Health, a large regional health system, ARUP knew it could expand its offerings to clients by including operations assessments. Utilizing expertise from the lab, the team approaches each project as an opportunity to partner with a client to identify the root causes of whatever problems may be present.
"A lot of what we do is bring to light things the client already knew, but didn't have the time to fully assess," said Leigh Huynh, MBA, a senior healthcare consultant who has been on the team since the beginning.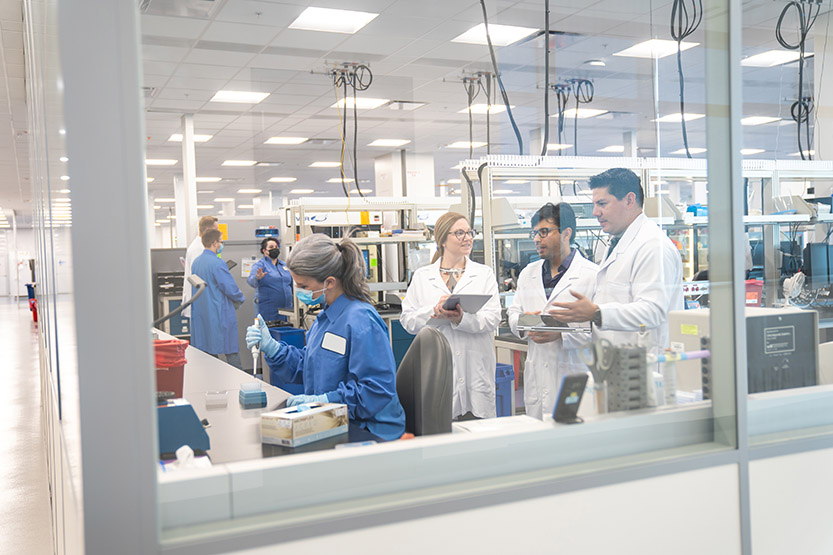 But Healthcare Advisory Services does more than spotlight issues clients might already suspect. By approaching the engagement as a true partnership, and with a thorough understanding of the complicated nature of lab operations, ARUP is able to recommend solutions based on ease of implementation and impact after implementation, and the team can demonstrate how each recommendation will help with space planning or workflow, for example.
"It can help give a little more teeth to something [the client lab] may have already been recommending but weren't getting the resources for," Huynh said.
Bringing on Laboratory Stewardship
While proper test utilization is something that ARUP has always promoted, the Healthcare Advisory Services team saw the opportunity to help clients improve how they use tests by offering full-service utilization analysis programs and solutions.
"We really want to be looking at ways we can control costs and improve revenue for our clients," said Andrew Fletcher, MD, MBA, CPE, CHCQM, FCAP, Healthcare Advisory Services medical director. "And I feel that it's my job to help with that by bringing at least one new idea to the table each month."
Since joining the team in 2016, Fletcher has expanded the stewardship program beyond the laboratory and into pharmacies, blood utilization programs, and Centers for Medicare and Medicaid Services (CMS) quality metrics. Extending into these areas has enabled clients to bridge the laboratory-clinical gap to work toward better stewardship while realizing a better return on investment for their health systems.
David Shiembob, MBA, C(ASCP)CM, Healthcare Advisory Services supervisor, emphasized that ARUP's offerings go beyond analyzing data and cutting costs.
"We've evolved it from the typical test utilization management offerings you see in the market," Shiembob said. "We want to promote this idea of stewardship because it's about more than just the right test. It's about the right test for the right reason and actively changing the culture or processes for the benefit of the patient."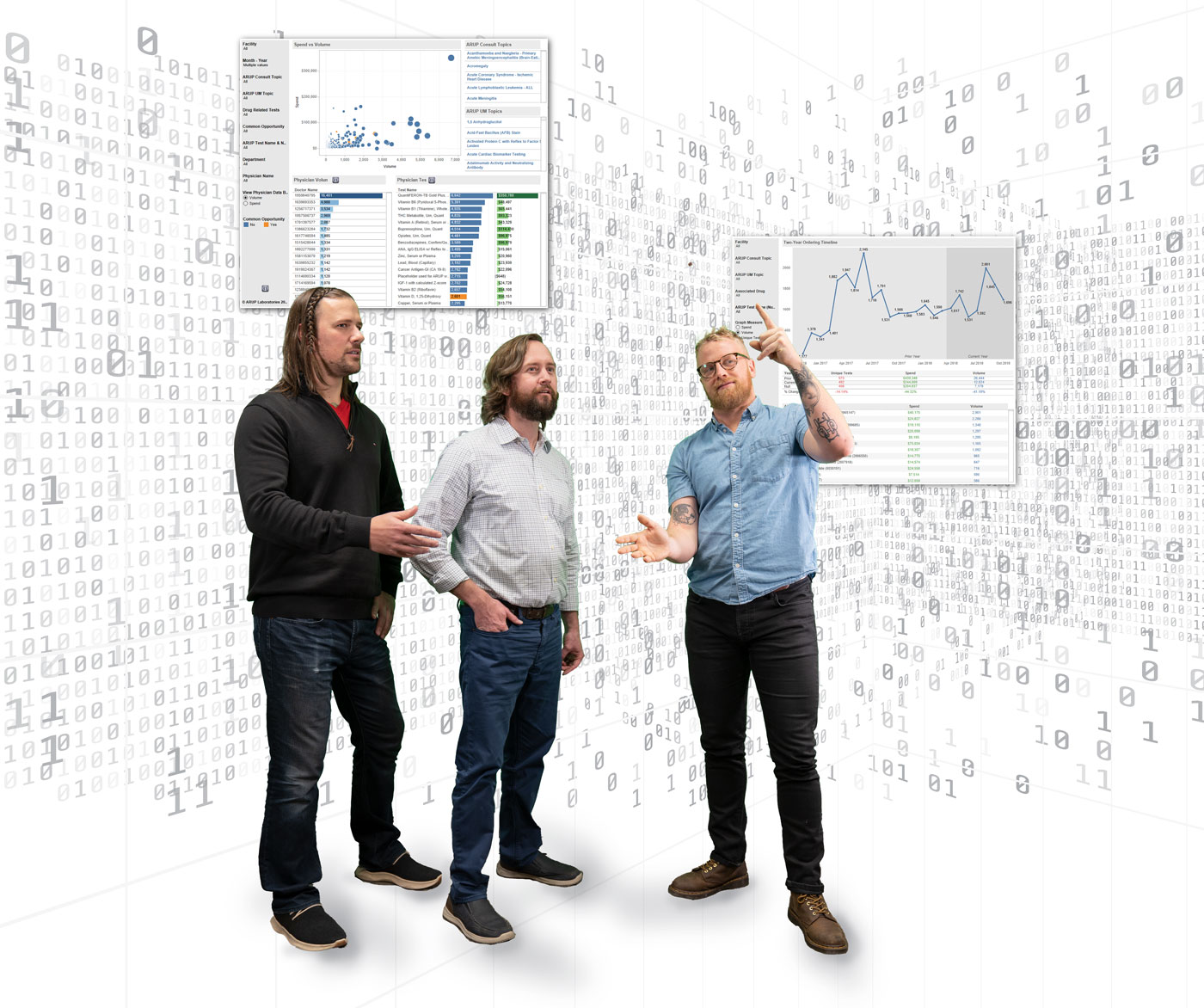 What's Next for the Healthcare Advisory Services Team?
Healthcare Advisory Services now offers 24 customizable services and products and will continue to add more as opportunities arise. Anticipating client needs ahead of time remains a top priority.
"Listening to our clients and to our own labs helps us understand what's needed in the market," Richman said.
He and Shiembob agree that wherever the offerings lead, the focus will always be on helping clients develop the best labs possible.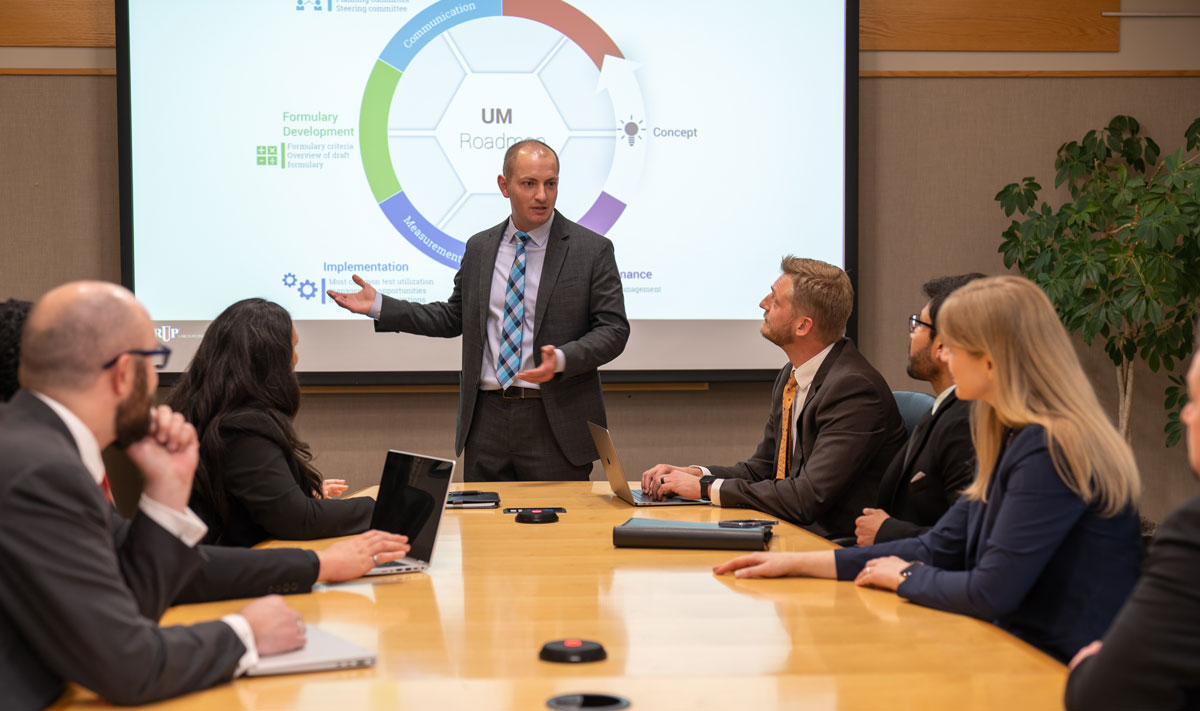 "Lab services are really valuable," Shiembob said. "And we truly believe in the idea that testing should be performed close to the patient, so we support our clients in doing that to whatever extent they're able to."
Photos by Corrin Rausch
Graphics and Illustrations by Natalia Wilkins-Tyler