ARUP Toxicology Expert Kamisha Johnson-Davis, PhD, DABCC (CC, TC), Provides Support System for Future Scientists
Oprah Winfrey famously said that "a mentor is someone who allows you to see the hope inside of yourself."
Kamisha Johnson-Davis, PhD, DABCC (CC, TC), can still recall the names of every teacher since elementary school who recognized her aptitude for math and science and encouraged her to become a scientist.
"You cannot put a price on a good teacher," she said, adding that it was because of her mentors that she realized education could provide a way out of her inner-city Los Angeles neighborhood.
As a teenager, Johnson-Davis witnessed the rioting that ensued after four police officers were acquitted of the brutal beating of motorist Rodney King. She also witnessed how the crack epidemic ripped Los Angeles apart, as it did in many communities across the country in the 1980s. "My neighborhood eroded physically, and so did the people using drugs," she said.
These experiences strengthened her resolve to keep herself on a different trajectory. They also sparked a research interest in drug addiction and pharmacology for Johnson-Davis, who became the first member of her family to attend college, let alone earn a doctoral degree.
Today, she is ARUP medical director of Clinical Toxicology and an associate professor at the University of Utah School of Medicine and is known nationally and internationally for her expertise in clinical toxicology.
Johnson-Davis is also that "someone" who allows countless students to see the hope inside of themselves.
A Lab Scientist in Training
After graduating from high school, Johnson-Davis enrolled at the University of California, Riverside and received a degree in biochemistry. Her next stop was the University of Utah, where she earned a spot in the U's pharmacology doctoral program.
Veronica Sandoval, PhD, JD, was a close colleague of Johnson-Davis throughout graduate school. They worked together in a Department of Pharmacology lab operated by Annette Fleckenstein, MS, PhD.
Sandoval remembered, "She would keep me real. I would get so excited about an idea and exclaim that we could be famous!" She added, "Kamisha's a deep thinker who is intuitive and really processes before she says something."
Johnson-Davis worked with rats in the lab, studying the mechanisms that lead to the development of tolerance to the neurotoxic effects of methamphetamine.
"When Kamisha combines her grit with her passion, watch out, because she is going to make it happen," said Sandoval. Recalling how Johnson-Davis began breaking out in rashes and didn't feel well because she was allergic to the rats, Sandoval said, "Instead of moving to another lab, she found a respirator and began wearing that to do her lab work."
A Crossroad That Led to ARUP
After receiving her PhD, Johnson-Davis completed a postdoctoral fellowship at the U's Center for Human Toxicology, and she wasn't certain what would come next. "I knew I wanted the work I was doing to have a clinical application," she said.
Doug Rollins, MD, PhD, who oversaw the center, suggested that she consider a fellowship in clinical chemistry at ARUP.
Diana Wilkins, MS, PhD, a principal investigator Johnson-Davis had worked under while completing graduate research, encouraged her as well. "This was not a path that many students were taking at that time, but it seemed like an interesting pathway for Kamisha, who could apply her research strengths and critical thinking in toxicology and pharmacology in the broader context of clinical chemistry."
"The more I learned about clinical chemistry, the more I thought, 'This is it,'" Johnson-Davis said. For the next three years, from 2006 to 2009, Johnson-Davis immersed herself in what would be her final fellowship.
Elizabeth Frank, PhD, DABCC, who oversaw ARUP's clinical chemistry fellowship program at the time, said some fellows find it difficult to shift from basic science research to work in a medical laboratory. "Kamisha came in fearless, with a positive attitude, and her knowledge grew in leaps and bounds," said Frank, who is now ARUP medical director of Analytic Biochemistry, Calculi and Manual Chemistry.
During Johnson-Davis' fellowship, Frank worked with her on a project to establish pediatric reference intervals for vitamin A and vitamin E deficiencies. When she submitted her draft manuscript, Frank was impressed. "I learned from her then, and I continue to learn from her."
Today, Johnson-Davis' research focuses on assay development to support therapeutic drug monitoring by mass spectrometry and immunoassay in pediatric and adult patients.
She also oversees the clinical chemistry fellowship program, where she has earned a reputation as an excellent mentor. "She is really poised in guiding our program and attracts excellent applicants who bring more diversity to our field," Frank said.
Making Sure Others Need Not 'Figure It Out on Their Own'
Despite carrying a rigorous workload and parenting two daughters, Johnson-Davis is a devoted mentor. She works with students through the U's African American Doctoral Scholars Initiative (AADSI), which did not exist when she was a student.
"I didn't know anyone with a PhD other than faculty members, and no one I knew had real connections within the world of academia. I was just figuring it out on my own," said Johnson-Davis, who also pointed out that navigating through racial micro and macroaggressions was a part of her experience. "I want to help PhD students and fellows avoid some of the pitfalls and help them feel supported."
The students she mentors admire her and are grateful. "I look up to her. She inspires me to apply myself to become like her one day," Daniel Amoakoh, a member of AADSI, shared. "She has already been where I am going, and she is helping me to not make certain mistakes that she has learned from in her own experience," said Amoakoh, a student from Ghana who is pursuing a PhD in mining engineering.
"Kamisha's mentoring has given me the confidence to thrive," said Nkem Okoye, PhD, who completed a clinical chemistry fellowship at ARUP in 2021. He recalls how she included him in crucial meetings with laboratory leadership, took the time to explain best practices in laboratory directorship, and exposed him to new opportunities that helped advance his career.
"All those leadership experiences I had at ARUP have come in handy now in my new position. I have the confidence to interact with my colleagues, sit in rooms where crucial decisions are being made concerning laboratory operations, and contribute effectively to those conversations," said Okoye, who is now the director of Clinical Chemistry and Diagnostic Immunology at Northwell Health Laboratories.
"Kamisha's ability to infuse empathy, encouragement, and collegiality in her role as a leader got us through one of the most difficult times in lab medicine—the COVID-19 pandemic," said Kayode Balogun, PhD, who was a fellow alongside Okoye from 2019 to 2021.
Balogun is now a clinical biochemist at the Saskatchewan Health Authority in Canada and an assistant professor of pathology and laboratory medicine at the University of Saskatchewan. "She showed both strength and vulnerability by sharing her own experiences, making it easy to talk with her," Balogun added.
Balogun recalls Johnson-Davis asking him and his peers what would improve their fellowship experience, and they shared that they wanted more time in a hospital setting during their second year. "She worked with the main stakeholders to make that happen, and it made my training experience exceptional," Balogun said.
Johnson-Davis also participates in the U Department of Pathology's mentoring program, in which faculty members help students with their career development. She also serves as a member of the admissions committee for the U's Medical Laboratory Sciences (MLS) Division, where she regularly mentors graduate students.
"Kamisha has a strong altruistic streak. She believes in giving back without ever expecting the limelight to fall on her," said Wilkins, the MLS Division chief. "She is not one to toot her own horn. She stays in the background while the support she provides is so appreciated."
Well-Deserved Recognition
"I'm always surprised by how much Kamisha is doing," Frank said. "She participates and contributes to some influential organizations, including international ones."
Johnson-Davis has received numerous honors and opportunities to present at conferences worldwide. Three times, the American Association for Clinical Chemistry (AACC) has awarded her the Outstanding Speaker Award. She was the recipient of the Paul E. Strandjord Young Investigator Award in 2008 and the Young Investigator Award from the Therapeutic Drug Monitoring and Toxicology Division of AACC in 2013. She serves on numerous university and organizational committees, and she teaches and lectures in the clinical pathology department and the U's MLS program.
Johnson-Davis does not view her professional life as a series of accomplishments. Rather, she is immersed in her day-to-day life, keenly focused on clinical service. "I work in a lab environment where our work impacts patient care. Knowing that I am part of this is rewarding."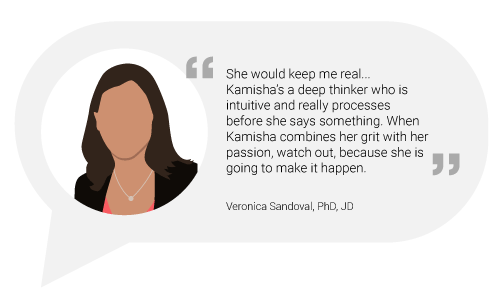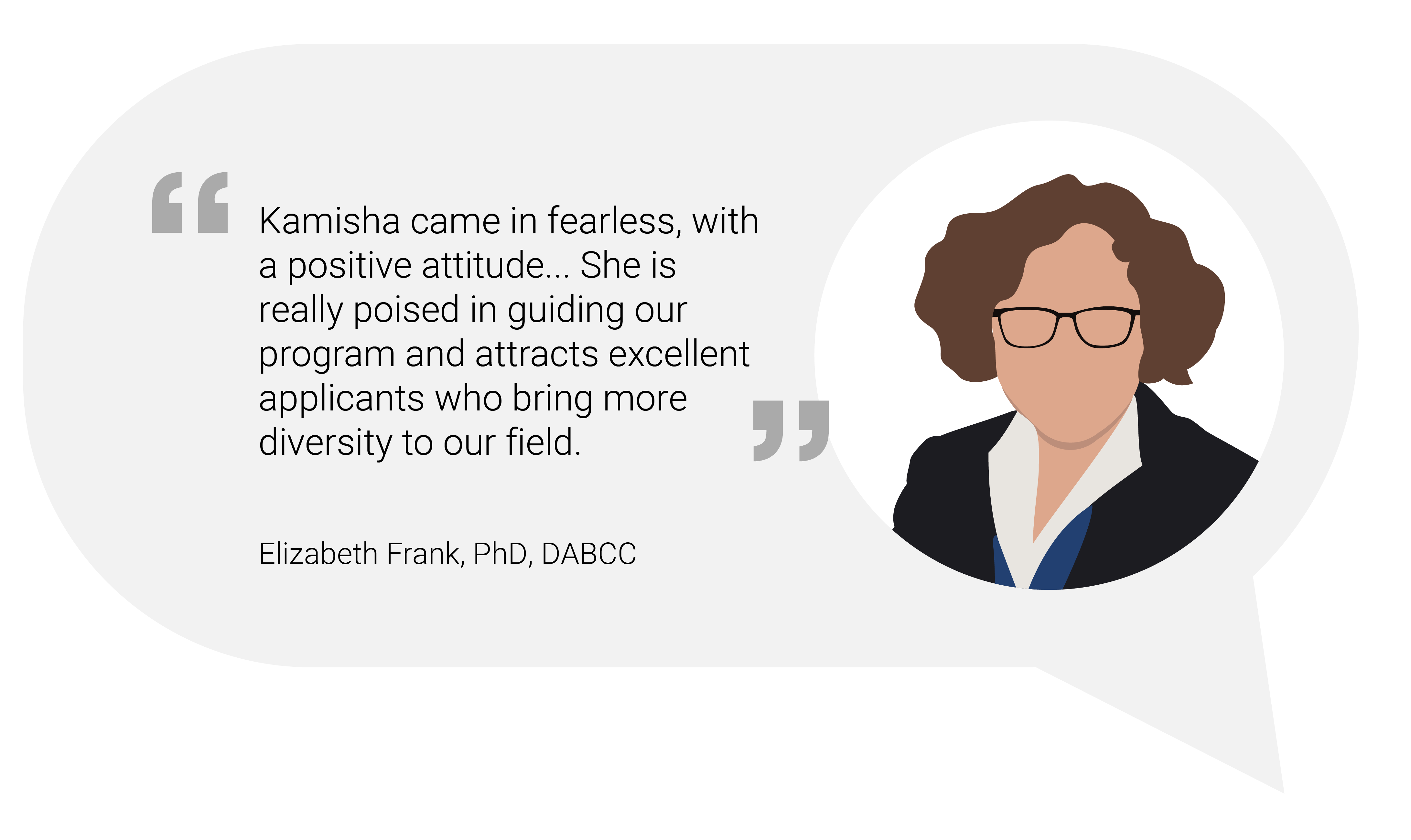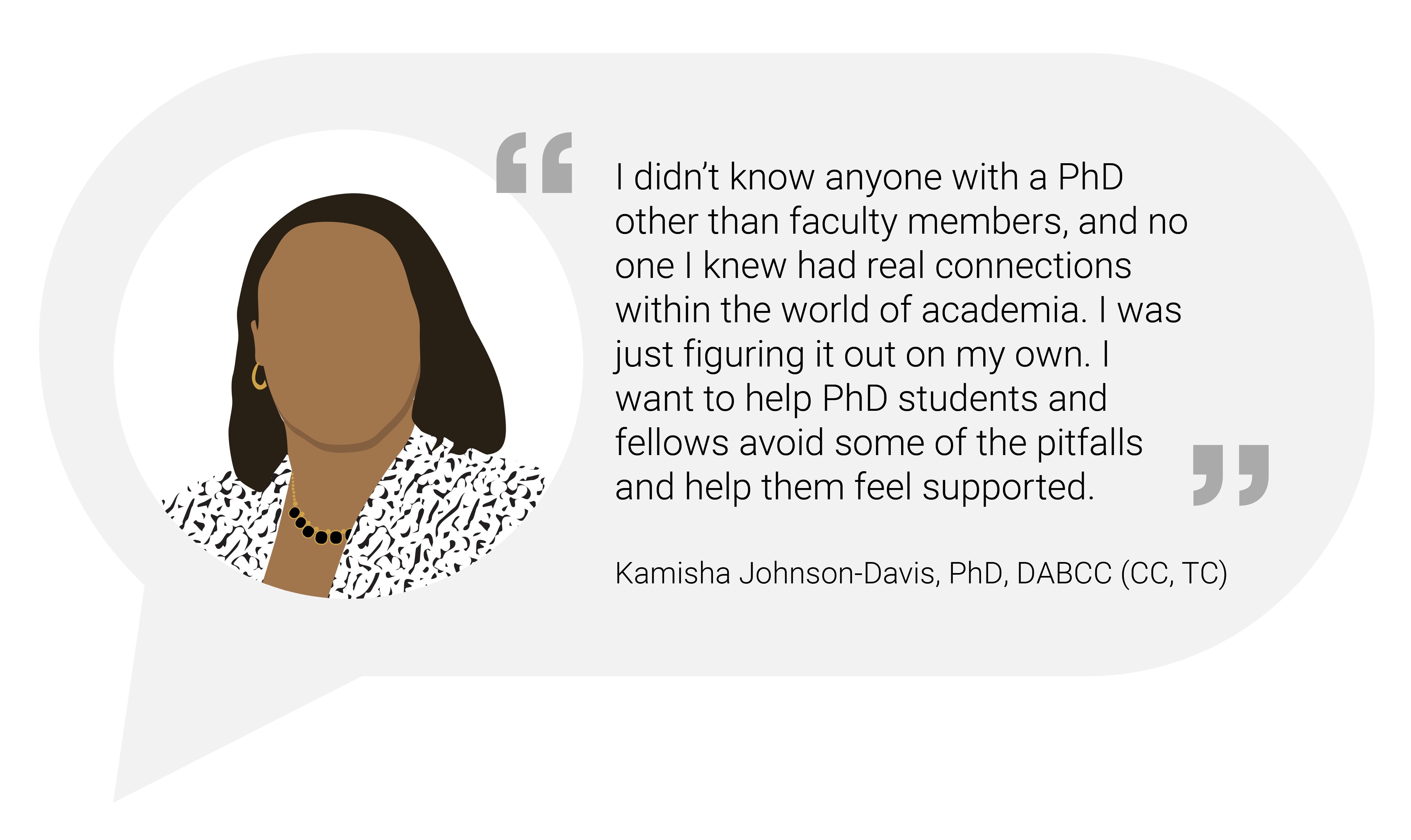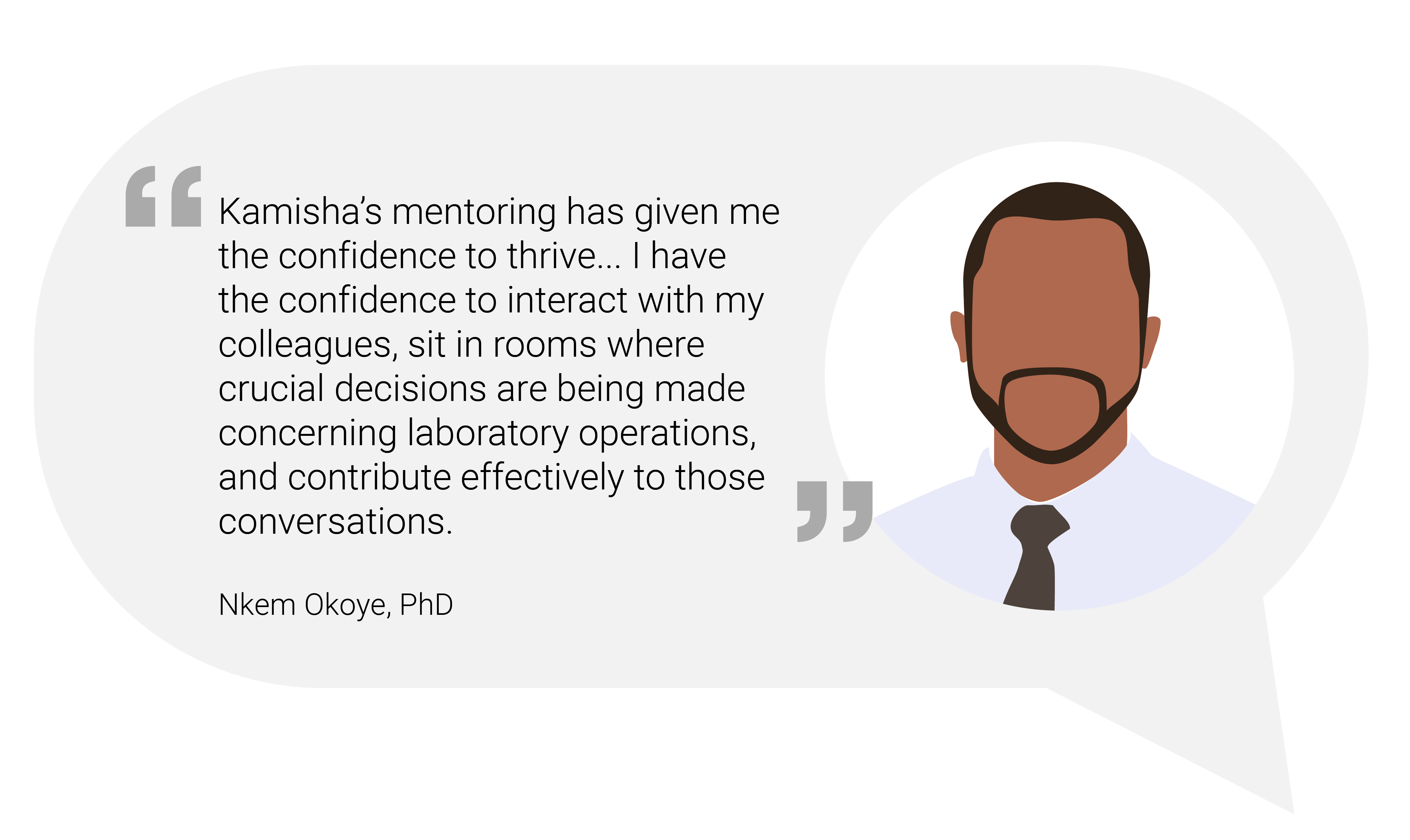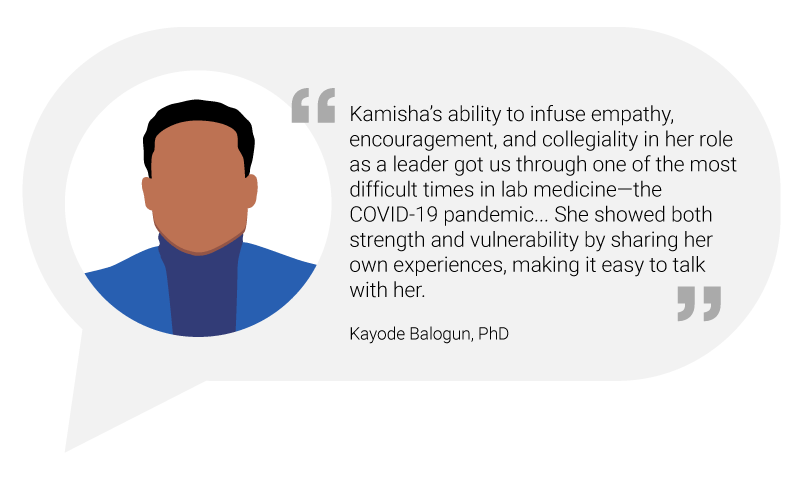 Oprah Winfrey famously said that "a mentor is someone who allows you to see the hope inside of yourself."
Kamisha Johnson-Davis, PhD, DABCC (CC, TC), can still recall the names of every teacher since elementary school who recognized her aptitude for math and science and encouraged her to become a scientist.
"You cannot put a price on a good teacher," she said, adding that it was because of her mentors that she realized education could provide a way out of her inner-city Los Angeles neighborhood.
Graphics and Illustrations by Mary Paul