ARUP Institute for Clinical and Experimental Pathology® Celebrates 25 Years at the Cutting Edge of Laboratory Medicine
As the ARUP Institute for Clinical and Experimental Pathology® (Research and Development) celebrates its 25th anniversary, it is entering a new era of innovation as it incorporates emerging tools, such as artificial intelligence (AI) and cloud-based technology, into disease diagnosis.
By integrating the latest technology with the expertise of R&D's pathologists and scientists, ARUP will maintain its position on the cutting edge of diagnostic medicine, increasing efficiency and decreasing the time it takes for clinicians and patients to receive results that ultimately lead to treatment.
"We have been building the infrastructure to better serve our clients, and now we are ready to start incorporating more technology," said Adam Barker, PhD, a former director of R&D who is now chief scientific officer and leads ARUP's New Technologies Group. The new group is focused on building partnerships to accelerate the adoption of emerging technologies in diagnostic medicine.
ARUP already has announced partnerships with companies such as TellBio Inc., a Massachusetts-based corporation whose circulating tumor cells (CTCs) technology aims to provide noninvasive, real-time monitoring of cancer progression and treatment.
ARUP also partnered with Techcyte Inc. to deploy the world's first AI-augmented ova detection assay in 2019 and is currently expanding the use of that technology to other assays, including a test to identify acid-fast bacillus (AFB), the bacteria that causes tuberculosis and other infections. Using AI and cloud-based technology will revolutionize current testing technology for tuberculosis, which currently relies on a laborious process to manually stain and read slides, said Barker. ARUP's partnership with Techcyte also has proven fruitful in the development of NanoSpot.AI, a rapid, inexpensive SARS-CoV-2 antibody test invented by two University of Utah pathologists.
"We embrace this idea of being an academic reference lab rather than a for-profit enterprise. Our differentiating factor is that we can offer new tests that aren't yet available in the market. We are esoterically unique," said Julio Delgado, MD, MS, executive vice president of ARUP and medical director of Protein Immunology and Immunological Flow.
Breaking Ground in Diagnostic Medicine: It's Tradition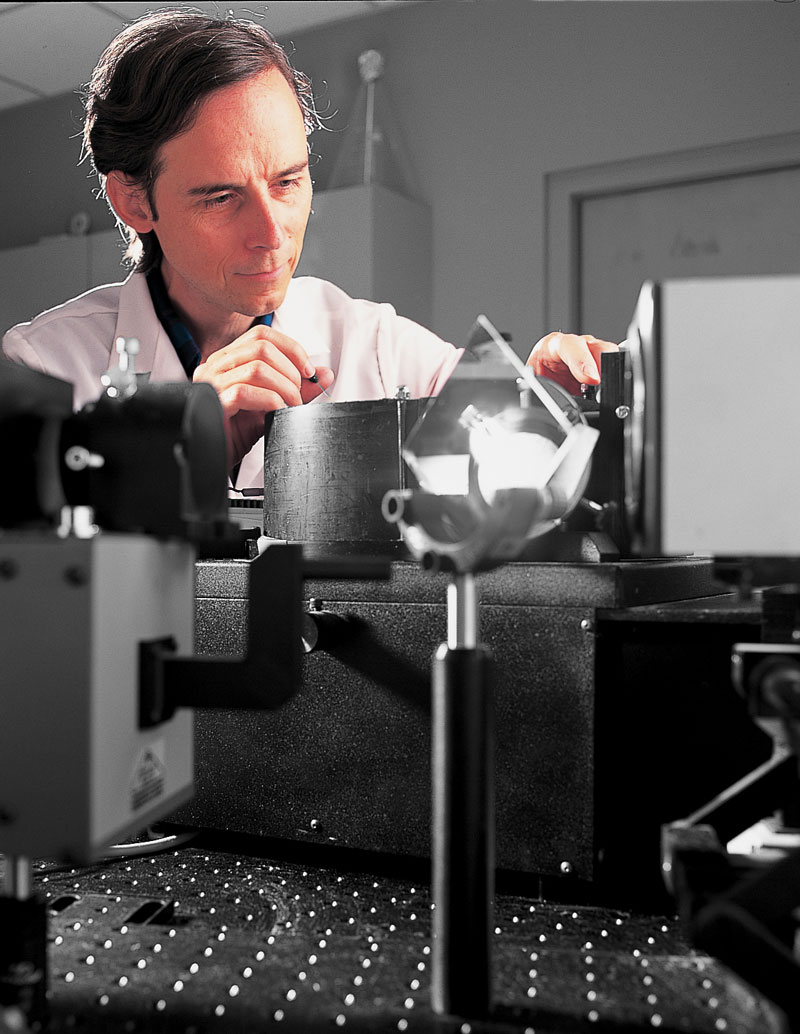 Since its founding in 1996, R&D has been at the core of ARUP's innovative efforts, with numerous industry-first advancements. These included early standouts such as the LightCycler, an instrument developed by ARUP scientist Carl Wittwer, MD, PhD, in the 1990s that enables polymerase chain reaction (PCR) and has since become an industry standard, as well as more recent developments in genetic sequencing and mass spectrometry.
"Harry Hill's vision when he set up R&D was groundbreaking; it was the first time someone tried to marry the academic nature of the medical directors with the business needs of a reference laboratory," said Sherrie Perkins, MD, PhD, ARUP's CEO before her retirement in 2021.
Harry Hill, MD, an ARUP cofounder and renowned immunologist, originally conceptualized the institute as a way to foster the academic careers of ARUP's medical directors, who also serve as faculty members at the University of Utah, as well as to advance the science of diagnostic laboratory medicine for better patient care.
"I was convinced that you couldn't be a reference laboratory unless you developed new, interesting tests. And you do that by doing research, not by copying somebody else," Hill said.
One area in which ARUP has always excelled is genetic testing, from the Sanger sequencing that emerged in the late 1990s to the more recent next generation sequencing (NGS), also known as massively parallel sequencing, a methodology that can rapidly sequence whole genomes.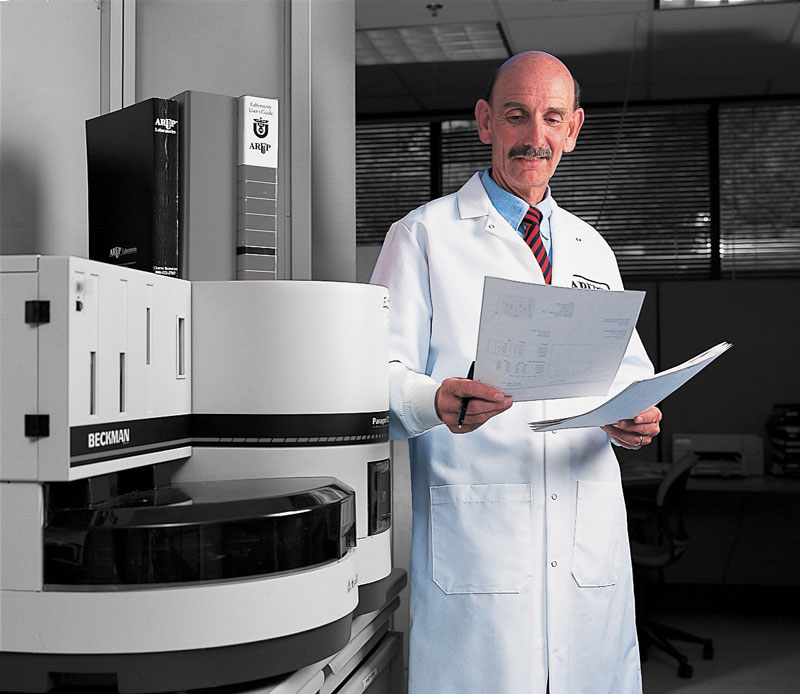 "When Harry Hill proposed buying a DNA sequencer in 1998, we didn't even know what we would test on it," said Mark Astill, MS, R&D director before his retirement in early 2022. "But Harry insisted that DNA sequencing would be game changing and that ARUP needed to invest in it."
Several of ARUP's laboratory-developed genetic tests have been enormously successful, including one of the first genetic sequencing tests it offered, a quantitative hepatitis C virus assay, originally developed by David Hillyard, MD, a leading expert in molecular infectious diseases and currently the ARUP medical director in this area. Genetic sequencing has progressed significantly since those early days, but it was absolutely breakthrough technology when it first began to be used; not only was it able to identify whether a person had a virus, but it could also identify the strain, said Astill. That technology now makes it possible to identify resistance markers and predict response to drug therapy.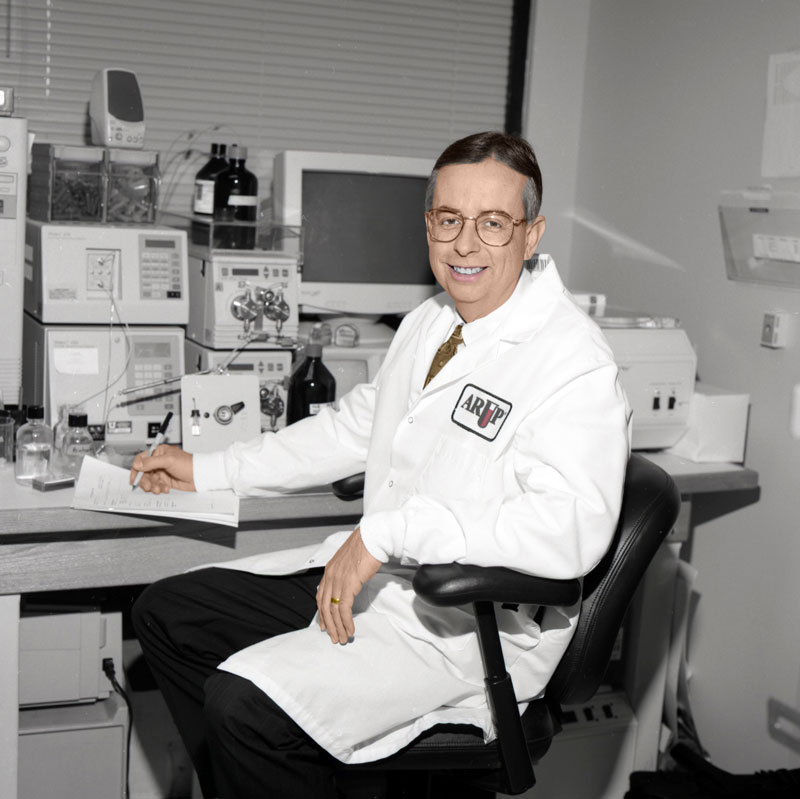 Other notable tests include ARUP's genetic panel for myeloid malignancy mutations, which at the time of its launch in 2014 was one of the first myeloid malignancy panels on the market and one of ARUP's first NGS assays. ARUP utilizes a unique workflow process, known as the Oncology Uber Capture, in which the lab leverages a common capture of 700 genes and then customizes the results to report on the most relevant genes. A streamlined, efficient process enables ARUP's team to process more than 500 of these assays in one month, an impressive amount given that this labor-intensive assay requires both a clinical variant scientist and a medical director to personally review each case.
ARUP remains the only lab to offer unique assays that measure the ability of a drug to inhibit tumor necrosis factor (TNF) and detect the presence of antibodies that neutralize TNF antagonist drug activity, which leads to treatment failure.
Over the course of its 25-year history, the accomplished members of R&D have published more than 2,690 articles in respected academic journals, the influence of which has rippled throughout academic pathology. Overall, those publications have been cited hundreds of thousands of times; the top 100 publications alone have accumulated nearly 50,000 citations. The R&D team has also developed hundreds of new tests, many of them industry firsts.
Curating a Laboratory Test Directory
The rapid growth ARUP and the institute have experienced over the past quarter century has presented its own challenges.
"We had built this fantastic and enormous test directory that at the time was well past 3,000 assays, many of which were originally developed by the institute, but we weren't necessarily paying attention to what was happening in the laboratories," Delgado said.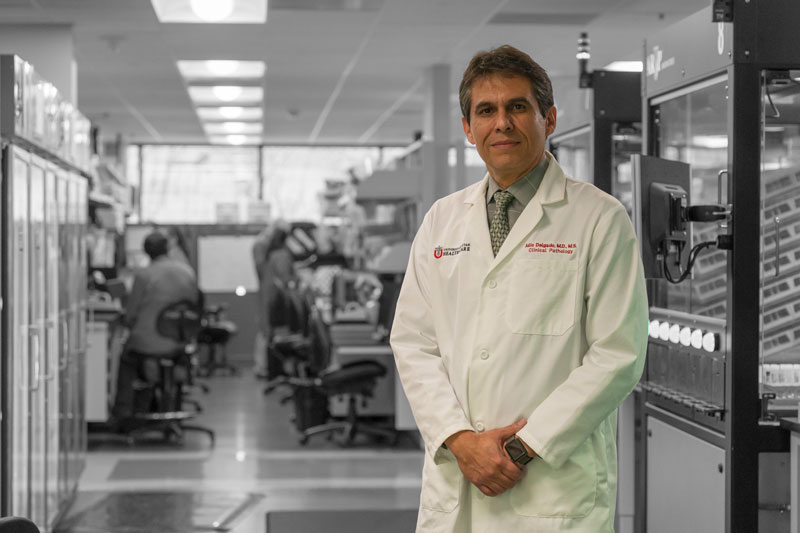 Although ARUP was one of the first laboratories to bring NGS tests online, each test was built one at a time, which resulted in nearly 80 different workflows in the labs.
When Delgado and Perkins became codirectors of R&D in 2014, they shifted its focus. Instead of working almost exclusively on academic pursuits, the institute also began taking steps to ensure the labs worked as efficiently as possible, streamlining those workflows and converting sendout tests to in-house tests.
"We needed to focus the institute's work so that it was supporting ARUP's clinical laboratories and patient care and not just the rather nebulous idea of academic productivity," Perkins said. "There were a number of tests that ARUP needed to offer because of their clinical relevance that weren't being developed due to a lack of perceived academic value."
To facilitate this shift, Delgado and Perkins created a Technical Operations (TechOps) team that scales the test developments that come out of R&D into production for clinical reference testing, as well as problem solves any issues the labs may have.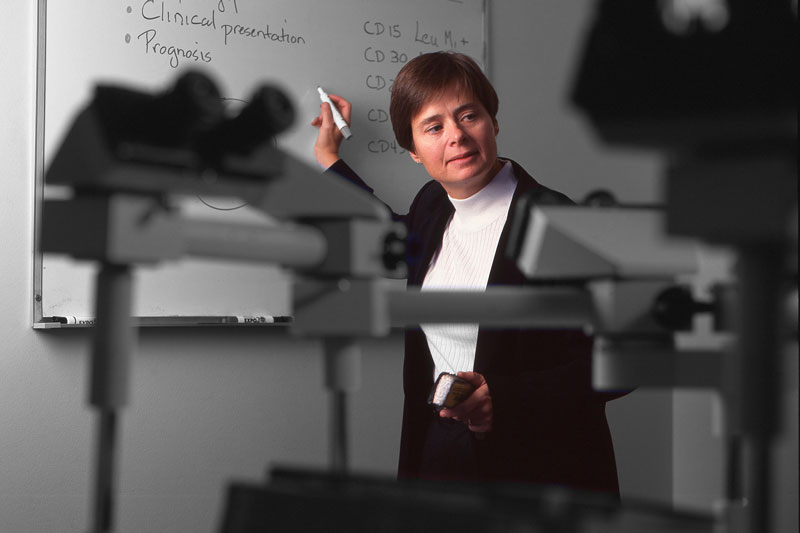 "The major accomplishment of R&D has been this crystallization of three things: prioritizing patient care while maintaining balance between the academic needs of the university and the economic needs of ARUP," Astill said.
As a result, ARUP has streamlined its operations, providing a well-curated test menu to meet testing needs with standardized workflows that deliver results more efficiently than ever.
These efforts proved essential when the COVID-19 pandemic began in 2020, requiring R&D to move at an unprecedented pace. Before the pandemic, validating a test and moving it into production took between six and 12 months, but ARUP teams had only days to weeks to produce necessary COVID-19 testing. Barker was director of R&D at the time and responsible for the COVID-19 Rapid Response Lab.
"With the demand for specific tests like COVID-19 or cytokine testing, Dr. Barker was able to get people to work together like never before and get resources where they needed to be. And all of that was a huge testament to his leadership and his ability to mobilize our MDs," said Perkins, who is now a member of ARUP's Board of Directors.
Medical and Scientific Expertise Ensures Quality
The support R&D lends to medical research has drawn considerable expertise to the University of Utah and to ARUP. Many researchers have become leading experts in their fields. What started as a small institution with fewer than two dozen medical directors has grown to more than 110 medical directors and scientists.
ARUP's medical directors and scientists hail from all over the world.
"The pathology department and medical directors really stand out at the University of Utah and amongst other academic institutions due to the wealth of experts on our pathology faculty. A lot of that is due to the institute and the support they give to faculty members," Perkins said.
The expertise that R&D's medical directors and scientists bring to ARUP ensures an exceptionally high standard of quality. Each assay undergoes a rigorous validation process before ARUP adds it to the testing menu.
"As members of the R&D institute, we bring our families here to the clinic, and they are assessed using the tests we've developed. It's been our mantra that we don't put a test out there unless we are confident in the results for the people who matter most to us," Barker said.
Barker plans to continue to build on the institute's momentum with more improvements, including further streamlining of operations through the creation of platform-based teams of experts. The goal is to create groups whose members can collaborate on any tests built for a specific platform, such as mass spectrometry, no matter their area of expertise. This will help create more standardized, efficient workflows from the beginning. These platform-based teams will align with TechOps to facilitate scaling the tests into operation. R&D will also move into a new, centralized lab location this year.
"Dr. Barker is working to further streamline operations by aligning things on platforms rather than specific areas," Perkins said. "It is really going to transform the efficiency and allow scientists to work together in new and unique ways. The original vision is beginning to come to fruition now."
Graphics by Mary Paul