COVID-19 Lessons Make ARUP More Nimble
As ARUP has surmounted the challenges of the COVID-19 pandemic, what has emerged is a laboratory more capable than ever before. Over the past year, ARUP has streamlined its test validation processes, increased the efficiency of advancing a test from research and development (R&D) to production, independently developed tests and products, and reinvented spaces to accommodate COVID-19 testing capacity.
"As Churchill once said, 'Never let a good crisis go to waste.' What we have learned from this once-in-a-lifetime crisis will enable us to pivot more effectively to face new challenges. We know what it takes to move forward quickly without compromising on quality," said Adam Barker, PhD, director of the ARUP Institute for Clinical and Experimental Pathology® (Research and Development).
Streamlined Validation Processes
Before the pandemic, validating a test and moving it into production normally took between 6 and 12 months, on average, but the urgent need to detect the spread of COVID-19 meant that ARUP teams had only days to weeks to validate testing. Barker and his team streamlined that process in ways that will allow ARUP to move other testing into production more quickly than before.
Rather than having just one scientist working to validate the test, Barker had multiple scientists and medical directors working in shifts around the clock to keep the process moving forward.
"Validating testing so quickly required a lot of people working tirelessly to get it done. We had every person who would possibly need to be involved in the process meeting together every single day. Our unifying march was that we could not stop. When we came across challenges, we changed our approach instead of walking away defeated," Barker said.
In addition to concentrating the efforts of multiple scientists and medical directors on the project, Barker worked with the Technical Operations (Tech Ops) team, which is responsible for moving tests into production in the lab and scaling up capacity, to ensure a smooth transition.
"Throughout the entire process, we worked simultaneously with Tech Ops to ensure they had the tools, instruments, space, staff—whatever they needed—to bring the test into production in the lab," Barker said.
Barker and his team also worked with information technology (IT) staff to move documentation online, making it easier and faster for medical directors to sign off on steps of the process.
"We operated at an incredibly fast speed because of the pandemic. We've learned that we can do things at a faster pace than we originally thought. Now the goal is to continue that momentum into the future," Barker said.
Quality at a Faster Pace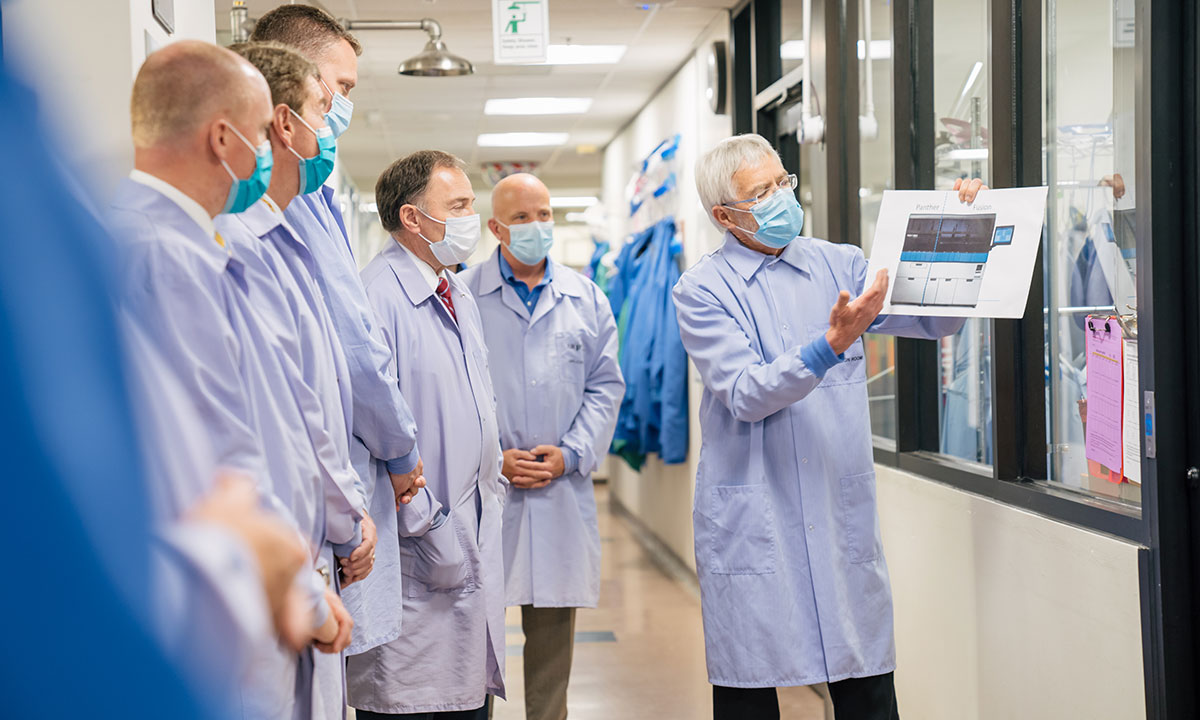 When industry-established timeframes are so drastically fast-tracked, maintaining the same rigorous standard of quality becomes a challenge.
David R. Hillyard, MD, medical director of Molecular Infectious Diseases, who was instrumental in validating one of the first high-throughput COVID-19 diagnostic tests in the nation, credited this success to the experience and aptitude of his colleagues.
"Without the expertise of the R&D staff, their familiarity with the process, and their adaptability, validating a test at this speed would not have been possible," Hillyard said.
Although the test had been in R&D for a few months, Hillyard and his colleagues learned of the U.S. Food and Drug Administration (FDA) Emergency Use Authorization approval early on Saturday, March 7, 2020. By the following Tuesday, they had validated the test, and they opened testing by Thursday, March 12, fast-tracking the normal 6- to 12-month validation process.
As ARUP rapidly increased capacity for COVID-19 testing, processing around 10,000–12,000 tests daily at peak capacity—an astonishing 20% of ARUP's total testing volume—ARUP teams increased the frequency of their quality checks to ensure that testing was accurate and up to quality standards.
"At normal volumes, conducting quality checks on a weekly or monthly basis is usually sufficient, but at these volumes, we performed quality checks nearly daily and immediately escalated any issues to medical directors to ensure quality throughout this process," Barker said.
"The way we approach testing hasn't changed. We have always emphasized quality and will continue to do so. What we have improved is communication and collaboration among different divisions and departments to quickly achieve a common goal," said Patricia Slev, PhD, section chief of Immunology at ARUP, who has overseen the development of serology assays at ARUP to detect the production of antibodies.
Creating Supply Solutions
When laboratories across the world scrambled to increase testing capacity and demand led to critical supply shortages, ARUP utilized research and innovation to circumvent these shortages and create its own solutions.
Early in the pandemic, a shortage of the media needed to transport specimens in test collection kits emerged. ARUP's Reagent Lab moved quickly to formulate a saline transport media for COVID-19 testing. They also developed their own media, ARUP Transport Media™, to use as an alternative to universal transport media (UTM) when the world's only supplier was unable to meet global demand.
ARUP also utilized the expertise of its researchers to provide solutions. An ARUP and University of Utah study determined that saliva specimens were as effective for detecting SARS-CoV-2 as the deep nasal swabs that were used initially. This research made it possible for ARUP to develop and launch a COVID-19 test that used saliva specimens, rather than hard-to-acquire nasopharyngeal swabs.
"Doing research is in our blood, and interconnecting research studies during the pandemic was key to many insights and successes during COVID-19," Hillyard said. "Through establishing multiple supply chains and testing options, as well as utilizing research, we can create a more dynamic and flexible approach to overcome future barriers in supplies."
Not only will ARUP utilize research to address supply challenges, but Barker sees this as an opportunity for ARUP to focus on developing its own tests in the future.
"The shortages caused by the pandemic demonstrated that we have relied on the industry to provide tests, supplies, and reagents, but we have also realized our capacity to develop tests and products on our own. Now, we are focusing on our own tests rather than taking what the industry has already developed," Barker said.
Spaces Designed for More Flexibility
In the race to ramp up testing capacity, space became a critical factor. Barker and his team found themselves utilizing every inch of available space to conduct COVID-19 testing—as well as some space that wasn't available.
"One of our biggest fights was space. I had to tear down walls, take away break rooms. We did what was necessary to create capacity," Barker said.
Barker plans to be better prepared for future events that may require scaling up capacity. He plans to include what he calls "flex space," space designed for multiple uses that could be repurposed easily to address changing needs.
Although it was still under construction and unavailable for use throughout most of the pandemic, ARUP's new 220,000-square-foot, state-of-the-art facility will enable ARUP to increase capacity, as well as design space more proactively for future events that may require rapid upscaling.
A More Efficient, Capable ARUP
Barker attributes much of ARUP's ability to rapidly expand COVID-19 testing to the incredible collaboration between ARUP departments, which involved not only those who worked directly in the labs, but also other teams that ensured the labs had what they needed to operate.
"Every person involved in putting a test on the test menu was in meetings and calls daily, addressing anything that was holding us back so we could move forward," Barker said.
The collaboration, innovation, and sheer determination involved in scaling up COVID-19 testing at such a lightning pace has positioned ARUP to move forward better prepared to handle urgent events. ARUP is more capable of bringing tests online quickly, developing tests independent of the industry, and overcoming obstacles than ever before.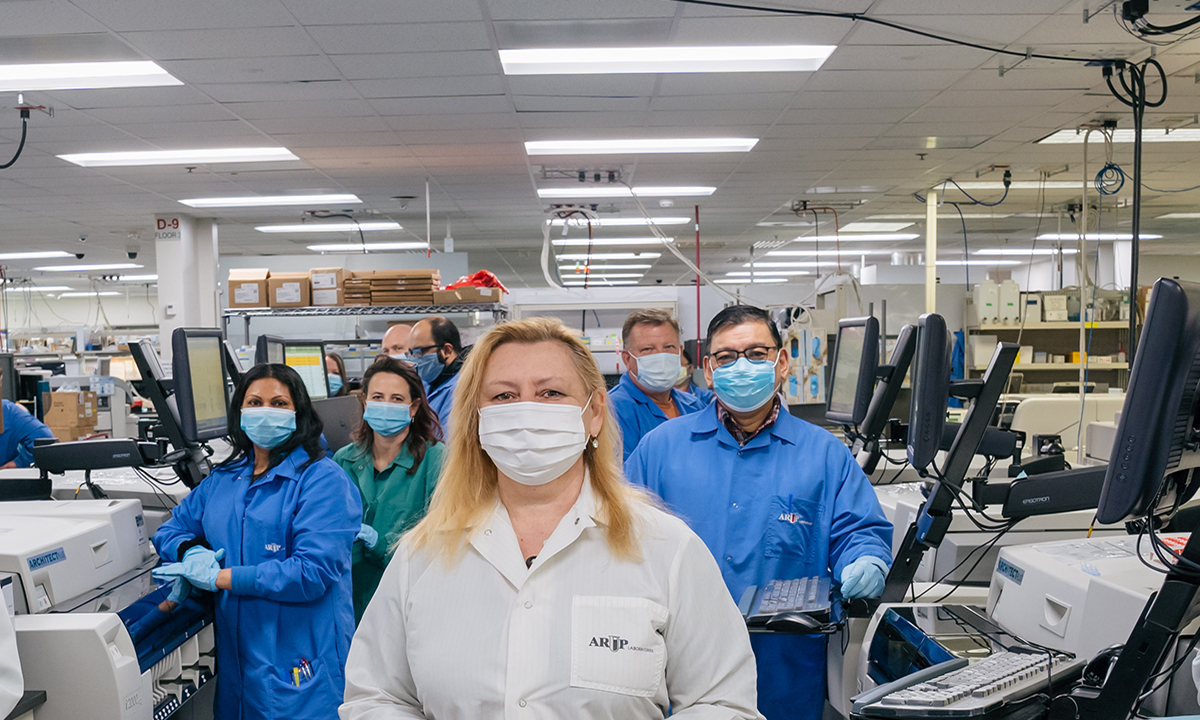 "Any time you break barriers between different divisions and increase collaboration and that sense of working towards a goal as a team, there is always a benefit," Slev said. "In every aspect, we have learned how to approach these challenges in a way that will allow us to move forward more efficiently and effectively in the future."