Ambitious SARS-CoV-2 Antibody Study Provided Real-Time Data to Benefit Patient Care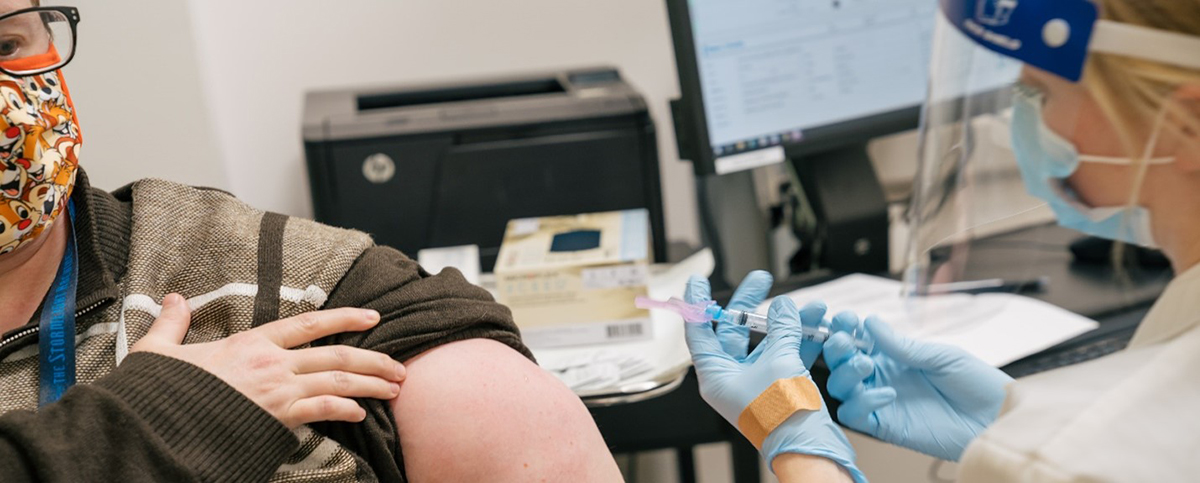 In the early days of the COVID-19 pandemic, employees at ARUP Laboratories and the University of Utah were first responders to the emerging crisis as they raced to validate tests and build much-needed testing capacity.
The pressure and the workload they faced were unrelenting, yet a core group nonetheless recognized an opportunity for ARUP to do what it does best as an academic reference laboratory: learn from the crisis and apply what they learned to improve patient care as quickly as possible.
As the number of COVID-19 cases started to climb in the spring of 2020, Julio Delgado, MD, MS, an immunologist and ARUP's chief medical officer at the time, already was initiating a far-reaching study approved by the U's Institutional Review Board to understand what constitutes immunity to SARS-CoV-2. The study, for which Delgado was the principal investigator, also involved the validation of various specimen types for SARS-CoV-2 antibody testing.
In many ways, it was not unlike hundreds of other studies around the globe that sought answers to key questions about COVID-19. The investigation was unique, however, in that it enabled ARUP to understand how its own newly launched SARS-CoV-2 immunoglobulin G (IgG) antibody tests were working in real time and to use that information to provide immediate feedback to the company, which was not only providing testing to hospitals and health systems nationwide, but was also managing the health and safety of a large workforce through a pandemic and caring for employees' dependents through the ARUP Family Health Clinic.
"What we saw was truly amazing behavior throughout our organization," said Delgado, who is now ARUP executive vice president and chief of the Clinical Pathology Division at the U.
About 150 employees enrolled in the study without hesitation, he said. The Family Health Clinic, which provides free primary care to employees and their families, became the testing site, with Kathryn Gibson, MD, FAAFP, ARUP medical director of Health and Wellness, who oversees the clinic, and nearly every member of her staff also enrolling at a time when the demands of their work had never been greater.
Jennifer (Jenna) Rychert, PhD, medical director of Operational Informatics and Microbial Immunology, implemented specimen collection schedules, worked to ensure the availability of supplies needed for the study, connected the research team with the clinical team led by Gibson, and created a REDCap database. Then Delgado, Gibson, Rychert, fellow medical directors, clinic staff, and Research and Development and laboratory employees got to work.
Multiple times over the nearly two years that followed, study participants submitted to blood draws, finger pricks, saliva collection, and early in the study, collection using a microcapillary device so that ARUP could perform different tests to monitor SARS-CoV-2 antibodies over time in patients who had been naturally infected, vaccinated, both, or neither.
"It was really fascinating because it enabled us to see lab results in real time before anyone really knew what they meant or how to apply them," Gibson said. "We were able to see the science roll out while also watching the clinical picture develop, which afforded a full continuum of understanding from the basic science all the way through research and development to how to apply testing and results in the clinic, and then how to apply them in people's lives."
Trends emerged. From preliminary data, researchers learned that SARS-CoV-2 antibodies begin to diminish three to six months after they're detected, and that nucleocapsid-specific antibodies decline faster than spike-specific antibodies, Delgado said. They learned that vaccine-induced antibodies persist longer than those induced by natural infection.
They also learned that SARS-CoV-2 antibodies can be detected in dried blood spots and saliva in addition to venous serum, and that these other specimen types are viable alternatives to serum in antibody testing.
In addition, Gibson said the study served as a stark reminder of something else that is essential for every ARUP employee to remember. Early on, patients eagerly awaited any information antibody tests could offer them because most did not meet criteria for SARS-CoV-2 molecular diagnostic tests that were still hard to come by.
"Participants in the study were very connected to their lab results because it gave them some semblance of control in a very uncontrolled environment," she said. "We talk a lot about how to connect what we do to the patients behind the tests. Moments like these help us remember what it's like for a patient awaiting a cancer diagnosis. Lab test results have so much power behind them."
The research team is still analyzing data and considering opportunities to publish results, particularly related to the efficacy of alternative specimen types in SARS-CoV-2 antibody testing, Delgado said.
Regardless, he and Gibson consider the investigation an important win for ARUP.
"There was such a sense of connection throughout the study, a sense that all of us at ARUP are here to contribute to progress in our world in a positive way," Gibson said. "For me, it encapsulated the goodness of our company—the hope we have for our patients and for ourselves."