ARUP Expands Capacity for Cytogenetics Testing, Offering a Full Test Menu, Access to Related Tests, and Broad Testing Expertise
The image that appeared on the fetal ultrasound was not what the parents had expected to see. A small, bell-shaped ribcage, setback jaw, and digits that were not fully separated all indicated that the fetus had skeletal abnormalities. What were they seeing? What was happening with their baby?
The couple looked to ARUP Laboratories for answers.
Their physician collected amniotic fluid and ordered a chromosomal microarray (CMA) test to investigate whether a missing or extra piece of chromosome material might explain what the ultrasound revealed. A skeletal dysplasia sequencing panel also was ordered to determine whether a genetic variant could be the cause of abnormalities that might only worsen.
Before either test was performed, though, a genetic counselor at ARUP got to work. Drawing on years of experience, she reviewed the case, carefully studying the indications for testing and all other available information, before moving forward with the CMA test.
The microarray showed an abnormality at chromosome 14 that led her and other ARUP experts to suspect uniparental disomy (UPD), a condition in which a fetus gets both chromosomes from the same parent rather than one chromosome from each parent. The genetic counselor recommended that the physician test for UPD14 before testing for skeletal dysplasia. That test confirmed that the fetus did indeed have UPD14, or the genetic imprinting disorder known as Kagami-Ogata syndrome, the symptoms of which matched what they saw by ultrasound.
The parents got their answer.
In the Cytogenetics and Genomic Microarray Laboratories at ARUP, careful review of all prenatal test orders and communication with ordering providers ensure that the correct tests are ordered and are performed in the right sequence to minimize the risk of a misdiagnosis that could lead to irrevocable clinical decisions, said Danielle LaGrave, MS, LCGC, who has worked as a genetic counselor at ARUP since the Cytogenetics Lab moved from the University of Utah to ARUP 15 years ago.
"We recognize that each sample represents a patient, and we make sure that everything is handled the way we'd want our own samples to be handled," she said. "We take great care to ensure that people seeking potentially life-changing information get the correct information."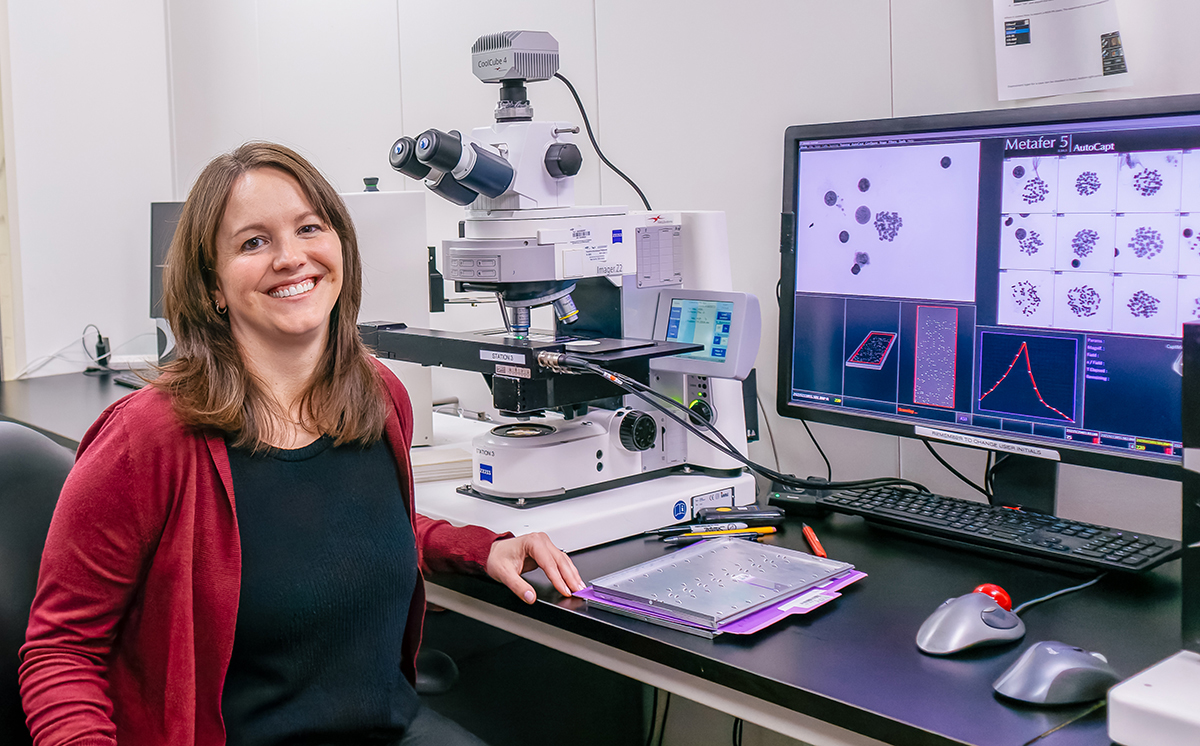 Meticulous review of test orders is just one way in which the Cytogenetics and Genomics Microarray Labs at ARUP distinguish themselves, said Section Chief Erica Andersen, PhD, FACMG. Using chromosomal analysis/karyotyping, fluorescence in situ hybridization (FISH) testing, and genomic microarray analysis, her labs perform constitutional cytogenetics testing to diagnose genetic abnormalities such as that found in the rare Kagami-Ogata syndrome case, or in more common chromosomal conditions such as Down syndrome. The labs also perform cancer cytogenetics testing to detect genetic abnormalities for the diagnosis, prognosis, treatment, and monitoring of cancer, particularly hematologic cancers.
In recent years, as more boutique labs closed or began discontinuing cytogenetics testing, ARUP committed to supporting this complex and highly specialized testing area for the long term, investing in instruments and space and continuing to build the expertise necessary to increase testing capacity and boost volumes by 20% a year through 2026.
"This isn't something you can do overnight. It takes long-term planning," Andersen said. "We're very proud of what we've built so far and of the high-quality testing we do here."
Full Menu, Broad Expertise
In Cytogenetics, ARUP surpasses competitors when it comes to the range of tests offered and the specimen types accepted for testing. As one of the nation's four largest reference labs, and with a single-site operation, ARUP enables clinicians to have all related testing performed in one place and to have the results reviewed and reported in the context of all other testing. Andersen and the medical directors in her labs work closely with colleagues in hematopathology, molecular genetics, and other specialized testing areas to review and consult on concurrent testing across disciplines.
"We're able to provide great depth of knowledge and expertise at every level," Andersen said.
As part of their expansion, the Cytogenetics and Genomic Microarray Labs have incorporated automation and will continue to automate additional tasks, understanding that ever faster turnaround times are paramount when patients and their loved ones are waiting for critical results. The labs also are increasingly using artificial intelligence to help hasten methods such as karyotyping, a process in which the number and structure of a person's chromosomes are analyzed to detect abnormalities.
Regardless, highly trained experts will always be needed to perform the analysis and get it right, Andersen said.
"A chromosome analysis test, for example, typically involves two cytogenetics technologists, a senior reviewer, and a medical director," she said. "That's four pairs of trained eyes on every single result."
The availability of expertise can be a limiting factor in many cytogenetics laboratories, and such expertise is hard to come by, so ARUP develops its own. The company invested in an internal training program that is overseen by Jill Johnston, a cytogenetics tech specialist. Since joining ARUP, she has trained nearly 35 cytogenetics technologists and helped them earn American Society for Clinical Pathology (ASCP) certification. Johnston also is vice chairwoman of the ASCP Cytogenetics Exam Committee, which makes sure the exam is up to date and covers current practices.
Her special brand of expertise is replicated throughout the labs.
On the cancer side, ARUP is certified by the Children's Oncology Group (COG) and has a specialized group to manage and review pediatric cancer cases. To earn the certification, a lab must maintain an abnormality detection rate greater than 55%. Andersen said that under an ongoing project led by Medical Director Bo Hong, MD, FACMG, ARUP's COG quality metrics are strong and improving all the time.
"We're making continuing improvements and in the right ways, and people in the field recognize that," Andersen said. "The level of quality and service we deliver is something we really like to highlight."
In addition to the COG certification, ARUP attained "star status" as an active submitter of genetic variant data to ClinVar, a resource supported by the National Institutes of Health (NIH) and the Clinical Genome Resource (ClinGen) that is dedicated to broadening knowledge about human genetic variants and their impact on health. Through collaborative work between ClinGen and ARUP, Andersen, along with genetic counselor Zoe Lewis, MS, LCGC, has spearheaded several projects involving genomic copy number variants (CNVs) encountered during CMA testing. One such project involves an internal process to reevaluate CNVs, including those with uncertain clinical significance. This reevaluation is performed as evidence emerges in the literature or when a clinician requests reanalysis to provide more up-to-date information about these uncertain results to patients and their families.

Critical Thinker, Born Leader, Expert Researcher
These and other differentiators for ARUP's Cytogenetics and Genomic Microarray Labs all can be traced back to Andersen, who has been section chief since 2018.
A lifelong Midwesterner, Andersen visited Utah for the first time when she came for the interview that landed her a fellowship at ARUP from 2011 to 2013. "I couldn't believe how amazing the laboratory, the people, and the training program were," she said.
Her work as a fellow with Sarah South, PhD, FACMG, who directed Cytogenetics at the time, completed the educational circle that began when Andersen's father, a chemist and a geologist, sparked her interest in science as a child.
She was 8 years old when her dad was diagnosed with oligodendroglioma, a rare brain tumor that eventually took his life when Andersen was 14. Around that same time, a cousin to whom Andersen was close was diagnosed with acute lymphoblastic leukemia (ALL). Her experiences with illness in her family ultimately led her to study genetics and pursue laboratory medicine as a career.
Andersen found her passion as a biology undergrad at Macalester College in Minnesota and through graduate school in genetics at the University of Wisconsin. Her cousin survived ALL, and both Andersen and her cousin earned their PhDs in science. In Andersen's case, through interactions with clinically focused labs and colleagues, "I found cytogenetics, my passion, which brought me to ARUP."
Her ascent since joining ARUP has been swift. Within five years of completing her fellowship, she became section chief, leading a team that includes nine medical directors, seven genetic counselors, and a sizable staff.
Andersen was promoted to section chief because her ability to lead was apparent from the start, said ARUP Executive Vice President Julio Delgado, MD, MS, who selected Andersen for the position in 2018 when he was chief medical officer (CMO).
"She is a critical thinker who asked the right questions. Immediately, she demonstrated that she understood where we were going," he said. "She has a natural disposition for thinking of ways to gain operational efficiency."
Delgado knew appointing someone so early in her career was a bit of a risk. Yet, "I saw her potential, and she has done an amazing job," he said.
"The team she leads is incredible," added ARUP Chief Medical Officer Jonathan Genzen, MD, PhD. "They excel not only in their technical expertise and their ability to accurately interpret cases, but in their skill at optimizing systems."
Andersen's reputation as an expert in her field only continues to grow.
On the constitutional cytogenetics side, she is deeply invested in improving understanding of clinically encountered CNVs, and particularly, recurrent CNVs. She works to provide expert guidance on interpretation of these CNVs and to lend understanding to what they mean clinically. She is a member of ClinGen's Copy Number Variant Interpretation Guidelines Working Group and cochairwoman of its Dosage Sensitivity Working Group, which collects evidence supporting or refuting the haploinsufficiency and triplosensitivity of genes and genomic regions.
On the cancer cytogenetics side, Andersen is focused on improving diagnostic workflows for multiple myeloma and myeloid disease. She leads a project at ARUP on digital FISH development and is a member of the Cancer Genomics Consortium's Working Group on Multiple Myeloma.
"Her work with these professional groups is very important for her own advancement, but also for ARUP," Delgado said. "She has a lot to contribute and is at the forefront of medicine. Our clients and their patients definitely benefit from that."
Work That Matters
For their part, Andersen, LaGrave, and other members of their teams say they are frequently reminded of why they chose cytogenetics as a specialty.
Diagnoses such as that in the rare Kagami-Ogata syndrome case are shared and communicated accurately with families every day, providing the answers they so anxiously await so they can obtain the best clinical care.
"I wanted to do meaningful work that truly helps people," Andersen said. "We're very fortunate that we're able to do that here."
Her [Erica's] work with these professional groups is very important for her own advancement, but also for ARUP. She has a lot to contribute and is at the forefront of medicine. Our clients and their patients definitely benefit from that."
Julio Delgado, MD, MS
ARUP Executive Vice President