A Passion for Pathology: Former ARUP Fellow Uses Next Generation Sequencing to Improve Patient Care
Eric Duncavage, MD, has a passion for pathology that thrives in the space between technology and the possibilities for its use to improve patient care. His path to a career in technology-driven translational medicine ran through ARUP Laboratories.
"The idea that you can take new technologies and bring them into the clinical laboratory and apply them to questions in medicine is exciting," said Duncavage, section head of molecular oncology at Washington University School of Medicine in St. Louis, where he also heads the Translational Research Laboratory.
"You can really work on the cutting edge of transforming care, not just by doing research experiments, but by taking what you've learned and putting it in the clinical environment," the molecular hematopathologist added. "In pathology, you're really solving the problems—or at least coming very close."
Duncavage's path to a career in technology-driven translational medicine ran through ARUP Laboratories. In 2009 and 2010, he was an ARUP hematopathology fellow with a front-row seat as ARUP researchers worked to revolutionize genetic testing and disease diagnosis.
"Back then, next generation sequencing was limited to large retrospective research studies, and it was unclear whether it would actually make it into the clinical mainstream," Duncavage said. "Now we're sequencing specimens from patients every day."
Duncavage's ARUP fellowship served as a springboard to success, and in 2011, he began working at Washington University, where he made an immediate impact. He was part of the team that established the first next generation sequencing-based oncology diagnostics laboratory at an academic medical center.
Describing their work, which ranged from assay design to informatics and analysis software development, he said, "We had to write the rules of the road because no one had ever done it before."
Today, Duncavage is an internationally recognized leader in sequencing-based diagnostics for myelodysplastic syndromes (MDSs) and other myeloid malignancies. His laboratory research focuses on developing new methods for detecting and monitoring small clonal populations in cancer, including minimal residual disease. His clinical work, focused on the diagnosis and pathogenesis of MDSs, is aimed at improving the accessibility of clinical sequencing-based diagnostics.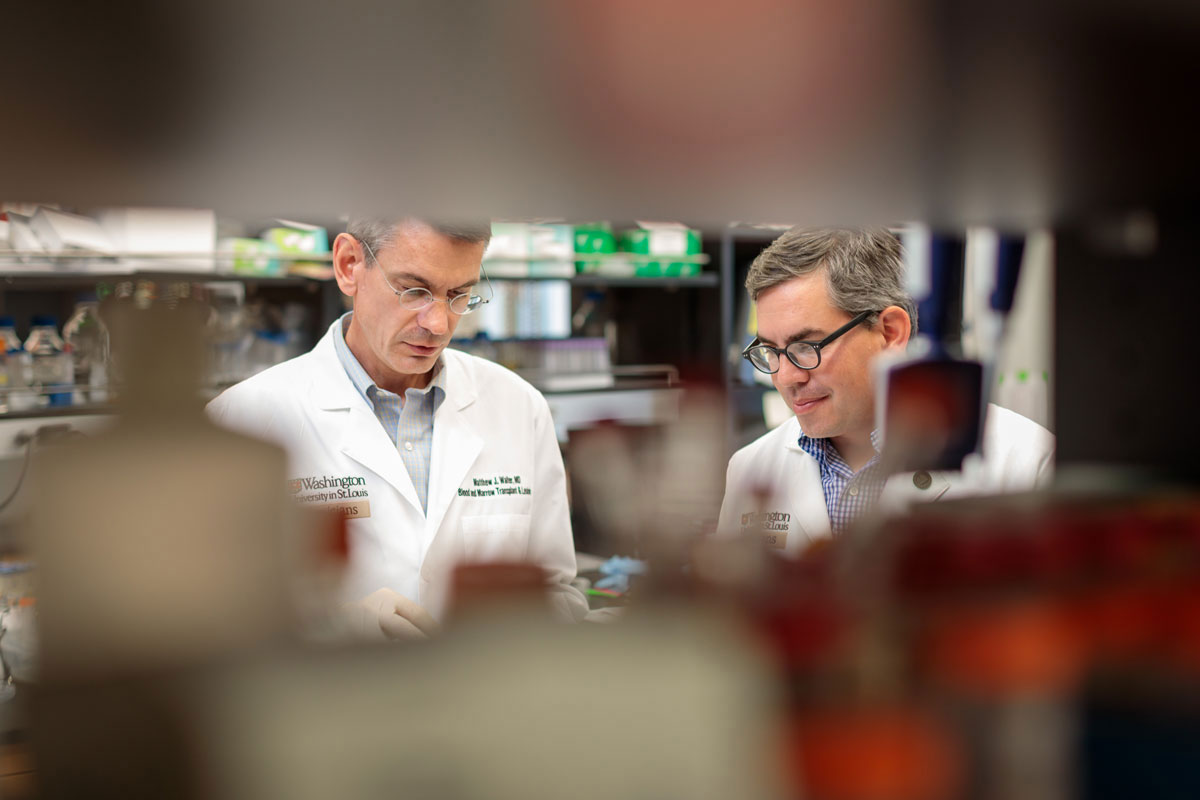 A graduate of the University of Tennessee College of Medicine, Duncavage had gone on to a residency and molecular genetic pathology fellowship at Washington University. At the time, he didn't know much about ARUP, but decided to apply for a fellowship there after a former colleague said it was an amazing place to practice pathology.
ARUP's high-volume academic reference laboratory status was a big draw when he was looking for fellowship opportunities, and the fact that it also provided rich mentorship opportunities was the icing on the cake.
Weekly, Duncavage and other fellows met with ARUP cofounder and then-CEO Carl Kjeldsberg, MD, to review cases and discuss the key advancements and discoveries that shaped modern hematopathology. One such lesson, Duncavage recalled, was on Burkitt lymphoma, a form of non-Hodgkin lymphoma in B cells that is fatal if left untreated.
"Hearing about the history of how these different diagnostic entities came to be defined was just fascinating," said Duncavage. "And to meet with [Kjeldsberg] to work through challenging cases was very helpful."
Sherrie L. Perkins, MD, PhD, a former ARUP CEO and an international expert in pediatric lymphoma, was another close mentor. At the time, Perkins, also a Washington University pathology graduate, served as the hematology and oncology fellowship director while also running her own basic science lab.
"Getting her ideas and opinions about how to start a research lab and how to apply for grants was very helpful," said Duncavage, who is board certified in anatomic pathology, clinical pathology, molecular pathology, hematopathology, and clinical informatics. "She was a huge influence in helping me get started in research and has remained a mentor and friend for many years."
From high-quality assay design and scaling up test volumes to meet test demands, to basic specimen management and the careful drafting of test validations, the laboratory experience at ARUP played a critical role in shaping Duncavage's career—as did the knowledgeable mentors.
"The fellowship set me up with a solid foundation for studying hematologic malignancies and a better understanding of laboratory testing," he said. "It's a foundational experience and education that is woven into the work I do every day."
ARUP invites all former fellows to share their stories with Magnify: The Art and Science of Diagnostic Medicine. We want to hear about your successes and the ways in which you are building on your ARUP experience to advance clinical laboratory science and improve patient care. To share your story, please contact us at media@aruplab.com.