ARUP's New Autoimmune Neurologist Adds Unique Experience to Advance Understanding of Immune-Mediated Neurologic Diseases
As a child growing up on her family's vegetable farm, Tammy Smith, MD, PhD, spent a lot of time thinking about the rhythm of an ecosystem.
"You've got precipitation, soil, sun, nutrients, invasive species," she said. "You've got all these things interacting, so how do you ensure they work well together?"
Now a neurologist, Smith thinks about the body in much the same way.
"The nervous system, digestive system, heart, lungs, kidneys … these function as discrete organs but have to work together for the organism to survive," said Smith, whose love of science eventually took her from the farm just north of New York City to medical school. "The human body is like an ecosystem on an individual scale, and the immune system carries information throughout the body to make sure all of the parts communicate with each other."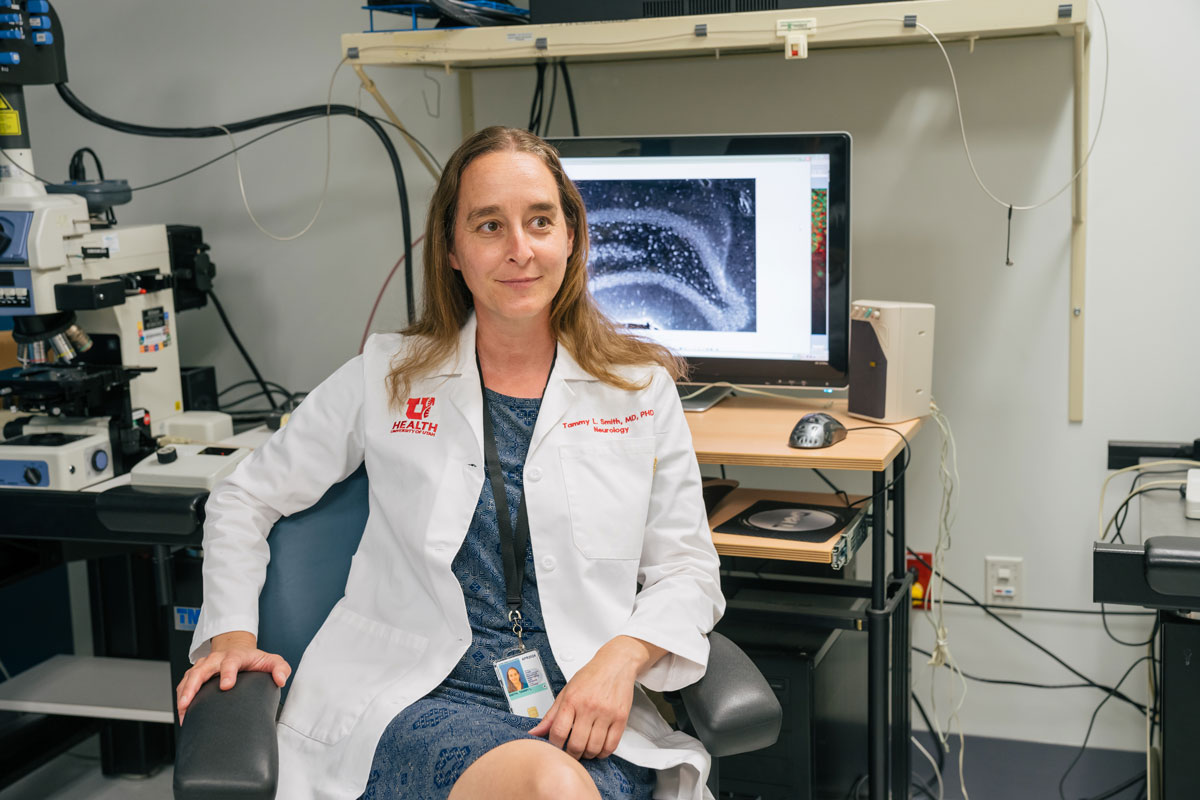 Smith's subspecialty is autoimmune neurology, the study of antibody-associated diseases that affect the nervous system. It's a perfect pairing of her natural interests in immunology and neurology. She was drawn to neurology by the many unanswered questions in that field and the opportunity to collaborate across medical specialties to provide patient care.
"When you have a chronic neurologic disease, such as multiple sclerosis, a stroke, or Parkinson's disease, your neurologist becomes an essential member of your healthcare team. I love that neurology provides an opportunity to have an ongoing relationship with my patients."
Smith completed a fellowship in autoimmune neurology, during which she cared for patients with multiple sclerosis, paraneoplastic neurologic syndromes (PNSs), and autoimmune encephalitis. Her research focuses on the mechanisms that lead to the development of PNSs, a group of conditions that affect the nervous system—brain, spinal cord, nerves, and/or muscles—and are frequently associated with cancer.
She joined ARUP Laboratories in April 2022 as a clinical consultant in autoimmune neurology, becoming part of a team run by Lisa Peterson, PhD, D(ABMLI), medical director of Immunology. The group is working to advance the scientific understanding of immune-mediated neurologic diseases and improve patient testing and treatment outcomes. "I'm really excited to be joining this team and to be working with Dr. Peterson," Smith said.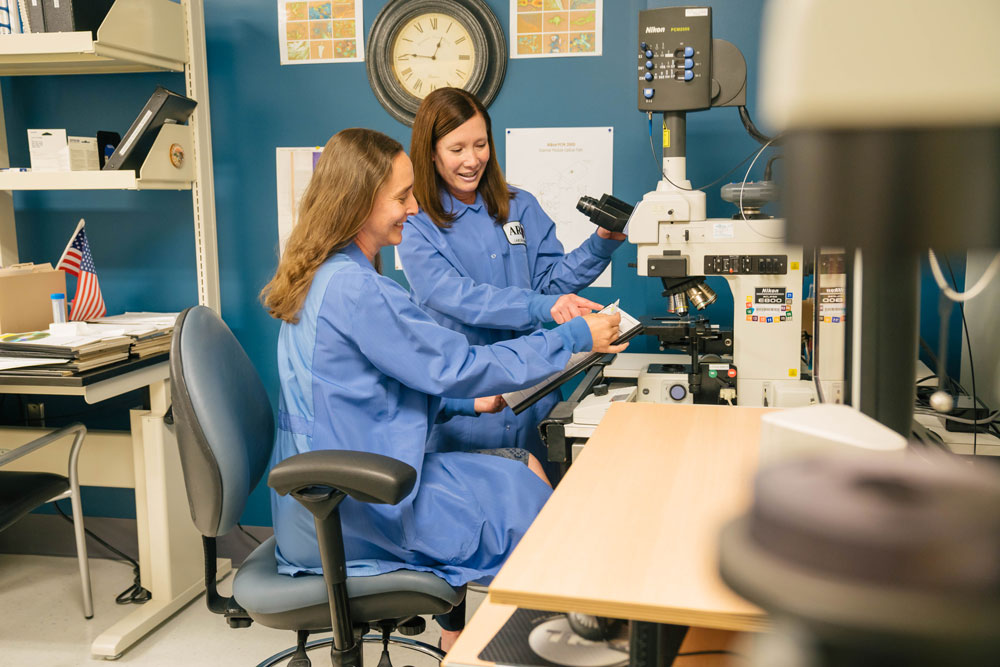 Smith has lived in Salt Lake City on and off since 2001, when she first moved to Utah with her husband to enjoy skiing "The Greatest Snow on Earth." From 2006 to 2015, she attended the University of Utah, earning a combined MD/PhD degree with an emphasis in microbiology and immunology. She spent four years in Chicago at Rush University Medical Center, completing her internal medicine internship and neurology residency. She returned to Salt Lake City, and the "academic powerhouse" of the U, for an autoimmunology fellowship, which included a month-long, laboratory-intensive rotation at ARUP.
That's where Smith met Peterson, who helped launch and oversee the laboratory portion of the fellowship program. Peterson said she was immediately impressed by Smith and felt a kinship with her.
"We share similar goals in terms of what we want to do to expand tests and what we are trying to do for patients," said Peterson, who was already hoping to add a neurologist with clinical experience to her team to help with a growing demand for test consultations.
Smith's desire to pair basic science research with patient care made her a perfect fit, Peterson said.
In an email to ARUP leadership, Peterson made her pitch, saying Smith would be an incredible asset: She could help grow the reference laboratory's test, educational, and consultative offerings, as well as facilitate research that could lead to the discovery of novel antibodies associated with neuronal diseases.
"I really see the two of us being able to have a great synergism; she can help us here, and we can help identify and provide samples that can then be used in her research lab to really study these diseases," Peterson wrote. "Her work can also inform how we better perform testing as well as other aspects of patient management."
Clinicians and patients will see an immediate benefit from Smith's expertise as they look for answers to important and daunting medical questions.
"I have the experience to speak to ordering clinicians and share my understanding of how the assays are being done, as well as their limitations, sensitivity, specificity, and the pretest probabilities," Smith said. "My clinical training allows me to help them interpret the tests and hopefully guide them to the next steps for diagnosis and treatment."
Peterson believes those same insights will be invaluable as she and her team consider how to prioritize next steps in research and test development to advance patient care.
"I have this list of tests that we want to validate," Peterson said. "And I can look at frequencies in the literature and make assumptions, or I can even do retrospective evaluations of frequencies to help drive those decisions. What Tammy can do is provide perspective about which of these options she finds most clinically valuable."
Smith also brings her own network of resources and relationships to the table, connections that may expand ARUP's opportunities for new collaborations, Peterson said.
It is an exciting time to be working on the challenges of immune-mediated neurologic diseases, Smith said. New antibodies targeting the nervous system are identified every year, and these discoveries have allowed researchers to characterize the syndromes these antibodies cause. That's good news for patients and families who are struggling to understand their symptoms and looking for answers, she said.
One example of such a finding is the identification of antibodies to aquaporin-4, which are associated with a disease called neuromyelitis optica (NMO). Before the discovery, patients were often diagnosed with multiple sclerosis (MS), Smith said, but many treatments for MS can actually worsen NMO. With the discovery of new antibodies and the development of tests specific to them, patients with NMO can be clearly identified and grouped for clinical trials. During the past three years, advancements like these have led the U.S. Food and Drug Administration (FDA) to approve three new medications for the treatment of NMO.
Such advancements promise to provide future patients diagnosed with immune-mediated neurologic disorders with targeted treatments that are more effective and have fewer side effects.
"We are still in the infancy of understanding these diseases—how to appropriately test for antibody-mediated neurologic diseases and how to appropriately treat them," Smith said. "I am excited to see what we will learn going forward to improve the lives of patients."