Ryan Metcalf: Proponent of Data-Driven and Evidence-Based Practice Has Transformed Transfusion Medicine
Ryan Metcalf, MD, CQA(ASQ), accepts no conclusions without evidence. His determination to maximize the power of data as section chief of Transfusion Medicine at ARUP Laboratories and University of Utah Health has transformed the efficiency and effectiveness of transfusion practices at the University of Utah Hospital, and his efforts have driven positive outcomes for both patients and health systems.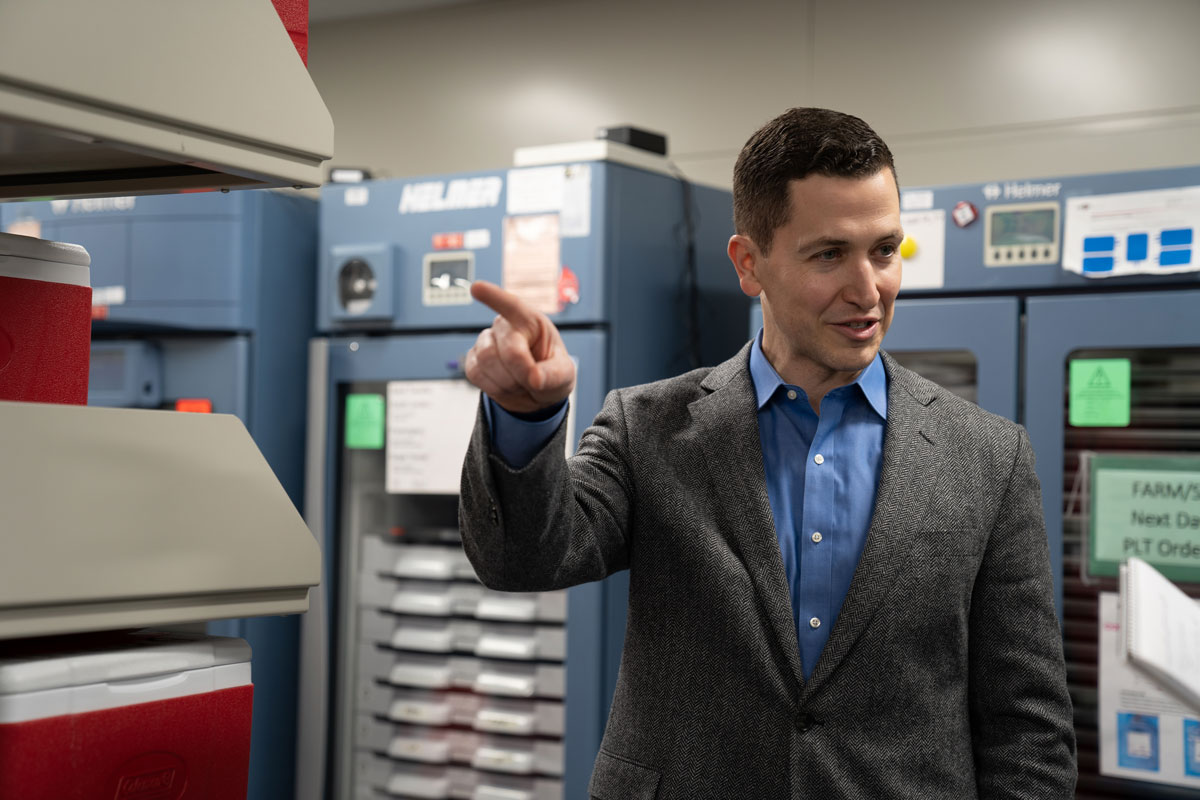 Ryan Metcalf, MD, CQA(ASQ), accepts no conclusions without evidence. His determination to maximize the power of data as section chief of Transfusion Medicine at ARUP Laboratories and University of Utah Health has transformed the efficiency and effectiveness of transfusion practices at the University of Utah Hospital, and his efforts have driven positive outcomes for both patients and health systems.
"My vision for transfusion medicine, which I think translates to other areas of healthcare, is to identify how we can best use data and a quality-based framework to improve clinical practice," said Metcalf, who is also medical director of the Transfusion Service.
Since joining ARUP and the U in 2017 as part of a carefully planned leadership transition for the Transfusion Medicine section, Metcalf has worked with teams and spearheaded several initiatives that have had a measurable impact on the section's operations. Shortly after his arrival, Metcalf implemented decision support resources to help providers order blood products according to the most recent evidence-based guidelines.
"There's a vast amount of information that physicians and surgeons need to retain to perform their jobs," Metcalf said. "By making up-to-date blood ordering recommendations readily accessible in their workflows, we can positively affect patient outcomes and the health system."
In collaboration with his colleague, Steven Baker, MD, PhD, associate medical director of Transfusion Medicine, Metcalf has also implemented a maximum surgical blood order schedule (MSBOS), which recommends preoperative blood ordering based on historical usage by procedure.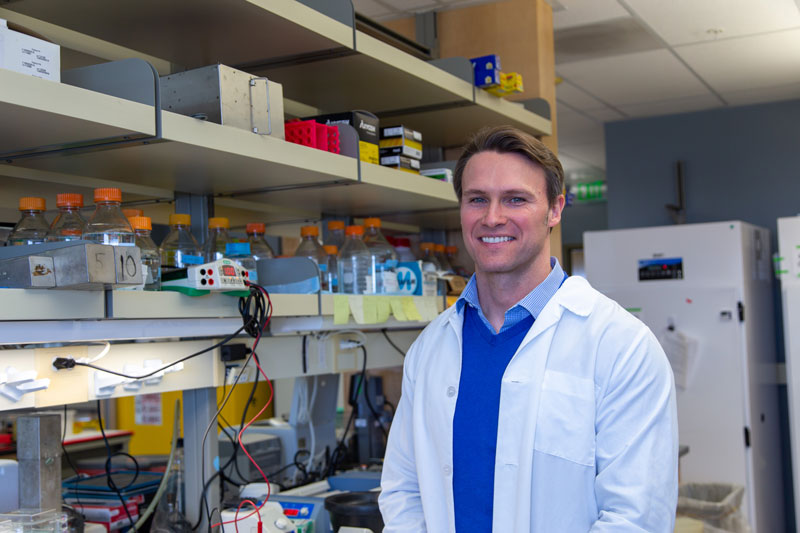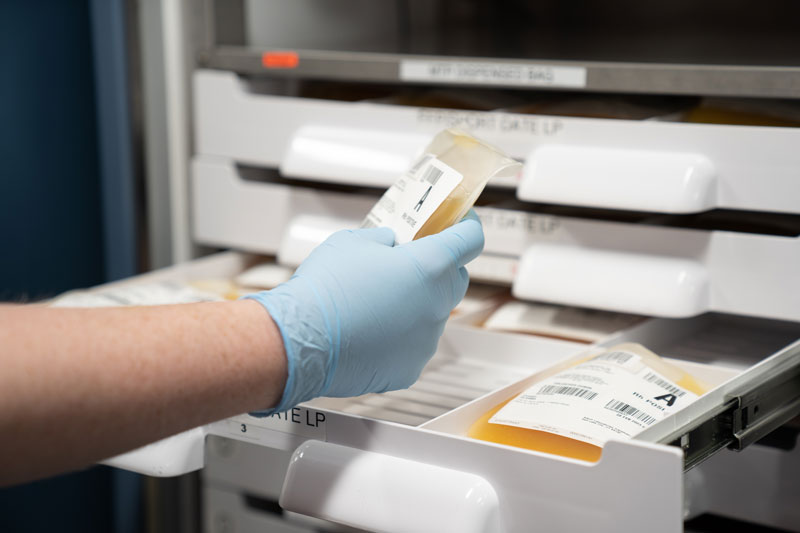 "If you can make a prediction about how many blood products are needed for a particular type of surgery, you can tailor the amount of blood you set up for that patient," Baker said.
This new system replaced the earlier "keep ahead" system that allowed physicians to reserve extra "just-in-case" units that were often not transfused. By using more accurate predictions, the Transfusion Service can reduce unnecessary testing—such as blood typing, antibody screens, and cross-matching—and reduce waste of blood products. In total, these initiatives to improve decision support tools and implement the MSBOS have saved the U $1.5 million per year.
Metcalf's vision reaches beyond the use of generalized transfusion threshold guidelines that are based on large randomized trials or historical blood usage. He has devoted the past several years to developing a sophisticated data solution in collaboration with the Scientific Computing and Imaging (SCI) Institute at the University of Utah. He, along with Alexander Lex, PhD, associate professor of computer science at the SCI Institute, U PhD student Haihan Lin, and Jack Wilburn, a software developer at the U, developed a tool to rapidly and flexibly visualize patient blood management practices, in clinical context and tied to patient outcomes and costs. The data visualization tool, called Sanguine, can also provide risk-adjusted benchmarking to help surgeons understand how their transfusion practices and patient outcomes compare with those of others within their facility. In addition, Sanguine can be used as a personalized tool to predict outcomes and assess risks for an upcoming patient by looking at how past patients with similar characteristics fared, and it represents a significant step toward using data to power personalized medicine.
"In my view, the value of Sanguine can extend well beyond transfusion medicine," Metcalf said. "This tool is tied to key patient outcomes, and it can be an example for data-driven practices for other areas in healthcare."
Early Focus on Quality and Evidence-Based Practice
Metcalf's focus on using data and evidence-based guidelines to improve clinical practices manifested early in his career. As a transfusion medicine fellow at Stanford University, Metcalf, along with his colleagues, intervened when blood products sent to the operating room were no longer at the right temperature when they were returned to the blood bank, which effectively ruined the products. He was part of a team that devised a new cooler to maintain blood products at proper temperatures to solve the problem. Not only was the temperature maintained inside the cooler, but the additional weight of the cold pack in the lid forced the cooler to shut on its own.
"The new cooler design markedly decreased the waste of our plasma products and led to an annual savings of more than $88,000 dollars," said Baker, who also completed his residency at Stanford. "It was better for patient care, better for healthcare costs, and it was the sort of simple intervention that is typical of Ryan." Baker aided in the statistical analysis of the new cooler design. The coolers are still used at Stanford today.
After completing his fellowship, Metcalf joined the University of Washington as an assistant professor. While there, he had the opportunity to work with colleagues to build a new U.S. Food and Drug Administration (FDA)-registered, hospital-based transfusion service laboratory within a hospital that didn't previously have an in-house service.
The project required building everything from the ground up, including setting up systems to store and track blood products, facilitate blood ordering by physicians, track transfusions, and monitor patient risks and adverse reactions.
During this time, Metcalf began to wonder to what extent the team's decisions were supported by evidence and data.
"I learned the value of trying to deeply understand challenging problems instead of relying too much on my initial assumptions," Metcalf said. "I became interested in the idea of using data to better understand the current state of practice and to try to define the impact of an optimal state of practice, based on the available evidence. Leveraging data can be a powerful tool to accomplish that."
According to Metcalf, in some ways, the experience of building the transfusion service felt like cramming 10 years' worth of experience into just two, and it ignited his passion for data-driven transfusion medicine.
A Leader and Relentless Transformer
In 2017, the incredible skiing and other outdoor recreational opportunities in Salt Lake City lured Metcalf there, and the chance to work for a renowned academic laboratory led him to the U and ARUP. Since then, Metcalf has continued to push the boundaries of data use to transform transfusion medicine. He has built a team of professionals dedicated to continual improvement in their field.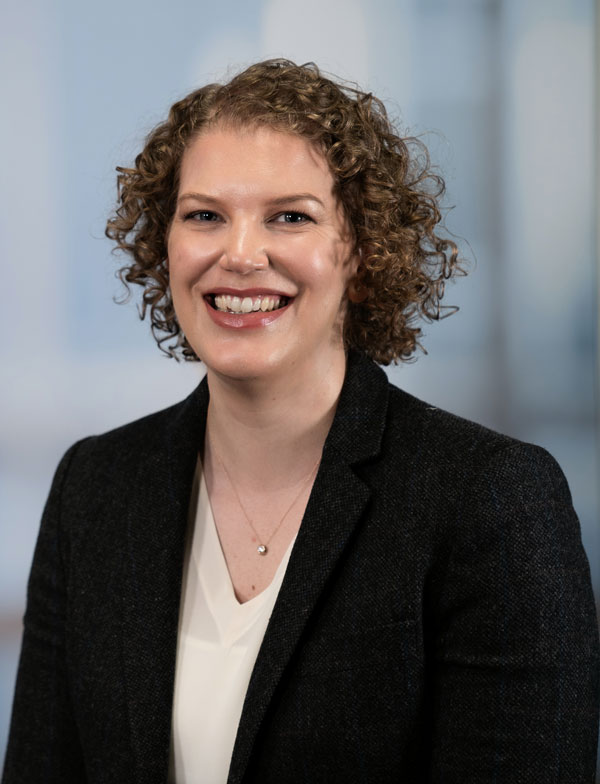 "His reputation preceded him," said Erica Swenson, DO. Swenson, who was hired to join the Transfusion Service in 2022, had heard of Metcalf's achievements and focus on quality while at Stanford. Swenson joined the U and ARUP, in part, for the opportunity to work with Metcalf. "Ryan has had an amazing career in a short period of time. I hope I can accomplish half of what he's accomplished—one quarter, even—in the time that he has," she said.
The list of his accomplishments certainly is impressive. In addition to improving decision support resources to optimize blood ordering, Metcalf and Kelly Cail, MT(ASCP), operations director of Transfusion Medicine, helped lead an effort to implement sophisticated radio frequency identification (RFID) technology to track blood products at remote helicopter base locations so that blood can be used for trauma patients before they arrive at the hospital. This was part of work Metcalf and Cail have done with AirMed so patients can safely receive lifesaving transfusions in the prehospital setting.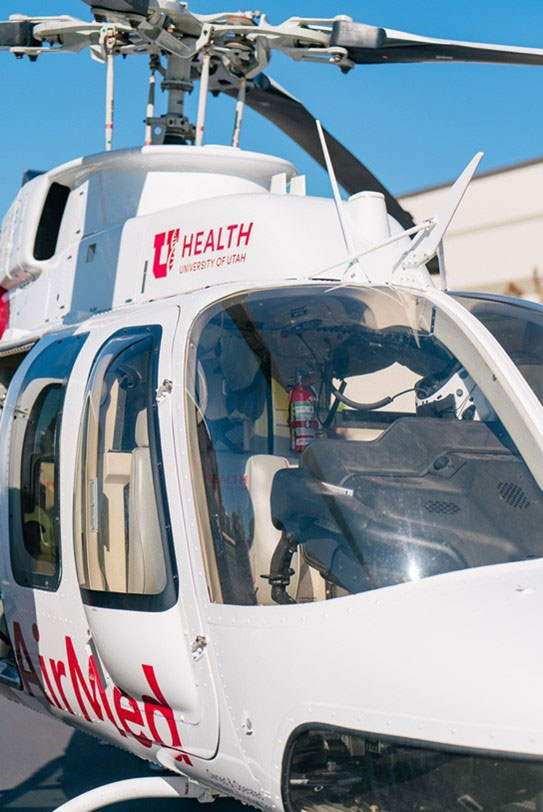 Metcalf has also participated in several research studies on the efficacy of convalescent plasma in treating COVID-19 and helped develop related clinical guidelines, and he is the chair-elect for the Clinical Transfusion Medicine Committee of the Association for the Advancement of Blood and Biotherapies (AABB).
"He knows so much of the ins and outs of transfusion medicine … [and has such an] understanding of regulatory issues and the facts and figures of blood products. There's constant wisdom pouring out of him in the most kind and thoughtful way," Baker said, who followed Metcalf to the U and ARUP from Stanford.
"As a mentor, Ryan is focused on whole-person health. There's always a focus on mental health and creating a psychologically safe work environment that allows all employees to be their authentic selves at work—their best, most healthy selves," Swenson said.
Recently, Metcalf launched a randomized controlled study to determine the efficacy of best practice alerts in the electronic health record (EHR). The study will randomly select providers to receive pop-up alerts about best practices as they order blood, when alert criteria are met. The study will then keep track of how blood ordering practices are affected by the alerts and the impact that has on the health system. It will also track patient outcomes.
"Our focus each day is trying to improve transfusion practice, both at a local level and outside the institution, with wonderful staff and colleagues—simply put, making sure that we get the right product to the right patient for the right reason at the right time," Metcalf said. "I'm grateful to work where I have the freedom to think creatively and, if it's a reasonable idea, see if we can put that into practice and measure it. All of this requires teamwork, and I have been lucky to be a part of such great teams of people."