New Advanced Practice Clinical Laboratory Training Center Will Broaden Medical Laboratory Science Student Training Opportunities, Help Ease Staffing Shortages
As a kid growing up in Pinedale, Wyoming, Sierra Cunningham loved science.
In middle school, her investigation into the efficacy of antibacterial soap versus hand sanitizer earned her a trip to the Wyoming State Science Fair. In high school, whenever field science classes presented an opportunity for her to traipse out into the nearby Wind River Range to put what she was learning into practice, she was there.
Cunningham brought that same passion with her to Utah, where an abstract for a project she worked on about neonatal health disparities in Peru won the top prize at the University of Utah School of Medicine's 2016 Student Global Health Initiative Conference. In 2017, she presented with a group at the American Chemical Society conference in San Francisco on the topic, "Vapor-Infused Volatiles from Gin in Specialty Dark Chocolate and Analysis via GC-MS."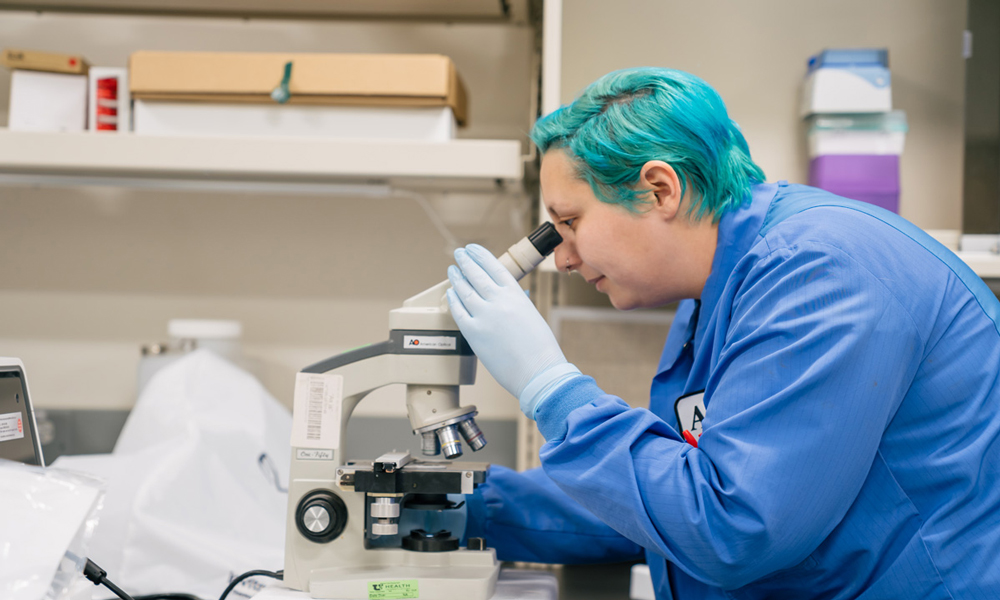 She earned associate's degrees in chemistry and biology at Salt Lake Community College and completed numerous science courses at the U, believing she might want to become a doctor.
Along the way, though, a friend who worked at ARUP Laboratories introduced her to the world of laboratory medicine, and it wasn't long before she knew exactly where she belonged.
"There's something about looking through a microscope that just really gets me," said Cunningham, who works as a lab technician in an ARUP research lab and will earn her bachelor's degree in medical laboratory science (MLS) later this year. "My whole life had been leading up to this."
ARUP needs dozens more Sierra Cunninghams.
Like other clinical laboratories nationwide, ARUP faces a critical shortage of qualified medical laboratory scientists as testing volumes grow at the same time that large numbers of medical technologists and technicians are reaching retirement age or choosing to leave the fast-growing profession for other reasons.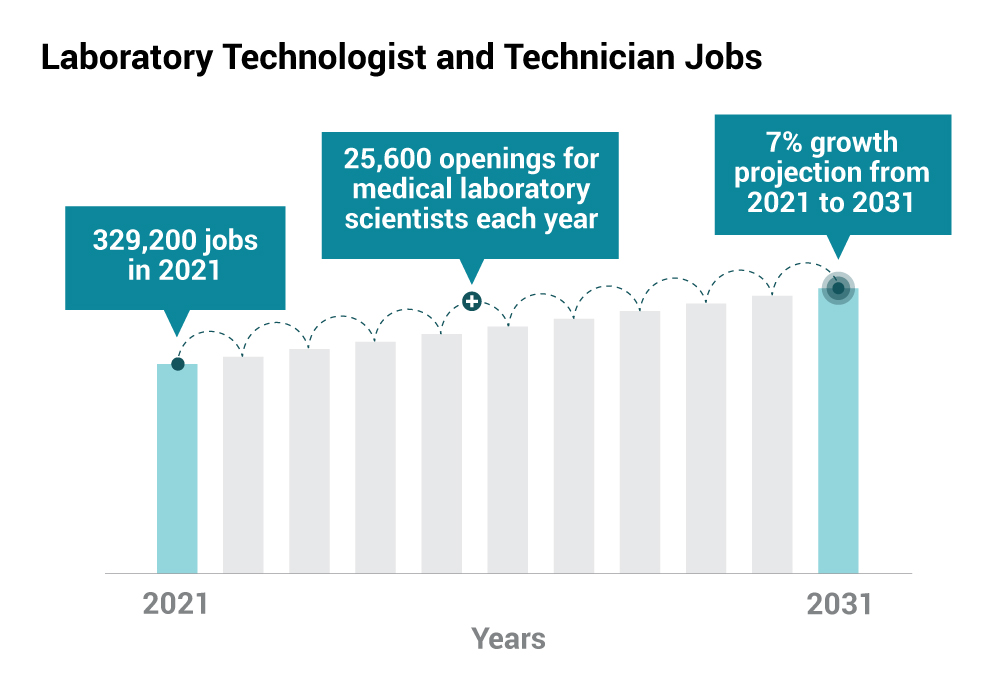 The most recent projections from the U.S. Bureau of Labor Statistics (BLS) show clinical laboratories nationwide will need 25,600 more medical laboratory scientists each year through 2031. BLS puts the annual job growth rate for the profession at 7%.
"An estimated 70% of all medical decisions are based on the results of tests performed at ARUP and other clinical laboratories, so it goes without saying that these are important jobs that directly impact patient care," said Tracy George, MD, ARUP president and chief scientific officer. "There is ample opportunity in laboratory medicine for the many young people out there who want to work in fields where they can make a difference."
George has been instrumental in an innovative project that she hopes will help entice more students to pursue laboratory medicine while also helping them complete their education and training more quickly. Joined by ARUP Chief Medical Officer Jonathan Genzen, MD, PhD, CEO Andy Theurer, and Diana Wilkins, MS, PhD, division chief of Medical Laboratory Sciences at the U, she worked with Utah Rep. Chris Stewart's office to help secure $3 million in federal funding through the Health Resources and Services Administration to build a new Advanced Practice Clinical Laboratory Training Center at ARUP.
The $3 million in community project funding was included in the Labor, Health and Human Services, and Education Division of the Consolidated Appropriations Act approved by Congress and signed by President Biden on December 29, 2022. It will pay for construction and equipment for the new training center, which, when it opens in 2024, will enable the U MLS program to double the number of students it graduates each year to a total of 80, Wilkins said.
An important factor in the shortage of medical laboratory scientists has been the difficulty that programs such as Wilkins' face in finding enough clinical laboratories for students to complete the 18 weeks of on-the-job training required for them to earn their degrees.
As it is conceived, the new training center will help alleviate that challenge by providing a highly realistic environment where students will be able to gain real-world experience in the basics of testing in clinical chemistry, hematology, coagulation, immunohematology, microbiology, virology, and immunology. They will learn and practice laboratory workflows and decision-making and will gain experience working with a laboratory information system (LIS), thanks to a grant the U's MLS Division has secured to help pay for an LIS for the training center.
Currently, students in the U MLS program practice all of these skills by completing rotations in ARUP's clinical laboratories and in labs belonging to other program partners, such as hospitals in Utah and surrounding states and the Utah Public Health Laboratory. Wilkins said these partners do all they can to offer more training opportunities, but, understandably, they must balance their desire to help with their need to meet the testing demands of their labs.
"The new center will make a huge difference in the training of future laboratory professionals by providing more opportunity for students to quickly complete these more general rotations so they can advance to more specialized training rotations at ARUP and elsewhere," she said.
Jeff Chumley, a group manager who oversees the Hemostasis/Thrombosis, Special Hematology, and Hematologic Flow Cytometry Labs at ARUP, is among lab leaders who cheered the announcement of the new training center. As a graduate of the U MLS bachelor's and master's programs himself who has advanced into leadership in his 10 years at ARUP, he understands the challenge from both ends.
Clinical rotations such as those he completed as a student at ARUP are essential because "through them, you begin to see the big picture," he said. "The preanalytical, analytical, and postanalytical work all starts to come together to paint a real picture of what the job is like."
Yet for Chumley and his peers, "a tension exists between wanting to provide a high-quality training experience and helping as many students as possible, and needing to focus all of our attention on patient care and what's on the bench on any given day," Chumley said. "Finding the balance can be really challenging at times."
The new training center will help with that balance, he said. "I find it really exciting, as both an employee and as a former MLS student."
The center will occupy about 2,800 square feet of space that will be remodeled in ARUP's central facility at the U's Research Park. Remodeling will begin after the $3 million in federal funds are received.
In addition to the funding to pay for construction costs and equipment, the U Department of Pathology and the MLS Division will provide nearly $500,000 for ongoing faculty and staff support and medical supplies needed to operate the training center.
Cunningham, the ARUP lab technician, will not benefit from the new training center herself. She will graduate from Weber State University's MLS program in August before the center opens. And, at least initially, it will be U MLS students who will do their rotations at the training center, although the goal is to make elective rotations at the center available to students in other MLS programs, Wilkins said.
Cunningham sees the benefit the center will bring and hopes it will open doors for other students to the profession that she loves.
"Those of us who do this work know what we want to do and what we're good at," she said. "We're using our skills to make patients' lives better even when we don't ever talk to them."