An estimated 3.2 million persons in the United States are infected with HCV, and as many as half of those infected remain undiagnosed. HCV is the primary cause of adult liver transplant candidacy, representing 30 percent of all adults on the transplant waiting list. Baby boomers (those born between 1945 and 1965) account for 75 percent of all chronic HCV infections.
Testing Recommendations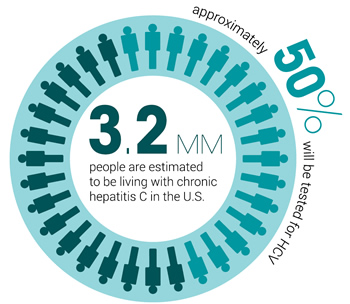 The CDC (2012), Infectious Diseases Society of America (2014), and U.S. Preventive Services Task Force (2013) recommend at least one screening for all individuals born between 1945 and 1965. WHO (2013), American Gastroenterological Association, National Gastroenterology Society (2009), American Association for the Study of Liver Disease (2009), and the European Association for the Study of the Liver (2014) recommend screening for individuals with risk factors (e.g., IV drug users and persons who have received blood products or organ transplants prior to 1992).
Reflex Testing
ARUP has designed reflex testing methods that are economical, reduce turnaround time, and help avoid multiple patient draws/visits. Each test can be ordered individually or as part of the reflexive tests to meet our clients' various testing requirements. HCV antibody screen by immunoassay: initial testing for individuals at risk for HCV infection HCV quantification by PCR if reactive: used to confirm active HCV infection, establish baseline viral load for prognosis and to monitor response to therapy. HCV genotype by sequencing: used to determine likelihood of response, duration, and choice of therapy.
For additional information, please call ARUP Client Services at (800) 522-2787 and mention keyword: HEPC.