Monitoring the concentration of TNF antagonist drugs and detecting the development of anti-drug antibodies (ADA) enables physicians to optimize patient treatment over time. The test results help physicians understand underlying causes of suboptimal outcomes, make informed therapy choices, and provide more effective treatment to their patients. The use of TNF antagonist has revolutionized the treatment of patients with several non-infectious inflammatory disorders, including Crohn disease and ulcerative colitis.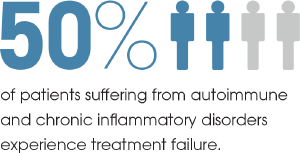 There are different approaches to manage patients with treatment failure to TNF antagonists; one approach is to monitor drug levels and anti-drug antibodies. A new guideline from the American Gastroenterological Association on therapeutic drug monitoring in inflammatory bowel disease recommends that physicians should perform reactive therapeutic drug monitoring to guide changes in TNF antagonist therapy.
Current methods for ADA detection are complicated by the fact that most TNF antagonist are antibodies and by the complexity of measuring antibodies against antibodies in non-functional binding assays. More importantly, all non-ARUP methods fail to differentiate binding from neutralizing ADA.
ARUP's TNF antagonist activity and neutralizing antibody assays are cell-based bioassays that measure the ability of a drug to inhibit TNF. The assays also detect the presence of antibodies that neutralize drug activity. Emergence of these neutralizing antibodies in a patient leads to treatment failure. Other methods detect anti-drug antibodies that bind to the drug, but unlike ARUP's assays, these methods are not able to distinguish whether the antibodies neutralize drug activity or not.
---
Test Information
How ARUP's Test Works
This functional reporter gene assay uses the principles of iLite technology (licensed by Euro Diagnostica).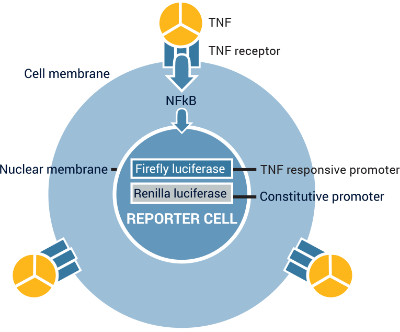 Reporter cells carry a TNF inducible, NFκB-regulated firefly luciferase reporter-gene construct. When TNF is added to the cells, the reporter gene turns on and generates firefly luciferase, which is measured by a luminometer. Results of firefly luciferase expression are normalized relative to the expression of the renilla luciferase gene, which is carried by the same reporter cell and under the control of a constitutive promoter.
Drug measurement
Serum of a patient taking a TNF antagonist drug is mixed with TNF and added to the cells. If the drug is present, it will block the activity of TNF, decreasing luminescence. Serum concentration of biologically active TNF drug can be calculated using a calibration curve.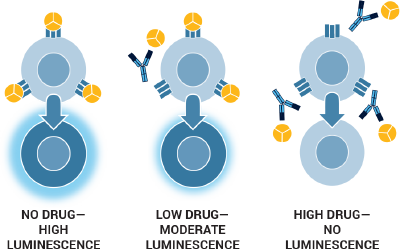 Antibody development

Some patients develop antibodies to the drug. In the presence of neutralizing antibodies, the reporter gene is turned on despite the presence of exogenous drug in the assay. The antibody titer is obtained by identifying the dilution point of a patient's serum where blocking of the drug activity is no longer observed.
| Test Number | Test Name |
| --- | --- |
| 2008320 | Infliximab or Biosimilar Activity and Neutralizing Antibody |
| 2011248 | Adalimumab Activity and Neutralizing Antibody |
| 2013612 | Infliximab or Biosimilar Activity with Reflex to Antibody |
| 2013605 | Adalimumab Activity with Reflex to Antibody |
The functional reporter gene assays were clinically validated for diagnosing and monitoring TNF antagonist treatment failure.
Currently, the ARUP assays are the only clinical assays available for the detection of biologically active TNF drugs and ADA with drug-neutralizing function, as recommended by the FDA.
The ARUP cell-based assay is inherently more reflective of the in vivo situation in tissue and circulation, under which TNF antagonists drugs are believed to function, and can easily be adapted for all known anti-TNF drugs.
---
Frequently Asked Questions
How it works
TNF antagonist activity and its inhibition by TNF antagonists are measured by stimulation of cells carrying a TNF-responding luciferase gene, and quantifying luciferase expression by luminometry. The assay uses the principles of iLite™ technology (reference).
View the method brochure (download)
The following cutoff values are used: 0.65 ug/mL (for TNF antagonists), and 1:20 dilution (for anti-drug antibodies). Values below these cutoffs will be reported as "Not Detected".
How it compares with other tests
Methods to monitor anti-drug antibody (ADA) levels in serum
The main difference is that ARUP's test measures bioactivity of the drug and of the neutralizing antibody.
ARUP Infliximab assay
(reporter gene assay)
ELISA
(solid-phase bridging)
Fluid-phase RIA
Homogeneous mobility-shift assay (size exclusion HPLC)
What the test measures

Bioactivity
Binding
Binding
Binding
in vivo relevance to the drug's capacity to inhibit TNF in patient
High
Low
Moderate
Moderate
Specifically detects ADAs with drug-neutralizing function

Yes

No

No

No
Detection of IgG4 antibodies (major isotype of ADAs)
Yes
No
Yes
Yes
Possibility of false negative ADA due to drug in sample
Low
High
Low
Low
Possibility of false positives due to neoepitopes, nonspecific binding, rheumatoid factors, complement components
Low
High
Low
Low
ADA = anti-drug antibodies; ELISA= enzyme-linked immunosorbent assay; RIA = radioimmunoassay
---
Additional Resources
Enhanced Reports
References
Steenholdt C et al. (2013) Individualised therapy is more cost-effective than dose intensification in patients with Crohn's disease who lose response to anti-TNF treatment: a randomised, controlled trial. Gut. 2013 Jul 22. [Epub ahead of print].
Velayos FS et al, (2013) A test-based strategy is more cost effective than empiric dose escalation for patients with Crohn's disease who lose responsiveness to infliximab. Clin Gastroenterol Hepatol. 11(6):654-66. doi: 10.1016/j.cgh.2012.12.035.
Bendtzen K (2013) Personalized Medicine: Theranostics (Therapeutics Diagnostics) Essential for Rational Use of Tumor Necrosis Factor-alpha Antagonists. Discov Med, 15(83):201-211
Lallemand C et al, (2011) Reporter gene assay for the quantification of the activity and neutralizing antibody response to TNFalpha antagonists. J Immunol Meth. 373: 229-239. doi: 10.1016/j.jim.2011.08.022.
Bendtzen, K. (2011) Is there a need for immunopharmacologic guidance of anti–tumor necrosis factor therapies?. Arthritis & Rheumatism, 63: 867–870. doi: 10.1002/art.30207
Radstake TR et al, (2009) Formation of antibodies against infliximab and adalimumab strongly correlates with functional drug levels and clinical responses in rheumatoid arthritis.. Ann Rheum Dis. 11:1739-45. doi: 10.1136/ard.2008.092833
Lazar-Molnar E, Delgado JC. Clinical Chemistry 2016;62(9): 1186–98.
Pavlov IY, Carper J, Lazar-Molnar E, Delgado JC. Clinica Chimica Acta 2016;453:147–53