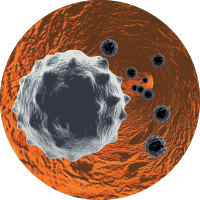 Chronic lymphocytic leukemia (CLL) is characterized by small lymphocytes in the bone marrow, blood, and lymphoid tissues. CLL is the most common form of leukemia in adults in the U.S. and represents 40% of all adult leukemias in Western countries.
Cytogenetic, molecular, and flow cytometric testing play an important role in prognostication for CLL patients.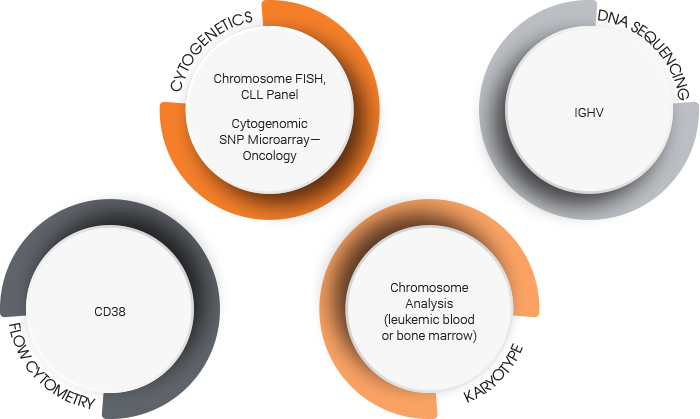 ---
Tests
Test Number
Test Name
Ordering Recommendations
2008003
Leukemia/Lymphoma Phenotyping
Aid in evaluation of hematopoietic neoplasms (ie, leukemia, lymphoma) Specimens include bone marrow, whole blood, tissue, or fluid. Monitor therapy in patients with established diagnosis of hematopoietic neoplasms.
0049250
p53 with Interpretation by Immunohistochemistry
Determine risk group for newly diagnosed CLL. Stained and resulted by ARUP.
2012844
CD200 by Immunohistochemistry
Primarily aids the distinction between CLL/SLL and mantle cell lymphoma where CD200 is usually positive in CLL/SLL and negative in mantle cell lymphoma; CD200 is also positive in other B-cell lymphoproliferative disorders. Stained and returned to client pathologist for interpretation; consultation available if needed.
2006325
Cytogenomic SNP Microarray—Oncology
Monitors diseases progression and response to therapy.

Preferred test on fresh specimens at time of diagnosis for detecting prognostically important genomic abnormalities in leukemias/lymphomas and solid tumors involving:

Loss/gain of DNA
Loss of heterozygosity (LOH)

2002295
Chromosome FISH, CLL Panel
Alternate test to detect prognostically important genomic abnormalities
in CLL.
0040227
IGHV Mutation Analysis by Sequencing
Determines risk group in newly diagnosed CLL.
2002290
Chromosome Analysis, Leukemic Blood
For diagnosis, prognosis, and monitoring of hematopoietic neoplasms.
2002292
Chromosome Analysis, Bone Marrow
For diagnosis, prognosis, and monitoring of hematopoietic neoplasms.
---
Additional Resources
ARUP's Hematologic Cancer Experts are nationally and internationally recognized pathologists, subspecialty-qualified clinicians, and board-certified clinical scientists.
ARUP Consult® is a laboratory test selection support tool with more than 2,000 lab tests categorized into disease-related topics and algorithms. ARUP Consult—Chronic Lymphocytic Leukemia - CLL