ARUP - Diagnosing Underlying Genetic Disorders in Critically Ill Infants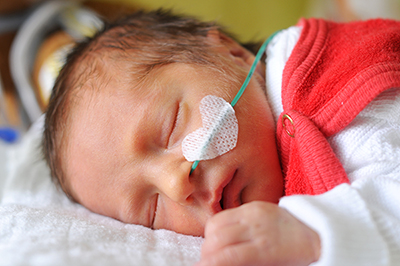 For the past two years, ARUP has used the Rapid Mendelian Gene Sequencing Panel, Trio, to help local clinicians find answers for critically ill neonates. Now we're offering this test panel nationwide, improving the medical management of our tiniest patients. The panel includes parental samples as controls and looks at over 4,900 genes through massively parallel sequencing to quickly diagnose genetic disorders and provide the answers necessary for effective treatment.
Genetic disorders and congenital anomalies are the leading cause of hospitalization and death in critically ill infants. Infants with genetic conditions stay longer in the neonatal intensive care unit (NICU) and require more resources than babies in the NICU without genetic conditions.1 Studies show that quick genetic diagnoses for critically ill infants can vastly improve quality of life and illness management, and save thousands of healthcare dollars per child.
Tiny Patients, Big Results
2012849 Rapid Mendelian Genes Sequencing Panel, Trio
The Rapid Mendelian Gene Sequencing Panel is performed by massively parallel sequencing specimens from the patient or the proband and both parents. The parental samples are used as controls to determine if the child has a heritable or a de novo condition. This test only looks at genes known to cause human disease. The final report for this test can be expected in two to four weeks. The panel genes can be found at this link: Rapid Mendelian Sequencing Gene List.
In the U.S. there are approximately four million babies born each year. About five percent of those babies will be admitted to the NICU in dire condition, and a third of those admissions will be due to Mendelian genetic diseases.2 There is often a pattern of time-consuming and costly diagnostic journeys in infants with undiagnosed congenital disorders.3 Fast, accurate diagnosis can help them get the treatment they need and give them the chance at life they deserve.
Additional Resources
ARUP's molecular genetics specialists are nationally and internationally recognized pathologists, subspecialty-qualified clinicians, and board-certified clinical scientists.
References
Farnaes L, et al. Rapid whole-genome sequencing decreases infant morbidity and cost of hospitalization. npj Genomic Medicine 2018;3:10.
Park A. Faster DNA testing helps diagnose disease in NICU babies. https://healthland.time.com/2012/10/04/good-news-for-nicu-babies-faster-dna-testing-for-more-accurate-diagnoses/ (Accessed March 2019).