Glossary of Terms
AS/RS, Automated Storage and Retrieval System. This is a very large robotic system, built by Daifuku America Corporation, which is installed in a two-story freezer (-20°C) that is 60 feet long and 30 feet wide. The AS/RS system has several windows through which employees and visitors can watch its operations. It has a capacity of nearly 2.4 million specimens and individual specimens can be robotically retrieved in as little as 2.5 minutes.
AS/RS Refrigerator, A large refrigerated anteroom (+4°C) is installed at one end of the AS/RS freezer. The air in both the refrigerator and freezer is dehumidified to keep the freezer frost-free. By having the refrigerated anteroom installed next to the freezer, the freezer doors are never opened to warm humidified air, only to cold dry air. The AS/RS refrigerator houses three of the tray conveyors, the Motoman AS/RS Sorter, and one of the Daifuku America computers.
AS/RS Shuttle Crane, This is a robotic device that can carry up to two storage trays at a time from an input conveyor and store them on shelves in the AS/RS. It can also retrieve up to two trays at a time from other shelves to an output conveyor. Total travel time for a shuttle crane trip is 50 seconds on average. The shuttle crane is supported by a track on the floor of the freezer and another track on the ceiling of the freezer. It is powered by a third rail (just like a subway system). ARUP's AS/RS has three shuttle cranes supporting six total aisles of storage shelves.
AS/RS Sorter, This is a robotic machine, built by Yaskawa America (Motoman), which is attached to one of the AS/RS conveyors and housed in the AS/RS Refrigerator. The AS/RS Sorter retrieves tubes that have been checked out by employees using ESP Checkout from the trays and places them in small plastic racks. When employees scan their employee badges at the ESP Rack Retrieval Station, the AS/RS Sorter places the racks containing the employees' tubes on an outbound rack conveyor. When the rack reaches the end of the conveyor, a white signal light indicates to the employee that the door can be opened to retrieve the rack.
Automated Transport and Sorting System, ARUP's Automated Transport and Sorting System has two different transport systems and a robotic interface (binder) that transfers tubes from one track to the other. The two transport systems are a standard chain conveyor used simply to transport specimens from Specimen Processing pods and the MagneMotion MagneMover® LITE system. In contrast to automation systems in other laboratories, the system used at ARUP does not have any analyzers interfaced to the track, nor does it have automated functions such as centrifugation or aliquotting.
ESP, Expert Specimen Processing, This is ARUP's proprietary software system developed to support automation. See Expert Specimen Processing for details about the various modules of ESP.
Glop, A block of STCs that have been "glopped" together to make a block. A glop can be of any size. Glop sizes frequently seen around ARUP are 5x10, 10x10 and 6x12. The glop can serve as a specimen tube rack for convenience, or it is also a way of storing STCs on shelves until the STCs are needed by Specimen Processing. Glops of 10x10 are standardly used to load specimens onto the Automated Storage Sorter.
LAS, Laboratory Automation System. This term, as used in the automation industry and standards, refers to the computer system or computer functions that control and operate an automation system. ESP is the LAS for ARUP's Automated Transport and Sorting System.
LIS, Laboratory Information System. The computer system generally used by a laboratory to enter orders, report results, monitor quality control, etc. ARUP's LIS is Cerner Millennium PathNet™.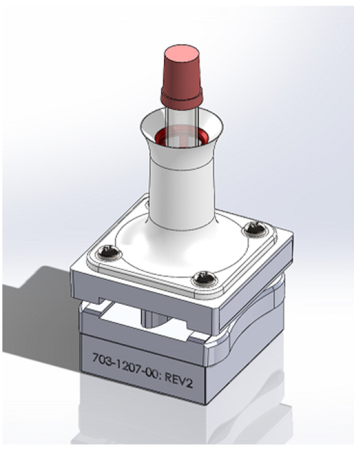 Puck. The transport vehicle for tubes on the MagneMotion Automated Transport and Sorting System. Each puck has a powerful magnet, whose magnetic forces attract directly downward to the linear motor coils in the track, which is the principle of the MagneMotion Linear Synchronous Motor technology. The pucks can move at very high speeds (up to 2 meters per second), but can stop at very precise points on the track.
STC, Standardized Transport Carrier. These are the small grey plastic carriers that transport individual specimen tubes on the conveyors in Specimen Processing and in the ATS Automated Storage Sorter (TAZ). STCs are not used on the MagneMotion Automated Transport and Sorting System. STCs are similar to plastic Lego™ blocks in that they can be snapped together in two directions to make glops (tube racks).