Automated Storage Sorter
Upon completion of testing, ARUP stores specimens at either frozen (-20°C), refrigerated (+4°C), or ambient temperatures for extended periods ranging from two weeks to nine months, depending on the temperature. There are seven different storage categories.* These categories optimize the ability of ARUP's clients to request that tests be repeated or to order additional tests to be performed on a stored specimen. With the very large volumes of specimens tested at ARUP each day, it is essential that we have automated sorting of completed specimens by their designated storage temperatures and times.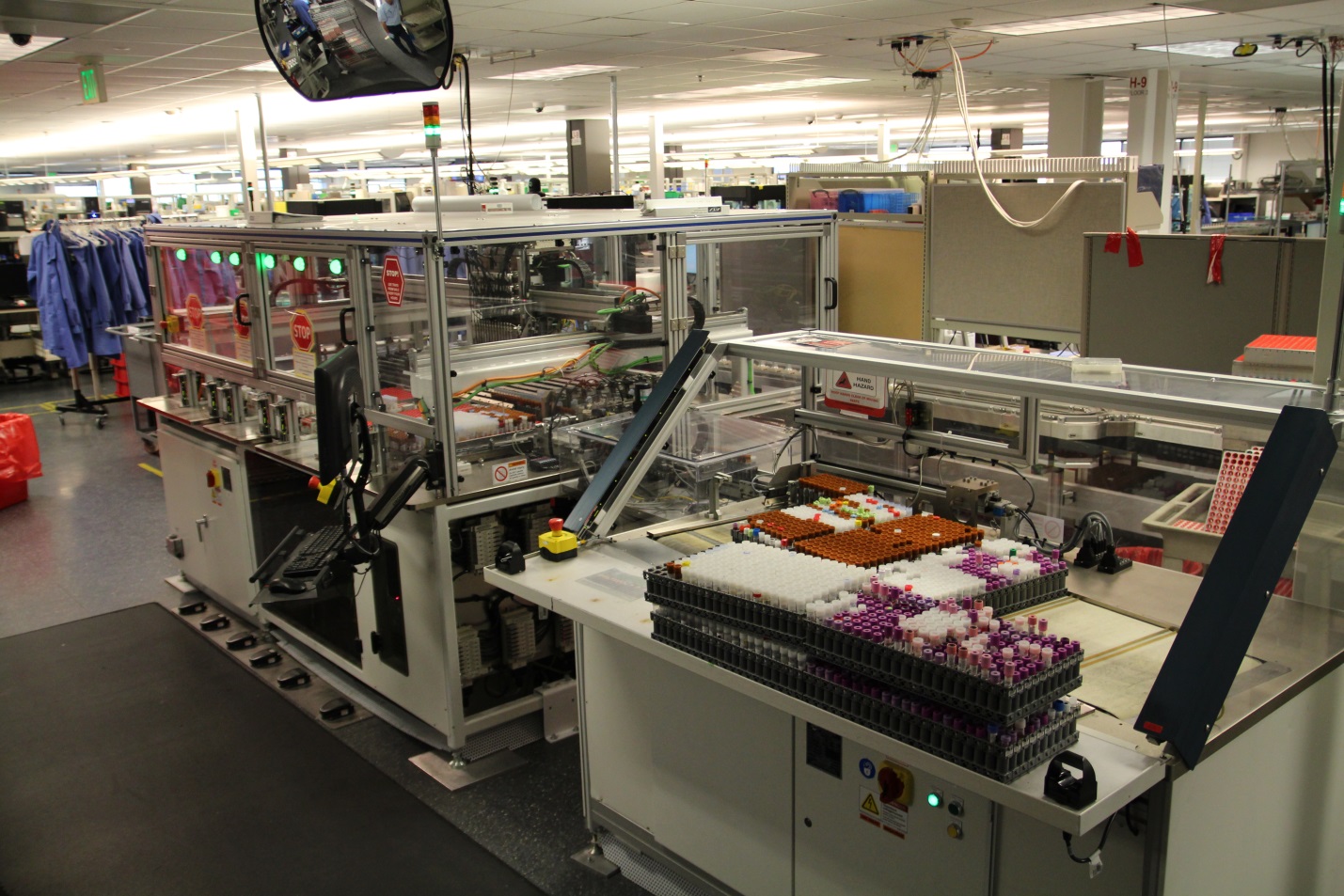 In 2010, ARUP installed a new Automated Storage Sorter built by Automated Tooling Systems (ATS) of Corvallis, OR, to replace two older storage autosorters built by Yaskawa America (Motoman) of Irvine, CA. Those units still occasionally serve as back-up units to the new system. The ATS machine is a one-of-a-kind robotic system that sorts specimen tubes into storage racks and trays with an impressive throughput of 4000 specimens per hour. During the Factory Acceptance Testing in Corvallis, the ARUP team nicknamed this storage sorter "TAZ," for the Tasmanian devil, as though the complex robotic system might eat specimen tubes, which, of course, it did not.
The TAZ system has two connected units – a loader and a robotic sorter. Specimens are loaded into the loader unit in Standardized Transport Carriers (STCs) that are "glopped" together in blocks of 100 (10 x 10). A knife-like tool peels off strips of 10 STCs at a time and feeds them into the system. The barcodes on the tubes in STCs are read in groups of four at a time and an interface between TAZ and our Laboratory Information System (LIS) is used to inform the TAZ of the correct storage category for each specimen.
A rapid shuttle system then sorts the STCs with their tubes into the correct storage categories, which are actually lanes that can hold up to 30 STCs each. A gantry-mounted pick and place robot lifts 15 tubes at a time for placement in one entire row of a tray or 5 tubes at a time for placement in one row of a rack. The incredible speed of this sorter is due to its ingenious design that does everything in batches – batches of 10 to feed from the loader, batches of 4 for barcode reading and sorting, and batches of 5 or 15 for insertion in racks or trays.
At its back end TAZ is connected to our MagneMover LITE® automation system. When the specimen barcodes are read by the TAZ, the interface with the LIS may inform TAZ that all ordered tests on that specimen have not been completed. In that case, TAZ shuttles the specimen to a bypass lane that exits the TAZ system and rejoins the main automation for routing to the correct sorter for the remaining test. These specimens, referred to as "reroutes," comprise about 2% of the volume on our automation.
Click here to view a narrated video of the Automated Storage Sorter in operation.
Since the TAZ was installed and placed in production it has been a true workhorse. Its throughput of 4000 per hour enables it to easily handle ARUP's storage volume. Approximately 95% of specimens are stored at −20° C for 14 or 30 days or +4° C for 14 days and these specimens are placed directly into storage trays that hold 30 rows of 15 specimens each. The other four storage types (see below) each account for about 1% of stored specimens and are stored in 5x6 racks. Fifteen racks will fill a tray of the same 30x15 size.
*Storage categories for the storage autosorters:
14 days frozen
30 days frozen
60 days frozen
90 days frozen
270 days frozen (9 months)
14 days refrigerated
30 days refrigerated