Phospholipase A2 receptor (PLA2R) IgG and thrombospondin type-1 domain-containing 7A (THSD7A) IgG testing provides clinicians the information needed to help differentiate between primary membranous nephropathy (PMN) and secondary MN. ARUP's cell-based immunofluorescence antibody methodology provides a reliable, robust, semiquantitative test result that helps clinicians evaluate and manage patients as well as perform risk assessments before and after kidney transplantation.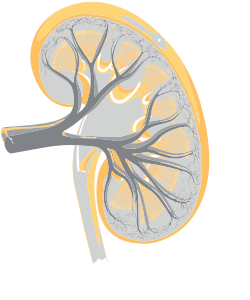 Membranous nephropathy is the most common cause of nephrotic syndrome in nondiabetic adults.1 Approximately 70% of patients with PMN have circulating anti-PLA2R antibodies. Ten percent of the remaining 30% of patients with PMN demonstrate THSD7A antibodies; thus, THSD7A antibodies have a prevalence of approximately 3% among patients with PMN.2 PLA2R and THSD7A antibodies are considered specific for PMN; therefore, testing for these antibodies is an integral part of evaluating patients at risk for PMN and managing seropositive cases. A minority of patients with PMN are negative for both antibody types.
Prevalence
PMN occurs in 1.2 of 100,000 individuals in the United States.1
PMN is seen in all ethnic/racial groups, in both sexes, and at any age.1
Onset peaks between the ages of 50 and 60 years, and a higher prevalence is seen in white males.1
Benefits of the Membranous Nephropathy Comprehensive Autoantibody Panel
Diagnosis
The presence of anti-PLA2R and/or THSD7A autoantibodies may assist in differentiating PMN from other causes of nephrotic syndromes if a biopsy is not possible.
Management
Autoantibody test results may be relevant in assessing response to treatment.
Significantly elevated antibody titers may be associated with disease activity.
Antibody decline may be associated with treatment response or decrease in proteinuria.
Increasing titers may precede relapse.
Risk Assessment for Specific Clinical Complications
The presence of antibodies before kidney transplantation is associated with increased risk of disease recurrence and/or subsequent kidney rejection.3,4
THSD7A has been described as a potential tumor antigen.5
Test Information
Benefits of ARUP's PLA2R and THSD7A Panel
ARUP's cell-based indirect fluorescent antibody (IFA) assay is characterized by:
Excellent specificity and comparable sensitivity to the enzyme-linked immunosorbent assay (ELISA)
Semiquantitative titer results, which are important in disease evaluation and management, providing information about possible treatment response as well as risk assessment
A low false-positivity rate compared to the ELISA assay
ARUP Laboratories offers a more reliable, robust, and predictable test to detect and quantify both PLA2R IgG and THSD7A IgG antibodies in serum
PLA2R IgG and THSD7A IgG Assays
Limitations
A negative result does not rule out the diagnosis of PMN.
Results should be used in conjunction with the patient's clinical presentation and history, as well as other laboratory test and renal biopsy results and/or clinical findings.
Additional Resources
References
Couser WG. Primary membranous nephropathy. Clin J Am Soc Nephrol. 2017;12(6):983-997. Erratum in: Clin J Am Soc Nephrol. 2017;12(9):1528.
Tomas NM, Beck LH Jr, Meyer-Schwesinger C, et al: Thrombospondin type-1 domain-containing 7A in idiopathic membranous nephropathy. N Engl J Med. 2014;371:2277-2287.
De Vriese AS, Glassock RJ, Nath KA, et al. A proposal for a serology-based approach to membranous nephropathy. J Am Soc Nephrol. 2017;28(2):421-430.
Xipell M, Rodas LM, Villarreal J, et al. The utility of phospholipase A2 receptor autoantibody in membranous nephropathy after kidney transplantation. Clin Kidney J. 2018;11(3):422-428.
Hoxha E, Beck LH Jr, Wiech T, et al. An indirect immunofluorescence method facilitates detection of thrombospondin type 1 domain-containing 7A-specific antibodies in membranous nephropathy. J Am Soc Nephrol. 2017;28(2):520-531.