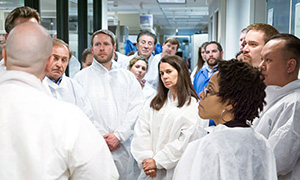 A PharmaDx project typically involves the collaborative efforts of a multidisciplinary team led by a PharmaDx project manager and may consist of members of R&D, technical operations, compliance and quality systems, and purchasing.
The PharmaDx team manages projects that require a higher degree of customization and flexibility than is typically available in a clinical laboratory setting. Project managers are responsible for managing the scope, time, quality, and budget of the project, as well as communicating with the pharmaceutical partner. Project managers have been recruited to ARUP from various industries, such as bioanalytical, manufacturing, pharmaceutical, and biotechnology, to utilize their expertise and experience on PharmaDx projects.
Selected projects presented below highlight the variety of activities managed by the PharmaDx group.
Global Vaccine Trial
Two assays, one molecular and one cell-based, were transferred from the pharmaceutical partner and established in the clinical laboratory. Specimens are received from clinical sites and tested in both assays; cultured specimens are forwarded to the partner.
Companion Diagnostics for Rare Oncology Indications
This project required the development of two tests under design control for submission to the FDA under the humanitarian device exemption program. Approvals were received in December 2015; tests are available on ARUP's clinical menu.
Therapeutic Drug Monitoring (TDM)
Two TDM assays were developed under design control and established in the clinical laboratory. Testing has been made available globally to physicians.
Assay Development in Support of Clinical Trials for Rare Disease
Custom assays were validated and transferred to the clinical laboratory. The tests remain proprietary to the pharmaceutical partner and are used only in support of the sponsor's clinical trials.