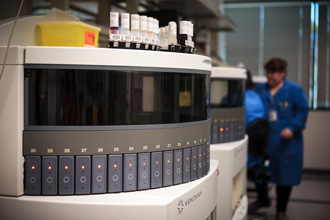 As a large, national reference laboratory with more than 3000 tests and test combinations, ARUP has demonstrated expertise with a broad range of technology platforms and instrumentation.
R&D
ARUP is a worldwide leader in innovative laboratory research and development. Created in 1996, the ARUP Institute for Clinical and Experimental Pathology® seeks to expand the quantity, quality, and utility of laboratory medicine. Since its inception, the institute has developed approximately 620 tests that ARUP now performs in-house. Of these 620 tests, more than 400 were developed by institute scientists, while more than 200 others were improved and validated so that ARUP could perform them in-house rather than continue to refer them to external laboratories.
Moreover, ARUP research scientists have shared their knowledge, experience, and new developments with the scientific community by publishing more than 1,700 original peer-reviewed research publications in leading journals.

Test Menu
ARUP's comprehensive clinical and anatomic pathology test menu includes the areas of allergy and immunology, chemistry, cytogenetics, endocrinology, fetal risk assessment, genetics, hematology, hepatitis and HIV, infectious diseases, neurology, oncology, and pathology. More information about ARUP's Laboratories, including current instrumentation and methodologies, is available in the ARUP Laboratory Information Guide.