Newborn Screening
(Formerly: PKU Test)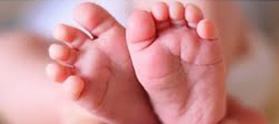 Newborn screening programs are run by state or national governing bodies with the goal of screening all infants born in the jurisdiction. The number of diseases screened for is set by each jurisdiction and can vary greatly.
Screening is performed for diseases that can cause serious problems for the baby if not recognized and treated early. Babies with these diseases can appear normal at birth, but irreparable harm, such as permanent brain damage, growth retardation, sepsis, or death, can happen with the onset of clinical symptoms.
A public-private partnership in Utah:
In 2003, ARUP purchased rights to a mass spectrometry method that allows simultaneous analysis of multiple newborn diseases. At the time, newborns in Utah were screened for only four diseases. ARUP approached the Department of Health, funded a year-long pilot program, actively lobbied with insurers and legislatures, and facilitated the expansion of newborn screening under state law.

Presently, approximately 40 diseases are screened under the Utah program thanks to the mass spectrometry technique. ARUP also performs the majority of confirmation tests for babies who were screened positive through the Utah program and works with medical geneticists involved in the continued care of affected patients.

For Utah's most current list of screened disorders, please visit the Utah Department of Health Services website.
Reaching out to other states:
ARUP currently serves the state of California with a number of confirmatory tests to support its newborn screening program. Other states can potentially leverage the comprehensive program available in Utah.
ARUP is a state-owned entity (owned by the University of Utah).
ARUP performs all of the screens and confirmatory tests that utilize tandem mass spectrometry. PKU-diet monitoring is also performed by ARUP. The Utah Department of Health performs screens using other laboratory methods and oversees education and follow-up of the program.
ARUP also provides screening for SCID (TREC assay) and confirmatory tests involving enzymatic techniques (e.g., hemoglobinopathies, biotinidase, galactosemia, etc.)
Utah's current program requires two screening specimens (dry blood spots):

The first specimen is collected between 24 and 48 hours or right before discharge from the hospital.
The second specimen is collected between 7 and 28 days of age, usually at the two-week well-child check. However, it may be done up to 1 year of age if it was not performed during the optimal time period.