Gastrointestinal Cancer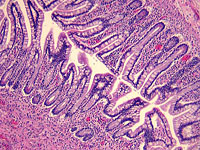 The focus of gastrointestinal pathology is the molecular diagnostics of inherited colorectal cancer and gastrointestinal tumors and, including
KRAS
,
BRAF, NRAS
and
PIK3CA
mutational testing in colorectal cancer for determination of therapeutic response to EGFR inhibitors. An
algorithm for Lynch syndrome
(hereditary non-polyposis colorectal cancer or HNPCC) testing is available, which includes the rationale for microsatellite instability testing (by PCR and/or IHC),
BRAF
mutational testing, and detection of
MLH1
methylation. Germline analysis of
MLH1
,
MSH2
,
MSH6
, and
PMS2
mutations are also offered as a part of the Lynch syndrome. Tests are also available for APC sequencing and MYH mutational tests. ARUP also offers the first blood-based screening test for colorectal cancer, based on the Septin 9 biomarker. ARUP's test has a reported 90% sensitivity at 90% specificity for detecting colorectal cancer. ARUP is one of only two labs in the US to offer this test. HER2 testing is available for gastric cancers, and c-Kit mutation testing is offered for gastrointestinal stromal tumors. Circulating tumor cell counting (Cell Search
™
) is available for thereapeutic monitoring of colorectal cancer patients.
Test #
Test Name
Test Keywords
Additional Information
0080235
5'Nucleotidase, Serum
Gastrointestinal Cancer
0080420
5-Hydroxyindoleacetic Acid (HIAA), Urine
Gastrointestinal Cancer, Neuroendocrine Cancer Carcinoid, Tumor Markers
2003433
Pan Cytokeratin (AE1,3) by Immunohistochemistry
Glucagonoma, Somatostatinoma, VIPoma, Gastrinoma, Pancreatic Neuroendocrine Tumors (NET), Mesothelioma, Testicular Cancer, Tumor Markers, Synovial Sarcoma, Epithelial Sarcoma, Carcinoma, Adenocarcinoma, Tumor Markers, AE1,3
Stain and return service only
0021020
Alkaline Phosphatase Isoenzymes, Serum or Plasma
Bone Cancer, Gastrointestinal Cancer, Tumor Markers, Paget's disease of bone
0080428
Alpha Fetoprotein, Plasma or Serum (Tumor Marker)
Gastrointestinal Cancer, Genitourinary Cancer Hepatocellular Carcinoma, Tumor Markers
0081208
Alpha Fetoprotein, Total and L3 Percent
Gastrointestinal Cancer, Hepatocellular Carcinoma, Tumor Markers
2003418
Alpha-1-Antichymotrypsin (A1ACT) by Immunohistochemistry
Pancreatic Acinar Carcinoma, Alpha-1 Antitrypsin Deficiency, Tumor Markers
Stain and return service only
2003436
Alpha-1-Fetoprotein (AFP) by Immunohistochemistry
Testicular Germ Cell tumor, Ovarian Germ Cell Tumor, Brain Tumors, Tumor Markers
Stain and return service only
2011890
Arginase 1 by Immunohistochemistry
2014499
ATRX by Immunohistochemistry
Prostate Cancer, prostate epithelium, breast, ductal epithelium, gastric mucosa, glial cells
Stain and return service only
2003454
Beta-Catenin-1 by Immunohistochemistry
Solid-pseudopapillary Neoplasm of Pancreas, Desmoid-type Fibromatosis, Ovarian Cancer, Tumor Markers, Stain and return service only type
Stain and return service only
0070029
Beta-hCG, Serum Quantitative (Tumor Marker)
Genitourinary Cancer, Gynecologic Cancer, Testicular cancer, Testicular Tumors, Tumor Markers
2002498
BRAF codon 600 Mutation Detection by Pyrosequencing
Melanoma, Colorectal cancer, Lynch Syndrome, HNPCC, Hereditary Nonpolyposis Colorectal Cancer, Gastrointestinal Adenocarcinoma, Papillary thyroid carcinoma
0051750
BRAF Codon 600 Mutation Detection with Reflex to MLH1 Promoter Methylation
BRAF RFLX, Hereditary Nonpolyposis Colorectal Cancer, HNPCC, Colorectal Cancer, Lynch Syndrome, Tumor Markers
2013921
BRAF V600E Mutation Detection in Circulating Cell-Free DNA by Digital Droplet PCR
2008652
c-MET by Immunohistochemistry
0070103
C-Peptide, Serum or Plasma
Gastrointestinal Cancer, Neuroendocrine Cancer, Tumor Markers
2003484
Caldesmon by Immunohistochemistry
Gastrointestinal Stromal Tumors, GIST, endometrial, stromal, smooth muscle tumors, Tumor Markers
Stain and return service only
0020746
Cancer Antigen-GI (CA 19-9), Body Fluid
Gastrointestinal Cancer, Pancreatic adenocarcinoma, Cholangiocarcinoma, Tumor Markers
0080461
Cancer Antigen-GI (CA 19-9), Serum or Plasma
Gastrointestinal Cancer, Pancreatic adenocarcinoma, Cholangiocarcinoma, Tumor Markers
0020742
Carcinoembryonic Antigen, Fluid
Gastrointestinal Cancer, Tumor Markers
2003824
Carcinoembryonic Antigen, Monoclonal (CEA M) by Immunohistochemistry
Mesothelioma, Ovarian Cancer, Colorectal Cancer, Tumor Markers, Cervical Cancer
Stain and return service only
2003827
Carcinoembryonic Antigen, Polyclonal (CEA P) by Immunohistochemistry
Hepatocellular Carcinoma, canallicular marker, Pancreatic Cancer, Ovarian Cancer, Lung Cancer, Colorectal Cancer, Tumor Markers
Stain and return service only
0080080
Carcinoembryonic Antigen, Serum
Breast Cancer, Gastrointestinal Cancer, Genitourinary Cancer, Gynecologic Cancer, Lung Cancer, Tumor Markers
2003806
CD117 (c-Kit) by Immunohistochemistry
Gastrointestinal Stromal Tumors (GIST), Lung Cancer, Breast Cancer, Melanoma, Mast Cell Disease, Germ Cell Tumor of Testes and Ovary, Brain Tumors, Myelodysplastic Syndromes, Acute Myeloid Leukemia, (AML), Myeloproliferative Neoplasms (MPN), Tumor Markers
Additional Technical Information
Stain and return service only
2003556
CD34, QBEnd/10 by Immunohistochemistry
B-ALL, T-ALL, Acute myelogenous leukemia, MDS, Tumor Markers
Stain and return service only
2003821
CDX2 by Immunohistochemistry
Intestinal-type sinonasal adenocarcinoma, Colorectal Cancer, Tumor Markers, Lung Cancer
Stain and return service only
2003830
Chromogranin A by Immunohistochemistry
Neuroendocrine Tumors (NET), Carcinoid Tumors, Medullary Thyroid Cancer, Tumor Markers, Paraganglioma, Carotid body tumor, Olfactory neuroblastoma, pituitary adenomas, islet cell tumors, phaeochromocytomas, medullary thyroid carcinomas, Merkel cell tumors, and carcinoids
Stain and return service only
0093399
Circulating Tumor Cell Count
Colorectal Cancer, Tumor Markers, mestastatic colorectal carcinoma, mestastic breast cancer, mestastic prostate cancer, prognostic
Additional Technical Information
2011616
Colon Cancer Gene Panel, Somatic
2003848
Cytokeratin 20 (CK 20) by Immunohistochemistry
Tumor Markers, Bladder Cancer, Hereditary Nonpolyposis Colorectal Cancer, HNPCC, Lung Cancer, Colorectal Cancer, Multiple Carcinomas , Merkel Cell, adenomas, gallbladder, bile duct, gastrointestinal adenocarcinoma, ductal cell adenocarcinomas of the pancreas, mucinous ovarian tumors, transitional cell carcinoma, Pancreatic carcinoma, cholangiocarcinoma, Mesothelioma
Stain and return service only
2003854
Cytokeratin 7 (CK 7) by Immunohistochemistry
Gastrinoma, Mesothelioma, Bladder Cancer, Ovarian Cancer, Lung Cancer, Tumor Markers, Multiple Carcinomas, Breast Cancer
Stain and return service only
2003493
Cytokeratin 8,18 Low Molecular Weight (CAM 5.2) by Immunohistochemistry
Carcinoid Tumors, Hepatocellular Carcinoma, Renal Cell, Rhabdoid tumors, Neuroendocrine, Pancreatic Cancer, Pheochromocytoma, Melanoma, Tumor Markers, Multiple Carcinomas, Colon Cancer, Gastrointestinal Cancer
Stain and return service only
2000623
Cytology, Non-Gynecologic
0081312
Des-gamma-carboxy Prothrombin, Serum
Gastrointestinal Cancer
2003863
Desmin by Immunohistochemistry
Smooth Muscle, Reactive Mesothelial cells, leiomyosarcomas, myogenic sarcomas, rhabdomyosarcoma, PNET, neuroblastoma, GIST, gastrointestinal stromal tumor, Tumor Markers
Stain and return service only
2012166
Dihydropyrimidine Dehydrogenase (DPYD) Genotyping, 3 Mutations
DYPD 5-Fluorouracil toxicity 5-FU toxicity 5-FU toxicity 5FU toxicity Adrucil (DPYD) Genotyping, 3 Mutations Xeloda (capecitabine) (DPYD) Genotyping, 3 Mutations DPD Uftoral (tegafur/uracil) (DPYD) Genotyping, 3 Mutations
2010168
DOG1 by Immunohistochemistry
2003869
E-Cadherin by Immunohistochemistry
Mesothelioma, Breast Cancer, Tumor Markers
Stain and return service only
2013906
Epi proColon
2003872
Epithelial Membrane Antigen (EMA) by Immunohistochemistry
Adenocarcinoma, anaplastic large cell lymphomas, epitheloid sarcomas, Pagets' disease, plasmacytomas, Pancreatic tumors, Tumor Markers
Stain and return service only
0049178
ERBB2 (HercepTest®) by Immunohistochemistry, Tissue with Reflex to FISH if 2+
Gastric, gastrointestinal cancer, tumor marker, pharmacogenetics, Breast Cancer, Tumor Markers, FISH, herceptin, HER2, HER-2, neu, HER2/neu, Pancreatic Cancer, Gastric Cancer, Barrett's Esophagus Cancer, Gastroesophageal Junction Cancer
0049174
ERBB2 (HercepTest®) with Interpretation by Immunohistochemistry, Tissue
Gastric, gastrointestinal cancer, tumor marker, pharmacogenetics, Breast Cancer, Tumor Markers, FISH, herceptin, HER2, HER-2, neu, HER2/neu, Pancreatic Cancer, Gastric Cancer, Barrett's Esophagus Cancer, Gastroesophageal Junction Cancer
2003878
Factor XIIIa by Immunohistochemistry
Hepatocellular Carcinoma
Stain and return service only
2004863
Familial Adenomatous Polyposis (APC) Sequencing
APC FGS, Colorectal Cancer, colon cancer, CRC, polyps, Familial Adenomatious Polyposis FAP, familial cancer
2004915
Familial Adenomatous Polyposis Panel: APC Sequencing, APC Deletion/Duplication, and MYH 2 Mutations
FAP Panel, Familial Adenomatious Polyposis familial cancer, Colorectal Cancer, colon cancer, CRC, polyps, FAP, familial cancer
2001961
Familial Mutation, Targeted Sequencing
SEQ FSM

The following genes are available:
ACADVL, ACADM, ACVRL1, APC, ASS1, ATP7A, BMPR1A, BMPR2, BTD, CCM1, CCM2, CCM3, CDKL5, CFTR, COL4A5, CYP1B1, ENG, F8, F9, FBN1, G6PD, GALT, GJB2; HBA1, HBA2, HBB, INSR, LMNA, MECP2,MEFV, MEN1, MLH1, MSH2; MSH6, MUTYH, MYH3, NF1, OTC, PLOD1, PMS2; PRSS1, PTEN, PTPN11, RASA1, RET, SDHB, SDHC, SDHD, SLC22A5, SLC25A13, SMAD4, SPRED1, SPINK1, SOS1, STK11, TACI, TGFBR1, TGFBR2, UBE3A, VHL, VWF

2003896
Gastrin by Immunohistochemistry
Gastrinoma, Pancreatic Neuroendocrine Tumors (NET), Carcinoid Tumors, Tumor Markers
Stain and return service only
0070075
Gastrin, Serum
Gastrinoma, Pancreatic Neuroendocrine Tumors (NET), Carcinoid Tumors, Tumor Markers, Endocrine/Adrenal Cancer, Gastrinoma, Carcinod Tumors, MEN, NET, Neuroendocrine, tumor markers
2002674
Gastrointestinal Stromal Tumor Mutation
Gastrointestinal Stromal Tumors (GIST)
Additional Technical Information
0099165
Glucagon, Plasma
Gastrointestinal Cancer, Neuroendocrine Cancer, Neuroendocrine Tumor, Neuroendocrine Neoplasm, Carcinoid Tumor
2011925
Glypican 3 by Immunohistochemistry
2003941
Helicobacter pylori by Immunohistochemistry
Gastric adenocarcinoma, gastric B-cell lymphoma persistent dyspepsia;duodenal ulcer, gastric MALT, early gastric cancer, gastritis
Stain and return service only
0081326
Hepatocellular Carcinoma Tumor Marker Panel
Gastrointestinal Cancer, Hepatocellular Carcinoma
2003923
Hepatocyte Specific Antigen (HSA) by Immunohistochemistry
Hepatocellular Carcinoma
Stain and return service only
2012032
Hereditary Cancer Panel, Sequencing and Deletion/Duplication
CANCERPAN, Lynch syndrome, breast cancer, multiple endocrine neoplasia, melanoma, retinoblastoma, paraganglioma, Li-Fraumeni, familial adenomatous polyposis, Peutz-Jegher, HNPCC, inherited cancer, renal cancer, GI cancer, colorectal cancer, NGS cancer panel
2013449
Hereditary Gastrointestinal Cancer Panel, Sequencing and Deletion/Duplication
GICAN PAN, APC, BMPR1A, CDH1, EPCAM, MLH1, MSH2, MSH6, MUTYH, PTEN, SDHB, SDHC, SDHD, SMAD4, STK11, TP53, colon, colorectal, cancer, gastrointestinal, stomach, GI cancer, polyp, FAP, polyposis, diffuse gastric, Lynch, HNPCC, MAP, Juvenile Polyposis, Peutz-Jeghers, Li-Fraumeni APC, BMPR1A, CDH1, EPCAM, MLH1, MSH2, MSH6, MUTYH, PTEN, SDHB, SDHC, SDHD, SMAD4, STK11, TP53, diffuse gastric cancer, familial adenomatous polyposis (FAP), MUTYH-associated polyposis (MAP)
0051650
HNPCC/Lynch Syndrome (MLH1) Sequencing and Deletion/Duplication
MLH1 FGA, Hereditary Nonpolyposis Colorectal Cancer, HNPCC, Colorectal Cancer, MLH1, MSH2, MSH6, PMS2, mismatch repair, Muir-Torre, Turcot, Lynch
0051654
HNPCC/Lynch Syndrome (MSH2) Sequencing and Deletion/Duplication
MSH2 FGA, Hereditary Nonpolyposis Colorectal Cancer, HNPCC, Colorectal Cancer, MLH1, MSH2, MSH6, PMS2, mismatch repair, Muir-Torre, Turcot, Lynch
Additional Technical Information
0051656
HNPCC/Lynch Syndrome (MSH6) Sequencing and Deletion/Duplication
MSH6 FGA, Hereditary Nonpolyposis Colorectal Cancer, HNPCC, Colorectal Cancer, MLH1, MSH2, MSH6, PMS2, mismatch repair, Muir-Torre, Turcot, Lynch
Additional Technical Information
0051737
HNPCC/Lynch Syndrome (PMS2) Sequencing and Deletion/Duplication
PMS2 FGA, Hereditary Nonpolyposis Colorectal Cancer, HNPCC, Colorectal Cancer, MLH1, MSH2, MSH6, PMS2, mismatch repair, Muir-Torre, Turcot, Lynch
Additional Technical Information
2001728
HNPCC/Lynch Syndrome Deletion/Duplication
HNPCC DD, Hereditary Nonpolyposis Colorectal Cancer, Colorectal Cancer, MLH1, MSH2, MSH6, PMS2, mismatch repair, Muir-Torre, Turcot, Lynch Syndrome
Additional Technical Information
2003920
Human Chorionic Gonadotropin (Beta-hCG) by Immunohistochemistry
Trophoblastic, germ cell, lung, melanoma, gastrointestinal, ovarian, testicular cancer
Stain and return service only
0070063
Insulin, Fasting, Serum or Plasma
Gastrointestinal Cancer, Neuroendocrine Cancer
2004988
Juvenile Polyposis (BMPR1A) Sequencing
BMPR1A FGS, JPS, SMAD4, Juvenile Polyposis
0051510
Juvenile Polyposis (SMAD4) Sequencing
SMAD4 SEQ, Hereditary Hemorrhagic Telangiectasia (HHT), JP/HHT, BMPR1A, JPS, Myhre, Juvenile Polyposis
2001971
Juvenile Polyposis (SMAD4) Sequencing and Deletion/Duplication
SMAD4 FGA, Hereditary Hemorrhagic Telangiectasia (HHT), JP/HHT, BMPR1A, JPS, Juvenile Polyposis
2002695
KIT Mutations, Melanoma
Melanoma, Tumor Markers, C-KIT, CKIT
Additional Technical Information
0040248
KRAS Mutation Detection
Pharmacogenetics (PGx), Lung Cancer, Colorectal Cancer, Tumor Markers, CRC, colon, rectal
Additional Technical Information
2001932
KRAS Mutation Detection with BRAF reflex
Pharmacogenetics (PGx), Lung Cancer, Colorectal Cancer, Tumor Markers, CRC, colon, rectal
Additional Technical Information
0051740
Microsatellite Instability (MSI), HNPCC/Lynch Syndrome, by PCR
MSI PCR, Hereditary Nonpolyposis Colorectal Cancer, HNPCC, Colorectal Cancer, Lynch Syndrome, Tumor Markers, MSI, MLH1, MSH2, MSH6, PMS2, mismatch repair
Additional Technical Information
0049302
Mismatch Repair by Immunohistochemistry
MSI, Hereditary Nonpolyposis Colorectal Cancer, HNPCC, Colorectal Cancer, Tumor Markers, MLH1, MSH2, MSH6, PMS2, mismatch repair, IHC, Lynch
Additional Technical Information
2002327
Mismatch Repair by Immunohistochemistry with Reflex to BRAF Codon 600 Mutation and MLH1 Promoter Methylation
Hereditary Nonpolyposis Colorectal Cancer, HNPCC, Colorectal Cancer, Tumor Markers, MSI, MLH1, MSH2, MSH6, PMS2, mismatch repair, IHC, Lynch
2005270
Mismatch Repair by Immunohistochemistry with Reflex to MLH1 Promoter Methylation
MSI MLH1, Hereditary Nonpolyposis Colorectal Cancer, HNPCC, Colorectal Cancer, Tumor Markers, MLH1, MSH2, MSH6, PMS2, mismatch repair, IHC, Lynch
Additional Technical Information
2002499
MLH1 Promoter Methylation, Paraffin
MLH1PCR, Colorectal Cancer, Hereditary Nonpolyposis Colorectal Cancer, HNPCC, Tumor Markers
Additional Technical Information
2004002
Muc-1 by Immunohistochemistry
Glandular differentiation marker, Pancreatic, thyroid cancer, biliary, Salivary gland
Stain and return service only
2004008
Muc-4 by Immunohistochemistry
Colorectal Cancer, Tumor Markers, Pancreatic, thyroid, salivary gland, biliary
Stain and return service only
0098198
Neuron Specific Enolase, Serum
Brain Cancer, Gastrointestinal Cancer, Head and Neck Cancer, Lung Cancer, Tumor Markers, Monitoring
2003123
NRAS Mutation Detection by Pyrosequencing
Colorectal, melanoma, Hereditary Nonpolyposis Colorectal Cancer , HNPCC, Tumor Markers, CRC, colon, rectal
Additional Technical Information
2004064
p16 by Immunohistochemistry
Head and Neck Cancer, Cervical Cancer, Bladder Cancer, Ovarian Cancer, Hereditary Nonpolyposis Colorectal Cancer, HNPCC, Colorectal Cancer, Tumor Markers, Pancreatic Cancer, Melanoma, prognostic
Stain and return service only
2004067
p21 (Waf1/Cip 1) by Immunohistochemistry
Pancreatic Cancer, Melanoma, Bladder Cancer, Hereditary Nonpolyposis Colorectal Cancer, HNPCC, Colorectal Cancer, Tumor Markers
Stain and return service only
0099436
Pancreatic Polypeptide, Serum
Gastrointestinal Cancer, Tumor Markers
2002528
Pancreatobiliary FISH
PF, Pancreatic Cancer, Tumor Markers
2008394
Peutz-Jeghers Syndrome (STK11) Sequencing
STK11, STK11 FGS, hamartomatous polyps, mucocutaneous hypergigmentation
2008398
Peutz-Jeghers Syndrome (STK11) Sequencing and Deletion/Duplication
STK11, STK11 FGA, hamartomatous polyps, mucocutaneous hypergigmentation
2004091
Protein Gene Product (PGP) 9.5 by Immunohistochemistry
Glucagonoma, Somatostatinoma, VIPoma, Ewing Sarcoma, Gastrinoma, Pancreatic Neuroendocrine Tumors (NET), Carcinoid Tumors, Pancreatic Cancer, Pheochromocytoma, Tumor Markers, neuronal neoplasis
Stain and return service only
0051332
UDP Glucuronosyltransferase 1A1 (UGT1A1) Genotyping
UGT1A1, Irinotecan, Pharmacogenetics (PGx), Colorectal Cancer
0099435
Vasoactive Intestinal Peptide, Plasma
Gastrointestinal Cancer, Neuroendocrine Cancer