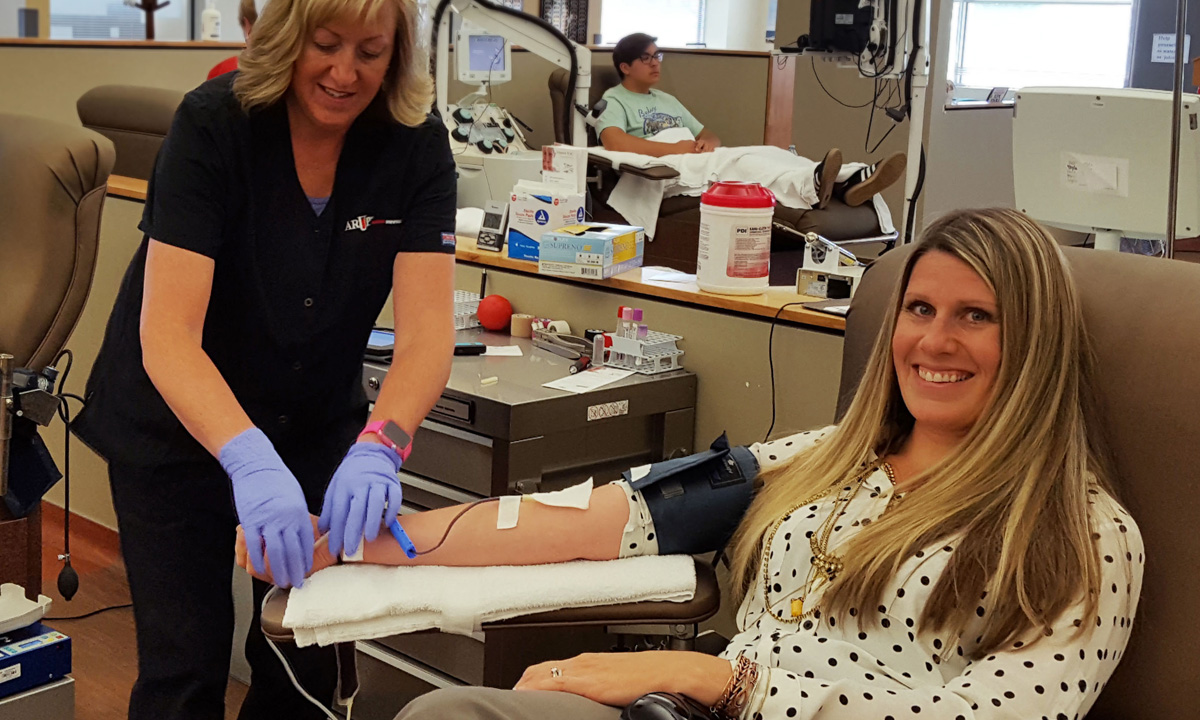 August 16, 2017
During the week of World Donor Day, donor Heather Syrett donates blood with the help of Bridgett Freemen, ARUP donor collection specialist.
---
In summer's sunlight, more accidents occur and increase blood needs—yet not everybody can donate blood. For those in the LGBT community, this was highlighted in the aftermath of the Orlando massacre in 2016, when thousands of gay and bisexual men responded to an urgent call for blood donors.
They were allowed to donate only if they had abstained from having sex with another man within the last 12 months. This used to be a lifetime ban, but last year the Food and Drug Administration reduced the ban to one year. The original policy came at the height of the AIDS epidemic in 1983, when scientists knew little about the new virus and fear was high. Since then, HIV testing has become much more routine.
The FDA's one-year ban policy is likely based on window period—the time period from infection with HIV until the body produces enough HIV antibodies to be detected by an HIV antibody test. According to the National Institute of Health, most people develop HIV antibodies within three months of being infected with HIV, but the window period can vary depending on the HIV test used.
"When you add it all up, less than 40 percent of the U.S. population can donate blood when you consider all the restrictions …. so if someone has a chance to give blood and take just 30 minutes out of their day, they will be helping someone who is likely going through one of the worst times in their life."
Lance Bandley
Community Relations Supervisor, Blood Services
Who else can't donate blood? Although it may vary from state to state, a one-year ban may also apply to those who have received tattoos or body piercing, acupuncture, or an accidental needle stick, or have come in contact with someone else's blood. If you've traveled to an area that may put you at risk for malaria (or have had it) or been treated for syphilis or gonorrhea, you must wait a year. The American Red Cross has a long criteria list of what determines whether someone is eligible or not for donating blood.
"When you add it all up, less than 40 percent of the U.S. population can donate blood when you consider all the restrictions," says Lance Bandley, community relations supervisor for ARUP Blood Services. He cites bans associated with travel and medications. Restrictions include common scenarios such as not feeling well on the day of donation (flu or cold-like symptoms), taking oral antibiotics within the last seven days (though antibiotics for acne are okay), and pregnancy.
If you've had cancer, a five- to ten-year ban on donating may exist. Individuals engaged in sex work or injection drug use are subject to a lifetime ban. While blood drives are done at high schools targeting a younger population, the rules dictate that these younger donors ages 16 to 18 must meet certain weight and height requirements. For example, girls who are 4 ft. 8 inches must weigh at least 156 lbs.
New epidemics can impact blood donations. Currently, due to the Zika Virus, if you travel outside the United States, Canada, or Europe, you must wait four weeks before donating. Before Zika, it was the Ebola virus. Dengue fever also currently prohibits travelers and donors for four weeks if they have been to Hawaii.
Nationwide, there is a shortage of blood, and patient populations continue to grow. "The rules on who can donate are constantly changing because of new diseases and medications," says Bandley. "There are more reasons than ever to defer someone from donating so if someone has a chance to give blood and take just 30 minutes out of their day, they will be helping someone who is likely going through one of the worst times in their life."
By Peta Owens-Liston, ARUP Science Communications Writer