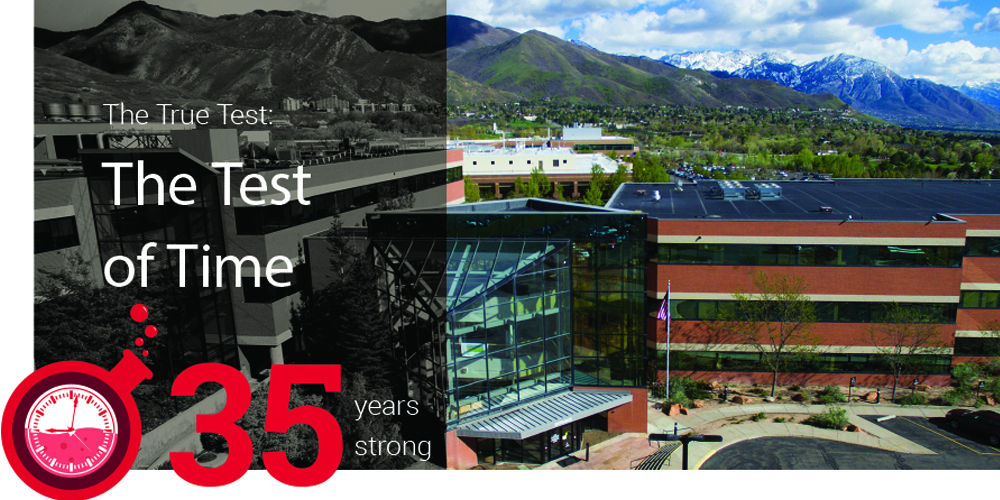 ARUP is building on 35 years of determination and purpose, harnessing its expertise to improve patient lives. From the beginning, the company has strived to learn what it doesn't know, advance and share what it does, and continuously seek new ways to add value—all the while operating with tenacity and compassion.
In 1984, a group of University of Utah pathologists made a gutsy move. They launched ARUP Laboratories to perform lab tests for regional hospitals to generate income for a budgetstrapped university pathology department. Aptly named Associated Regional and University Pathologists (ARUP) at the time, the company would expand beyond its founders' wildest dreams, eventually outgrowing its name.
Lean. Resourceful. Resilient.
These traits helped ARUP survive the "learning-curve" years while it established its niche. Colleagues shared desks, shoveled snow, and pulled overnighters. Some even married each other. In those days, the resonating clang of a cowbell would announce the "win" of a new client. Teamwork permeated the culture.
"It was a tough sell initially; we were considered the 'boondocks,'" said John Matsen, MD, ARUP's first president (1984–1992) and chairman of the U of U Department of Pathology. "People were skeptical that we could do anything as sophisticated as operate a pathology laboratory worthy of national consideration."
ARUP could not compete with the large corporate labs in the areas of volume and price. Instead, it chose to align as a partner with its clients and not to compete with them for physician office testing. This approach, combined with sharing expertise rooted in academic medicine, inventive thinking, and a fierce commitment to patient care, began earning ARUP the confidence of clients outside the Intermountain West.
Winning Them Over
"We knew if we could just get them to try us once, we could win them over," recalled Carl Kjeldsberg, MD, who led ARUP for 17 years (1992–2009). "To use ARUP once was to become a convert." Eventually, ARUP would serve more than half of the country's teaching and children's hospitals.
As ARUP expanded, it built a reliable courier service and began offering clients value-added services. Listening to clients has resulted in ARUP's increased focus on tools and services to show clients how to make labs more efficient and decrease downstream costs in their healthcare systems. "Our academic roots help us to remain on the cutting edge of laboratory medicine and to provide excellent patient care," said Sherrie Perkins, MD, PhD, and CEO of ARUP. "Sharing our knowledge stems from these roots as well."
Today, ARUP has more than 4,000 employees, 100-plus medical directors, advanced automation, and will soon have a new building that will add 200,000 square feet of lab space.
ARUP is ready for the next 35 years.

HOME