A unique laboratory test combining biomarkers and a liver stiffness measurement by FibroScan to provide enhanced classification accuracy for patients with chronic hepatitis B or C (with or without co-infection with HIV), or patients with non-alcoholic fatty liver disease (NAFLD).
Features and Benefits
Enhanced classification accuracy
First integrated patient report combining the FibroScan liver stiffness measurement and FibroMeter results.
Educational Resources
Test Details
Scores are algorithmically calculated from values of blood biomarkers, Fibroscan VCTE measurement, and demographic information.
Measurements Performed by ARUP
Alpha-2-macroglobulin, AST, GGT, prothrombin index
Information Provided by Client
Liver stiffness result (in kPa) from the Fibroscan VCTE, patient's platelet count, age, gender Submit form with order.
Calculated Scores and Metavir Classifications
Score ranges from 0 to 1, Metavir classifications range from F0-F4:

Fibrosis score (FibroMeter)

Corresponding classifications are reported together with the scores:

F0–F4 for fibrosis/cirrhosis
Note: This test should not be used in patients younger than 18 years of age.
Ordering Information
How to Order
Please contact your hospital or reference laboratory to inquire about pricing, test-request forms, and billing for this test.
Test requires Fibroscan score ( submit form with order)
Test Information
| | |
| --- | --- |
| Test Name | Liver Fibrosis - FibroMeter Vibration Controlled Transient Elastography (FibroMeter plus FibroScan VCTE) |
| Test Code | 3001379 |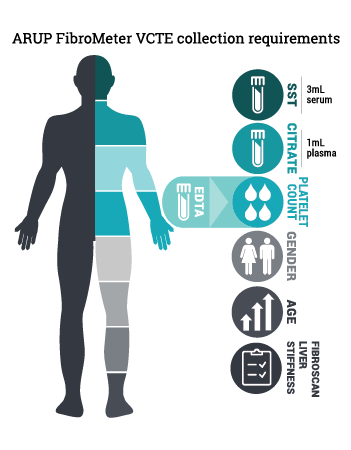 References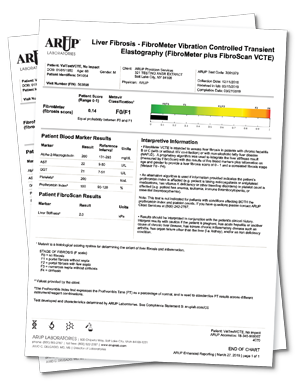 Dincsesa E, Yilmaz Y. Diagnostic usefulness of Fibrometer VCTE for hepatic fibrosis in patients with nonalcoholic fatty liver disease. Eur J Gastroenerol Hepatol 2015;27:1149–53.
Loong TC, Wei JL, Leung JC, et al. Application of the combined FibroMeter VCTE algorithm in Chinese patients with nonalcoholic fatty liver disease. J Gastroenterol Hepatol 2017;32(7):1363–69.
Ducancelle A, et al. A Single Test Combining Blood Markers and Elastography is More Accurate Than Other Fibrosis Tests in the Main Causes of Chronic Liver Diseases. J Clin Gastroenterol 2017;51(7):639–49.
Degos F, et al. Diagnostic accuracy of FibroScan and comparison to liver fibrosis biomarkers in chronic viral hepatitis: a multicenter prospective study (the FIBROSTIC study). J Hepatol 2010;53:1013–21.
Boursier J, et al. A stepwise algorithm using an at-a-glance first-line test for the non-invasive diagnosis of advanced liver fibrosis and cirrhosis. J Hepatol 2017;66(6):1158–65.
Boursier J, et al. Diagnostic accuracy and prognostic significance of blood fibrosis tests and liver stiffness measurement by FibroScan in non-alcoholic fatty liver disease. J Hepatol 2016;65(3):570–8
Boursier J, et al. A new combination of blood test and fibroscan for accurate non-invasive diagnosis of liver fibrosis stages in chronic hepatitis C. Am J Gastroenterol 2011;106(7):1255-63.
Calès P, et al. Improved fibrosis staging by elastometry and blood test in chronic hepatitis C. Liver Int 2014;34(6):907–17.
Calès P, et al. Liver fibrosis diagnosis by blood test and elastography in chronic hepatitis C: agreement or combination? Aliment Pharmacol Ther 2017;45(7):991–1003.
Zarski JP, et al. Comparison of nine blood tests and transient elastography for liver fibrosis in chronic hepatitis C: the ANRS HCEP-23 study. J Hepatol 2012;56:55–62.