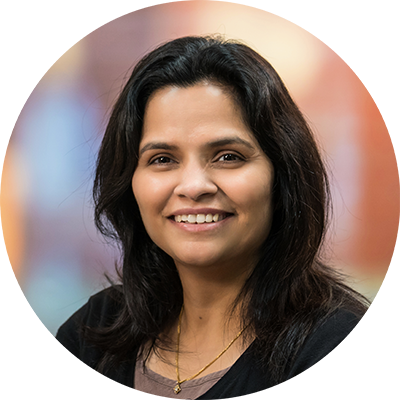 Deepika Sirohi, MD
Subspecialty Director: Solid Tumor FISH Pathology
Subspecialties: Genitourinary and solid tumor molecular pathology
Associate Professor (Clinical), University of Utah School of Medicine
Specialties
Genitourinary pathology
Molecular Oncologic Pathology
Education
Medical Degree—Armed Forces Medical College
Residency—Anatomic and Clinical Pathology, University of Texas Health Science Center
Fellowship—Genitourinary Pathology, Cedar-Sinai Medical Center
Fellowship—Molecular Genetic Pathology, University of California
Certification/Affiliations
American Board of Pathology (Anatomic and Clinical Pathology, Molecular Genetic Pathology)
Research Interests
Genomic alteration in urologic malignancies
Viral oncogenesis
Application of next generation sequencing to solid tumors
Awards
First Place, Oral Presentation Competition, Annual Resident & Fellow Symposium, Los Angeles Society of Pathologists
Recent Publications
Sirohi D, et al. Amyloidosis of the bladder and association with urothelial carcinoma: report of 29 cases. Hum Pathol. 2019 Aug 16;93:48–53.
Lin L, et al. American Society of Clinical Oncology/College of American Pathologists 2018 focused update of breast cancer HER2 FISH testing guidelines: results from a national reference laboratory. Am J Clin Pathol. 2019 Sep 9;152(4):479–85.
Sirohi D, et al. TP53 structural variants in metastatic prostatic carcinoma. PLoS One. 2019 Jun 19;14(6):e0218618
Sirohi D, et al. Polyoma virus-associated carcinomas of the urologic tract: a clinicopathologic and molecular study.Mod Pathol. 2018 Sep;31(9):1429–41.
Ohe C, et al. (2018).Reappraisal of morphologic differences between renal medullary carcinoma, collecting duct carcinoma, and fumarate hydratase–deficient renal cell carcinoma.Am J Surg Pathol. 2018 Mar;42(3):279–92
Li P, et al. Genes involved in prostate cancer progression determine MRI visibility.Theranostics. 2018 Feb 12;8(7):1752–65.
Patel DN, et al. Use of cylindrical coordinates to localize prostate cancers on MRI and prostatectomy pathology.Urol Oncol. 2017 Dec;35(12):673.e15–20.
Sirohi D, et al. Renal cell carcinoma, unclassified with medullary phenotype: poorly differentiated adenocarcinomas overlapping with renal medullary carcinoma.Hum Pathol. 2017 Sep;67:134–45.
Smith SC,Sirohi D, Ohe C, McHugh JB, Hornick JL, Kalariya J, Karia S, Snape K, Hodgson SV, Cani AK, Hovelson D, Luthringer DJ, Martignoni G, Chen YB, Tomlins SA, Mehra R, Amin MB (2017). A distinctive, low-grade oncocytic fumarate hydratase-deficient renal cell carcinoma, morphologically reminiscent of succinate dehydrogenase-deficient renal cell carcinoma. Histopathology. 2017 Jul;71(1):42–52.
Sirohi D, et al. Pericytic tumors of the kidney-a clinicopathologic analysis of 17 cases. Hum Pathol. 2017 Jun;64:106–17.
Smith SC, et al. Tubulocystic carcinoma of the kidney with poorly differentiated foci: a frequent morphologic pattern of fumarate hydratase-deficient renal cell carcinoma.Am J Surg Pathol. 2016 Nov;40(11):1457–72.
Kuroda N, et al. Review of renal anastomosing hemangioma with focus on clinical and pathological aspects.Pol J Pathol. 2016 Jun;67(2):97–101.
Wang H, et al. Comparison of cytologic findings of BRAF wild type and BRAF mutated papillary thyroid carcinoma in conventional smears.J Am Soc Cytopathol. 6(5):S75.
Murkey JA, et al. Hepatitis E virus-associated meningoencephalitis in a lung transplant recipient diagnosed by clinical metagenomic sequencing. Open Forum Infect Dis. 2017 Jun 13;4(3):ofx121.