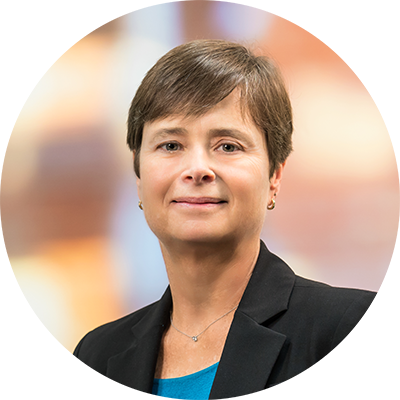 Sherrie L. Perkins, MD, PhD
Chief Executive Officer
Professor of Pathology and Hematopathology, University of Utah
Hematopathology
Education
Doctorate Degree—Biochemistry, University of Miami
Medical Degree—Washington University in St. Louis
Residency—Anatomic Pathology, Washington University in St. Louis
Fellowship—Hematopathology, University of Utah
Certification/Affiliations
American Board of Pathology
College of American Pathologists
American Society for Clinical Pathology
US and Canadian Academy of Pathology
American Society for Hematology
Society for Hematopathology
International Society for Laboratory Hematology
Children's Oncology Group
American Clinical Laboratory Association
Research Interests
Hematologic malignancies
Pediatric non-Hodgkins lymphomas
Benign hematology
Awards
CAP Outstanding Educator Award 2019
Recent Publications
Smock KJ, Perkins SL. Thrombocytopenia: an update. Int Jnl Lab Hem. 2014 Jun;36(3):269–78.
Sangle N, et al. Myelofibrotic transformations of polycythemia vera and essential thrombocythemia are morphologically, biologically, and prognostically indistinguishable from primary myelofibrosis. Appl Immunohistochem Mol Morphol. 2014 Oct;22(9):663–8.
Sangle NA, et al. Optimized immunohistochemical panel to differentiate myeloid sarcoma from blastic plasmacytoid dendritic cell neoplasm. Mod Pathol. 2014 Aug;27(8):1137–43.
Alexander S, et al. Advanced stage anaplastic large cell lymphoma in children and adolescents: results of ANHL0131, a randomized phase III trial of APO versus a modified regimen with vinblastine: a report from the children's oncology group. Pediatr Blood Cancer. 2014 Dec;61(12):2236–42.
Goldman S, et al. Rituximab with chemotherapy in children and adolescents with central nervous system and/or bone marrow-positive Burkitt lymphoma/leukaemia: a Children's Oncology Group Report. Br J Haematol. 2014 Nov;167(3):394–401.
Chen ZW, et al. Web-based oil immersion whole slide imaging increases efficiency and clinical team satisfaction in hematopathology tumor board. J Pathol Inform. 2014 Oct 21;5:41.
Salama ME, et al. Neoplastic plasma cell aberrant antigen expression patterns and their association with genetic abnormalities. Leuk Lymphoma. 2015 Feb;56(2):426–33.
Chen ZW, et al. A limited plasma cell flow cytometry panel with reflex CD138 immunohistochemistry is an optimal workflow process for evaluating plasma cell neoplasms in bone marrow specimens. Am J Clin Pathol. 2015 Jan;143(1):78–83.
Li KD, et al. Clinicopathologic evaluation of MYC expression in primary mediastinal (thymic) large B-cell lymphoma. Am J Clin Pathol. 2015 Apr;143(4):598–604.
Sandlund JT, et al. International pediatric non-hodgkin lymphoma response criteria. J Clin Oncol. 2015 Jun 20;33(18): 2106–11.
Rosolen A, et al. revised international pediatric non-hodgkin lymphoma staging system. J Clin Oncol. 2015 Jun 20;33(18): 2112–8.
Sandlund JT, Perkins SL. Uncommon non-Hodgkin lymphomas of childhood: pathological diagnosis, clinical features and treatment approaches. Br J Haematol. 169(5):631–46.
Minard-Colin V, et al.. Non-hodgkin lymphoma in children and adolescents: progress through effective collaboration, current knowledge and challenges ahead. J Clin Oncol. 2015 Sep 20;33(27):2963–74.
O'Suoji C, et al. Rare pediatric non-hodgkin lymphomas: a report from children's oncology group study ANHL04B1. Pediatr Blood Cancer. 2016 Jan 5;63(5):794–800.
Nussenzveig RH, et al.. Increased frequency of co-existing JAK2 exon-12 or MPL exon-10 mutations in patients with low JAK2(V617F) allelic burden. Leuk Lymphoma. 2016;57(6):1429–35.
Gomez-Gelvez JC, et al.. rognostic impact of tumor microenvironment in diffuse large B-cell lymphoma uniformly treated with R-CHOP chemotherapy. Am J Clin Pathol. 2016 Ar;145(4):512–23.
Klinger M, Zheng J, Elenitoba-Johnson K, Perkins SL, Faham M, Bahler D. Next-generation IgVH sequencing CLL-like monoclonal B-cell lymphocytosis reveals frequent oligoclonality and ongoing hypermutation. Leukemia. 2016 May;30(5):1055–61.
Sever C, et al. Bone marrow synoptic reporting for hematologic neoplasms: guideline from the College of American Pathologists pathology and laboratory quality center. Arch Pathol Lab Med. 2016 Sep;140(9):932–49.
Burkhardt B, et al. Current status and future directions of T-lymphoblastic lymphoma in children and adolescents. Br J Haematol. 206 May;173(4):545–59.
Lee S, et al.. Comparative genomic expression signatures of signal transduction pathways and targets in paediatric Burkitt lymphoma (PEBL): a children's oncology group (COG) report. Br J Haematol. 2017 May;177(4):601–611.
Meyer JA, et al. Genomic characterization of pediatric B lymphoblastic lymphoma and B lymphoblastic leukemia using formalin fixed tissues. Pediatr Blood Cancer. 2017 Jul;64(7).
Lee S, et al.. The effects of DLEU1 gene expression in Burkitt lymphoma (BL): potential mechanism of chemoimmunotherapy resistance in BL. Oncotarget J. 2017 Apr 25;8(17):27839–53.
Andersen EF, et al.. Genomic analysis of follicular dendritic cell sarcoma by molecular inversion probe array reveals tumor suppressor-driven biology. Mod Pathol. 30:1321-1334, 2017.
Yandow SM, et al.. The influence of aspiration volume on the number of osteoblastic progenitors obtained from bone marrow in children. J Pediatr Orthop.2019 Aug;39(7):382–6.
Paxton CN, et al.. Genomic alterations are rare in solitary juvenile xanthogranuloma and may correlate with staging in disseminated cases. Mod Pathol. 2017 Jul 28;30:1234–40.
Matynia AP, Perkins SL, Li D. Lymphomatoid granulomatosis in a 14-year-old boy with trisomy 21 and history of B-lymphoblastic leukemia/lymphoma. Fetal Pediatr Pathol. 2018 Feb; 37(1):7–14.
Cairo M, et al.. Overall survival of children and adolescents with mature B-cell non-Hodgkin lymphoma who had refractory or relapsed disease during or after treatment with FAB/LMB 96: A report from the FAB/LMB 96 study group. Br J Haematol. 2018 Sep;182(6):859–69.
Frazer JK, et al. Excellent outcomes in children and adolescents with CNS+ Burkitt lymphoma or other mature B-NHL using only intrathecal and systemic chemoimmunotherapy; results from FAB/LMB96 and COG ANHL01P1. Br J Haematol. 2019 Apr;185(2):374–7..
Guan J, et al. Prognostic significance of the dynamic change of programmed death-ligand 1 expression in patients with multiple myeloma. Cureus. 2019 Apr 6;11(4):e4401.
Chisholm KM, et al. IRF4 translocation status in pediatric follicular and diffuse large B-cell lymphoma patients enrolled in children's oncology group trials. Pediatr Blood Canc. 2019 Aug;66(8):e27770.